Breastfeeding Enhances Babies' Brain Development: MRI Study [PHOTO]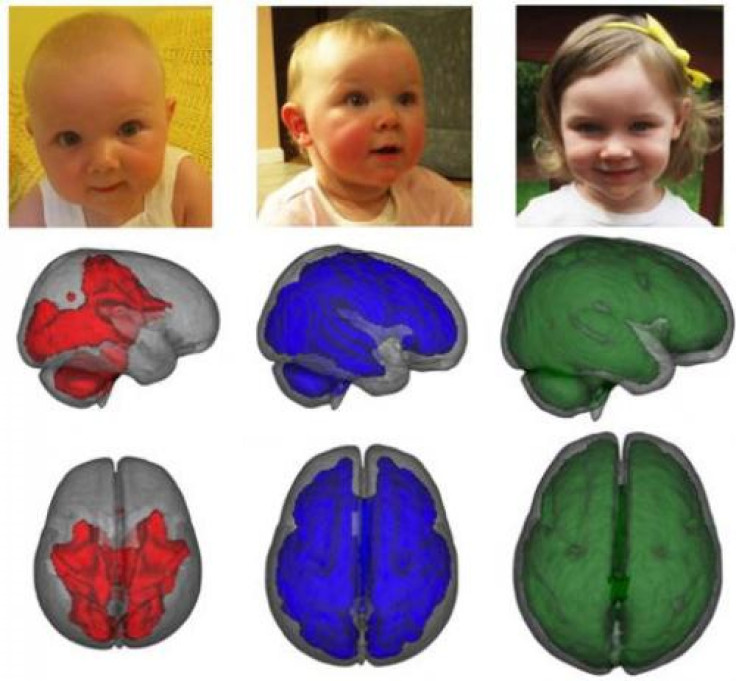 Babies who are breastfed might have enhanced brain development compared to their formula-fed counterparts, a new study says.
Researchers from Brown University looked at the brain growth of children under 4-years-old who were breastfed exclusively for at least three months. The infants underwent baby-friendly MRI scans, which showed that by the age of 2, those who were solely breastfed had enhanced growth in parts of their brains related to language, emotional function and cognition, according to a press release.
"We're finding the difference [in white matter growth] is on the order of 20 to 30 percent, comparing the breastfed and the non-breastfed kids," Sean Deoni, assistant professor of engineering at Brown and the study's lead author, said. "I think it's astounding that you could have that much difference so early."
Other studies have shown that breast milk helps infants' brain and behavioral development in teens and adults. This is the first study that looked at the brains of healthy, young children.
"We wanted to see how early these changes in brain development actually occur," Deoni said. "We show that they're there almost right off the bat."
According to the Centers for Disease Control and Prevention, breastfeeding is on the rise. More than 76 percent of babies born in the United States have been breastfed, according to the CDC's Breastfeeding Report Card for 2012.
Breastfeeding not only helps the baby, but the mother as well. If mothers adhere to the new breastfeeding guidelines that urge children to drink breast milk from birth to one year, 5,000 cases of breast cancer, 54,000 cases of hypertension and nearly 14,000 heart attacks could be prevented annually, Time reported. Warding off these diseases could save $860 million a year in health care costs, according to research published in Obstetrics & Gynecology.
The numbers come from a study led by Harvard researcher Dr. Melissa Bartick, who used a statistical model that tracked about 2 million U.S. women from the age of 15 to the age of 70. Bartick applied current breastfeeding rates and the estimated costs that accumulate over that given time period.
Bartick says the biggest challenge for women is meeting their breastfeeding goals.
"We know that 60 percent of women don't even meet their personal breast-feeding goals, whether it's three or four or six months," Bartick says. "We need to do more to support women so they can breast-feed longer."
Although the study fails to prove whether breastfeeding definitely prevents certain diseases, it showcases the need for women to be supported -- whether given a safe place at work to pump milk or proper support from doctors and nurses -- to choose breastfeeding over formula.
"What's important is that [the study] tells us that the cost of not providing support to women to optimally breast-feed their babies is astronomical because of the known health benefits to women," Dr. Kathleen Marinelli, a neonatologist and chair-elect of the U.S. Breastfeeding Committee, told Time. "This points out that breast-feeding is not a lifestyle choice; it's a public health imperative."
© Copyright IBTimes 2022. All rights reserved.
FOLLOW MORE IBT NEWS ON THE BELOW CHANNELS