Brexit Pros And Cons: Who In British Society Backs EU Referendum And Why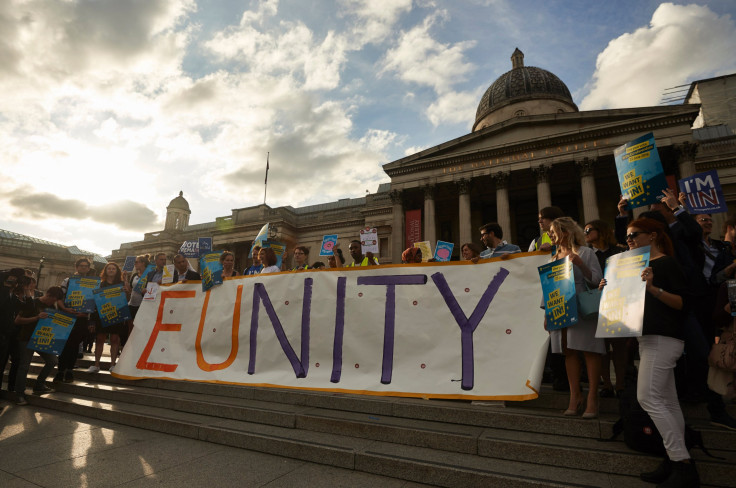 The Brexit debate has (almost) replaced soccer as the most divisive topic in Britain. Like rival team fans, voters in the referendum on European Union membership are splintered by region, age and class.
Each side has painted the other in cruel cartoon strokes: "Leave" supporters are denounced as rural racists, "little Englanders" with a fear of all things foreign, while advocates of "remain" are disparaged as blinkered Europhiles with a taste for French cuisine and Belgian beer at the expense of their beleaguered working-class compatriots.
All this mudslinging has resulted in a very dirty fight, culminating in the fatal shooting last week of British Labour Party politician and outspoken "remain" campaigner Jo Cox.
Recent polls by YouGov and Pew Research Center show how Brits split. Here's a guide to the divided kingdom: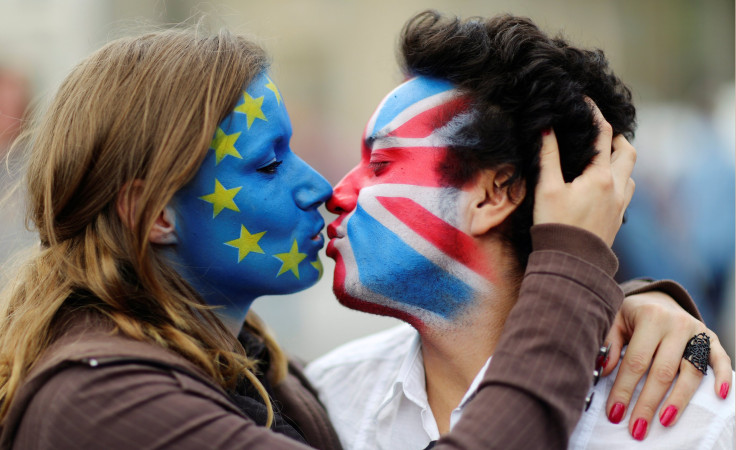 There'll Always Be an England
- ​The four countries that make up the U.K. are divided by soccer, accent -- and Europe: Northern Ireland and Scotland are the regions most in favor of staying in the EU, YouGov polling data found, with almost two-thirds of respondents wishing to remain.
- The Welsh are not as strong in their support but more than half, 55 percent, want to stay in the union.
- With the exception of multicultural global capital London, English people are less enamored of their European cousins: Residents of the Midlands and Northern England are particularly disillusioned, with three-fifths favoring "out."
- The EU referendum, according to OpenDemocracy founder Anthony Barnett, is an English problem: "If Brexit happens it will only be because a majority of English voters have lost confidence in the way they are governed."

The Generation Gap
​- Britishers aged 18-34 — the budget airline generation who regularly outsource their recreational activities to the continent — are more inclined toward EU membership than people 50 and older.
- For those under 30 and over 60, the difference is most marked: Almost three-quarters of those under 30 want to stay in the EU, compared to just a third of their parents and grandparents' generation.


Pro-EU supporters hold placards and banners during a "Yes to Europe" rally in London's Trafalgar Square, ahead of Thursday's EU referendum, on June 21, 2016.

NIKLAS HALLE'N/AFP/Getty Images

Right to Leave, Left to Remain
- With the exception of more radical members on the Labour party's fringes (point of information: Labour leader Jeremy Corbyn, now backing "remain," once decried the EU's "gross abuse of human rights and natural resources"), Britain's center-left party has generally favored greater ties with Europe compared to the proliferation of elderly Euroskeptics sitting on the back benches of the center-right Conservative Party.
- Three-quarters of Labour Party supporters are voting "remain," but only 44 percent of Conservatives are doing the same.
- The most extreme results are reserved for the United Kingdom Independence Party (UKIP), which was founded on an anti-immigration, anti-Europe mandate.
- Close to 100 percent of UKIP voters are behind a Brexit vote — only 3 percent are electing to remain — prompting questions over whether the 3 percent are genuine Ukippers at all.

You Are What You Read
- Readers of the populist Sun and its ideologically right-wing peers, the Daily Mail and the Express, are overwhelmingly in favor of Brexit: Around three-quarters will be voting to leave.
- Liberal Guardian readers, in contrast, who are regularly found soaking up the summer sun in Tuscany, Italy, and Provence, France, are 91 percent in favor of staying.


Nigel Farage, leader of the United Kingdom Independence Party (UKIP), speaks at a public meeting of the EU Referendum campaign in Gateshead, northeast England, on June 20, 2016.

SCOTT HEPPELL/AFP/Getty Images

Oxford University or the School of Hard Knocks?
- University graduates are more than twice as likely to support staying in the EU than those who left school at 16 (70 percent and 32 percent, respectively).
- Social class, based on occupation, is another key factor: The middle classes, at 62 percent, are mostly saying "oui" to the European fraternité.

Sex Matters
- In absolute terms, the difference between male and female voters is fairly small, but women consistently express more favorable attitudes toward the EU.
- Seventy percent of men compared with 60 percent of women want some European powers returned to noble Blighty, as patriotic Brits are wont to refer to their beloved country.


Pro-EU supporters hold placards and banners during a "Yes to Europe" rally in London's Trafalgar Square, ahead of Thursday's EU referendum, on June 21, 2016.

NIKLAS HALLE'N/AFP/Getty Images

God Save the Kingdom
​- Anglicans — whose church was established in a break with the Europe-based Roman Catholic Church — are the religious group most likely to want out. In a poll by the Wales Institute of Social and Economic Research, Data and Methods, 55 percent of Anglicans backed the "leave" campaign.
- Catholics, by only a one-point margin, favored staying, 43 to 42 percent.
- Members of U.K. religious minorities, including Muslims, want to remain — as do atheists.
FOR FREE to continue reading
✔️ Unlock the full content of International Business Times UK for free
offer available for a limited time only
✔️ Easily manage your Newsletters subscriptions and save your favourite articles
✔️ No payment method required
Already have an account?
Log in
© Copyright IBTimes 2023. All rights reserved.