Bullish Bets On Asian FX Ease As Fed Rate-hike Concerns Weigh: Reuters Poll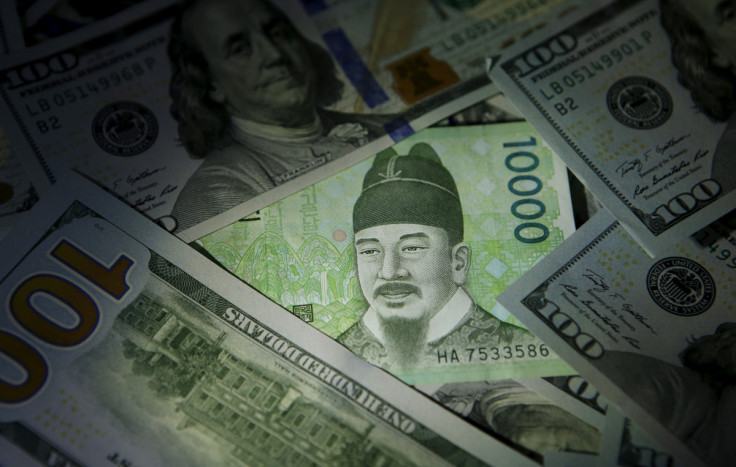 Bullish bets on most Asian currencies eased as strong U.S. economic data recently gave the dollar a fillip and raised bets that interest rates would remain higher for longer, a Reuters poll found on Thursday.
Long positions on the South Korean won, the Singapore dollar and the Indonesian rupiah eased, while market participants turned bearish on the Indian rupee, according to a fortnightly poll of 10 respondents.
The dollar is currently hovering near a one-month high after blockbuster U.S. jobs data last Friday boost expectations that the Fed may continue to hike rates to tame inflation.
Last week, the Fed raised rates by 25 basis points (bps), as expected, but Chair Jerome Powell and other officials have indicated that more rate hikes are on the cards.
"Strong U.S. data at the end of last week has forced a rethink on the Fed, hurting many EM FX that had benefited from a rush of portfolio inflows and China reopening optimism," analysts at TD Securities wrote.
Investor confidence towards Asian assets had risen after China dropped its pandemic border controls earlier this year but worries surrounding the Fed's future course of action have put a damper on sentiment.
While investors are caught in a holding pattern before U.S. consumer price inflation (CPI) data next week, hopes around China's reopening have yet to meet the reality check that comes with stronger data points, said OCBC currency strategist, Christopher Wong.
Investors also scaled back long bets on China's yuan, to a near one-month low, the Malaysian ringgit as well as Asia's best-performing currency this year, the Thai baht.
"If the China reopening story gains a little bit more traction into Q2, then some of the Asian currencies, including the ringgit and the baht, could restart their appreciation again," Wong said.
Meanwhile, investors turned slightly bearish on the Indian rupee as concerns over a rout in local equities filtered into money markets.
The Indian equity market has faced extreme turbulence since late January when U.S. short-seller Hindenburg Research published a critical report of the Adani Group's finances, accusing the billionaire Gautam Adani-led conglomerate of stock manipulation and other breaches.
"A sharp capitulation of portfolio flows, amplified by the Adani meltdown, render pre-existing rupee vulnerabilities far more acute," Vishnu Varathan, head of economics and strategy at Mizuho Bank, wrote in a note.
Most of the responses for the poll had been received before Wednesday when the Reserve Bank of India's hiked its key repo rate by 25 bps and left the door open for further tightening.
The Asian currency positioning poll is focused on what analysts and fund managers believe are the current market positions in nine Asian emerging market currencies: the Chinese yuan, South Korean won, Singapore dollar, Indonesian rupiah, Taiwan dollar, Indian rupee, Philippine peso, Malaysian ringgit and the Thai baht.
The poll uses estimates of net long or short positions on a scale of minus 3 to plus 3. A score of plus 3 indicates the market is significantly long U.S. dollars.
The figures include positions held through non-deliverable forwards (NDFs).
The survey findings are provided below (positions in U.S. dollar versus each currency):
DATE USD/CNY USD/KRW USD/SGD USD/IDR USD/TWD USD/INR USD/MY USD/PHP USD/THB
R
9-Feb-23 -0.80 -0.63 -0.72 -0.53 -0.68 0.25 -0.64 -0.40 -1.00
26-Jan-23 -1.29 -1.14 -1.40 -1.15 -0.68 -0.47 -1.25 -0.78 -1.77
12-Jan-23 -1.58 -1.39 -1.31 -0.10 -0.67 0.07 -0.82 -0.61 -1.85
15-Dec-22 0.08 -0.55 -0.85 0.92 -0.22 0.63 -0.36 -0.15 -0.69
1-Dec-22 0.63 -0.15 -0.3 1.08 0.15 0.76 -0.02 0.33 -0.16
17-Nov-22 0.74 0.21 -0.06 1.06 0.84 1.13 1.18 0.89 0.4
03-Nov-22 1.81 1.38 0.47 1.57 1.81 1.47 2.02 1.36 1.34
20-Oct-22 1.96 2.02 1.13 1.83 1.98 1.60 2.33 1.94 2.00
06-Oct-22 1.94 2.25 1.53 1.86 2.12 1.55 2.22 2.16 2.08
22-Sept-22 2.09 2.39 1.61 1.35 2.37 1.23 1.90 1.94 1.86
08-Sept-22 2.04 2.33 1.54 1.13 1.93 1.35 1.89 1.70 1.59
© Copyright Thomson Reuters 2023. All rights reserved.