Burma: British Foreign Minister Makes Historic Visit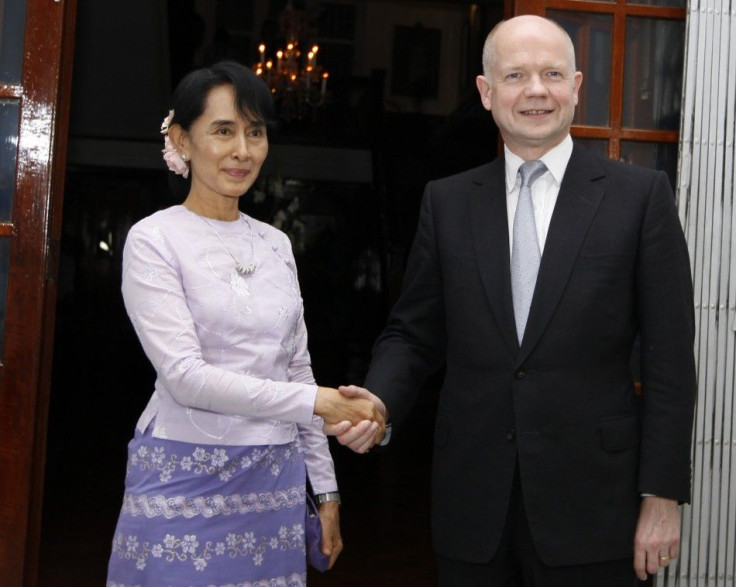 The British foreign minister William Hague is in Burma – the first such trip by a senior UK official to the South Asian country in more than half a century.
Hague, whose appearance comes on the heels of a visit by Hilary Clinton, the U.S. Secretary of State late last year, seems to confirm the west's confidence that Burma is well on its way toward enacting democratic reforms.
Burma, once one of the most isolated and repressive societies on earth, elected a new nominally civilian government last year led by president Thein Sein who commenced a series of liberalizing measures, including the legalization of trade unions, the release of hundreds of political prisoners, and, most dramatically of all, entering into talks with Aung San Suu Kyi, the long time leader of the opposition and Noble Peace Prize laureate who was under house arrest.
I am visiting the country to encourage the Burmese government to continue on its path of reform, and to gauge what more Britain can do to support this process, Hague told reporters prior to his departure for Burma.
Further steps are needed that will have a lasting impact on human rights and political freedom in Burma. In particular, we hope to see the release of all remaining political prisoners, free and fair by-elections, humanitarian access to people in conflict areas, and credible steps towards national reconciliation.
Prior to Sein's ascension, Burma was ruled by brutal military dictatorships for more than fifty years.
However, there are some doubts about how far Burmese officials will really go to establish a free society in their country. The military still casts a long shadow over the state, while, as Hauge alluded to, many political prisoners remain languishing in jails. There are also concerns about the military's treatment of ethnic minorities.
Indeed, Hague is expected to speak with Sein and deputy foreign minister Myo Myint to encourage the release of up to 1,700 more inmates.
Meanwhile, Suu Kyi's National League for Democracy party is expected to participate in parliamentary elections scheduled to take place in April -- a key litmus test for the country's dedication to democracy.
Suu Kyi told BBC: I don't think the pace of change is as fast as a lot of us would like it to be but, on the other hand, I don't think it's too slow. It's slow but it's not too slow. I trust the president but I can't say I trust the government for the simple reason that I don't know everybody in government."
Hague will also meet with Suu Kyi.
After meeting with Sein, Hague told media in Burma: I hope we've reinforced at the highest levels of government the willingness of the international community, of the UK, of the European Union, to really strongly engage with this country."
Hague also said that Britain, which is already the top foreign donor to Burma, will provide additional financial help to the nation.
This will help with microfinance to help very, very poor people and additional humanitarian assistance for people displaced by fighting, he told reporters.
Of course, we hope to be able to do much more in future in the field of economic and diplomatic cooperation, human development, but that relies on necessary political progress, on reform continuing to be delivered."
Derek Tonkin, an analyst and former British diplomat, commented to Reuters of the difficulty of Hague's mission in Burma.
Hague can't appear to go soft," he said "The Burma issue has become a political football at home and if he's not forthright, he will be criticize."
Rachel Harvey, a BBC correspondent in Burma, wrote: "If Burma's people are to taste true freedom and democracy, risks will need to be taken by all sides but for the first time in decades there are now signs of hope."
© Copyright IBTimes 2023. All rights reserved.