California's Silver Fire Near Banning Destroys 26 Homes, Other Structures; 6 Injured, Including 5 Firefighters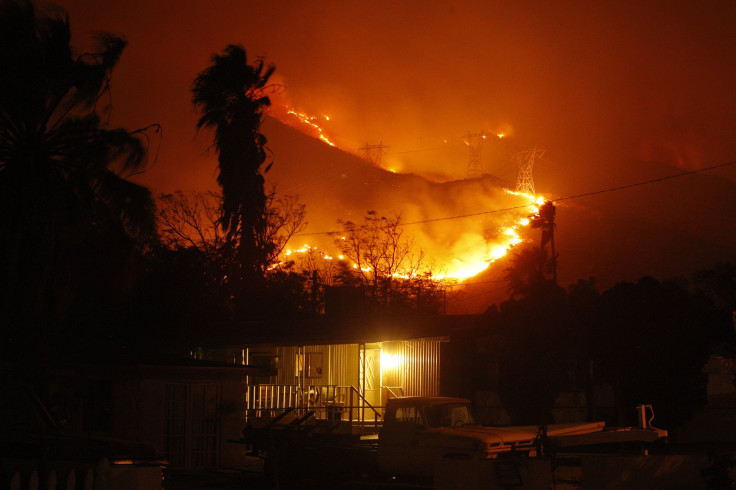 At least six people have been injured, and 1,800 evacuated as a wildfire near Banning, about 85 miles east of Los Angeles, spread across 14,000 acres on Thursday, reports said.
According to an Associated Press report, one civilian and five firefighters were injured in the blaze, which was contained 20 percent as of Thursday evening. It has so far destroyed 26 homes, one commercial building and two other structures.
The wildfire, which started at around 2 p.m. local time (5 p.m. EDT) on Wednesday, and has been named the Silver Fire by firefighters, showed no sign of slowing down on Thursday night, as gusty winds threatened to keep the blaze growing, USA Today reported.
More than 500 firefighters, aided by five helicopters and five air tankers, were working to prevent the blaze from spreading. "Unfortunately the size of this fire continues to take away any progress that we're making," Daniel Berlant, a spokesperson for the California Department of Forestry and Fire Protection, told Fox News.
Smoke from the blaze could be seen in neighboring communities. Barbara Boxer, a junior United States senator from California who lives in Rancho Mirage, about 35 miles east of the fire, told USA Today that the air in her locality was thick with smoke.
"The smell of smoke was so thick we thought we had a fire in our community,'' she said. "The fires are impacting a broad swath of people, particularly people with respiratory issues.''
Evacuation orders were still in place in the communities of Poppet Flats, Twin Pines, Edna Valley and Vista Grande in the San Jacinto Mountains, and evacuation centers were set up in high schools in Hemet and Banning.
The cause of the fire is still being investigated, Riverside County Fire Department spokeswoman Melody Hendrickson told USA Today.
© Copyright IBTimes 2023. All rights reserved.