'Call of Duty: Black Ops 3' Awakening DLC Detailed As Activision Confirms PlayStation As Partner For COD World League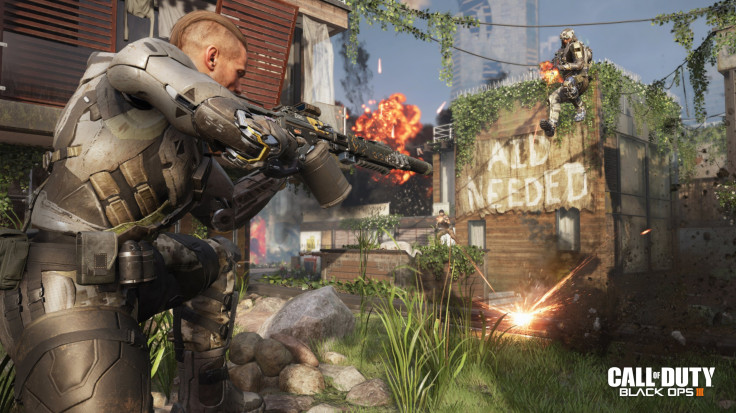 "Call of Duty: Black Ops 3" players can look forward to a new DLC pack after publisher Activision and developer Treyarch teased the new additional content. Titled "Awakening," this is the first of four DLCs map packs coming to the game.
The official announcement was made during the PlayStation Experience 2015 event, and this new map pack is set to add new multiplayer maps and another chapter of the "Call of Duty: Black Ops 3" Shadows of Evil zombie mode.
Over at the official Activision blog, the publisher also provided a few screenshots of the upcoming multiplayer maps. Included in the DLC are Skyjacked, Rise, Splash and Gauntlet. For the zombies chapter, the continuation is titled "Der Eisendrachen."
Each of the new maps will provide a different ground for players to run amok. According to Inquisitr, Skyjacked makes use of helicarriers, as can be seen in the screenshot. Rise appears to be set in a snowy facility, a stark opposite of Splash, which shows a theme park water world. Finally, Gauntlet appears to have three areas featuring jungle, a snowy facility that's more deserted than Rise and a city-scape area.
Activision has yet to reveal the official details for the maps. The developer has also yet to reveal an official release date for when the DLC pack will arrive. Considering the partnership between PlayStation and Activision the DLCs will have the special timed-exclusive treatment this time.
Similarly, Activision has confirmed that PlayStation will be the sponsor for "Call of Duty" World League this coming year. PlayStation will be the presenting partner for the competition, which will have a total of $ 3 million prize pool.
According to Charlie Intel, the "Call of Duty" World League is already dubbed as the new global eSports for professionals and amateurs, all of which will be backed by Activision and Sony. The PlayStation Experience 2015 has already kicked off the pre-season qualifiers, with more action set in the coming months.
© Copyright IBTimes 2023. All rights reserved.
FOLLOW MORE IBT NEWS ON THE BELOW CHANNELS