'Call of Duty: WWII' Multiplayer Five Divisions Revealed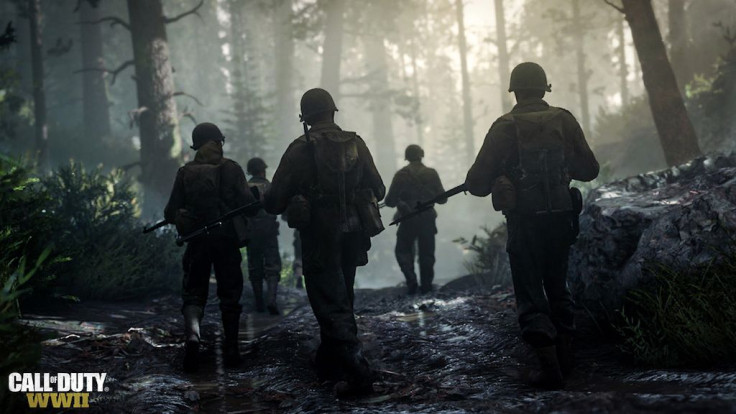 Activision and Sledgehammer Games have confirmed that create-a-class for "Call of Duty: WWII" has been replaced by the new Divisions System. Players will be able to choose from five different Divisions, with each one having their own set of roles in Multiplayer gameplay.
"Divisions fundamentally redefines how players invest in their Multiplayer soldier career," Sledgehammer Games co-founder Michael Condrey said. "Replacing the create-a-class system, players choose from five iconic World War II divisions each with specific basic combat training, division training and weapon skills. We think it'll intrigue Call of Duty series veterans, and we can't wait for our fans to see it for themselves."
Instead of choosing a fighter and customizing the loadout (weapons and gear), Divisions will have players choose a specific type of soldier. The five Divisions are Airborne, Mountain, Infantry, Armored and Expeditionary Force.
Airborne is described as "first to the fight, where you move fast and stay quiet." This might be a Division for players who prefer a stealthy play. This might include sneaking up behind opponents for a knife kill.
Mountain Division is very clearly the sniper class. It's described as "focusing on precise and deadly sharpshooting. This should be for players who prefer killing enemies from a distance by hiding, rather than running around the map to kill opponents.
Infantry seems to be the opposite of the Mountain Division. Choosing this Division should put players right in the middle of the battlefield taking on opponents head on.
The Armored Division is described as a soldier that's "Bringing the heaviest firepower." This seems to be a type of soldier for defensive players. It's presumed that the Armored Division will be able to withstand more damage in order to provide support for teammates.
Lastly, the Expeditionary Force Division is described as "packing heat with incendiary shells." It's possible that this type of soldier comes equipped with special grenades, or even a flamethrower or rocket launcher, as pointed out by WWG.
Activision and Sledgehammer Games will talk more about Divisions for the Multiplayer mode of "Call of Duty: WWII" during its E3 2017 press conference. Multiplayer for the upcoming also introduces the new War Mode, which is expected to become the one of the biggest new Multiplayer modes in "Call of Duty: WWII."
"War Mode is an all-new game mode where players must work as a team to defeat the enemy," Activision said on its blog post. "This narrative-driven Multiplayer experience immerses players in iconic World War II locations. Allied and Axis forces clash in team-driven assault and defend missions for key strategic objectives, bringing an entirely new dynamic to 'Call of Duty.'" War Mode was also co-developed with Raven Software.
"Call of Duty: WWII" is available now to pre-order. Those who pre-order the game will also have access to the game's Private Beta, the date of which hasn't been revealed by Activision yet. "Call of Duty: WWII" is scheduled to be released on November 3 for the PlayStation 4, Xbox One and the PC.
© Copyright IBTimes 2023. All rights reserved.
FOLLOW MORE IBT NEWS ON THE BELOW CHANNELS