'Call Of Duty: WWII' Campaign Won't Have Playable Axis Characters, Sledgehammer Says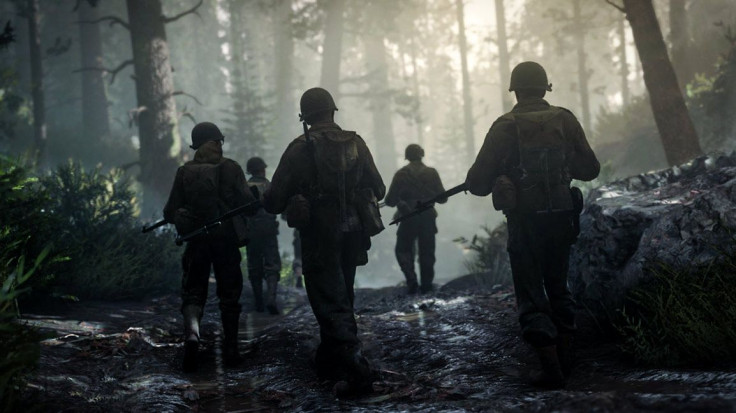 Call Of Duty: WWII has a campaign that aims to offer a realistic depiction of one of the most gruesome wars in history, but its narrative won't allow you to play on the Axis side of the conflict. Sledgehammer Games confirmed the news in a tweet on Tuesday.
When the Call Of Duty experts at charlieINTEL mentioned that SHG refused to talk about playable Axis powers during a recent stream, the developer responded by saying "our story follows the First Infantry Division and Allied effort." It's added that "we feature a diverse and multinational cast, but no playable Axis characters." In other words, the campaign won't let you play World War II from the side of Russia, Germany, Italy or Japan.
Read: Call Of Duty: WWII Might Possibly Be Coming To Nintendo Switch
That's not an exceptionally shocking reveal considering none of the promotion surrounding Call Of Duty: WWII has suggested anything along those lines. Much of the attention has been focused on Jonathan Tucker's Private Ronald "Red" Daniels and the rest of his squad. As for that diverse cast of characters, Activision has placed plenty of emphasis on a female French resistance fighter named Rousseau. There's also been brief discussion about Jewish and African American squadmates too. Although, that melting pot approach reportedly won't shy away from the complicated racial history of the era in which it's set.
The topic of playable Axis characters arrived as part of a larger Call Of Duty: WWII stream that occurred Tuesday evening. The short proceedings focused on the making of the game, its history and motion capture procedures. In that sense, nothing too groundbreaking was revealed. It was said that Battle Of The Bulge will be included in the story and that a realistic sense of gore will be part of that experience.
The next major event for Call Of Duty fans to look forward to is E3 in June. Assumingly at the PlayStation press briefing on the evening of June 12, it's said that we'll get our first glimpse of the game's online multiplayer and social features. One of the most talked about aspects is a new shared communal space called Headquarters that's not unlike the Tower in Destiny.
Read: Call Of Duty: Black Ops 3 To Get Zombies DLC May 16
Call Of Duty: WWII marks the first time a Call Of Duty game will tackle World War II since World At War in 2008. After nearly a decade on the sidelines, players appear mostly ready to return to one of the most adapted events in American history. Not only has WWII's reveal evaporated the negativity surrounding 2016's Infinite Warfare, but it also comes hot off the heels of EA's successful historical shooter, Battlefield 1.
Call Of Duty: WWII is scheduled to release Nov. 3 for PS4, Xbox One and PC. While there are some dicey rumors about a possible Nintendo Switch version, nothing has been announced at this time.
Would you want the Call Of Duty: WWII campaign to cover the perspective of Axis characters? Are you OK sticking to the American side? Tell us in the comments section!
© Copyright IBTimes 2023. All rights reserved.