Can The US Stop A North Korean Missile? Pentagon Looks To Add More Defense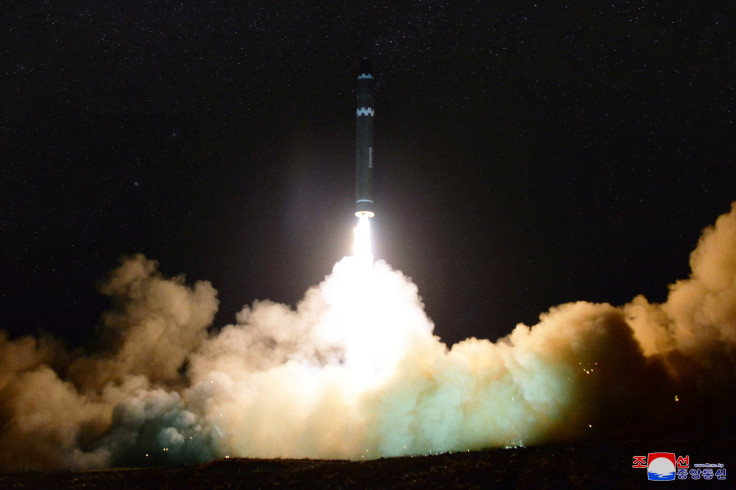 After another North Korean missile test this week the Pentagon is looking to beef up security by adding new West Coast sites to the U.S. missile defense system, according to a report by Reuters Saturday.
On Wednesday, North Korea tested a new intercontinental ballistic missile (ICBM) capable of striking anywhere in the continental U.S. Some experts believe that North Korea has not yet mastered using a nuclear warhead with the ICBM, but lawmakers still seek to bolster American missile defense.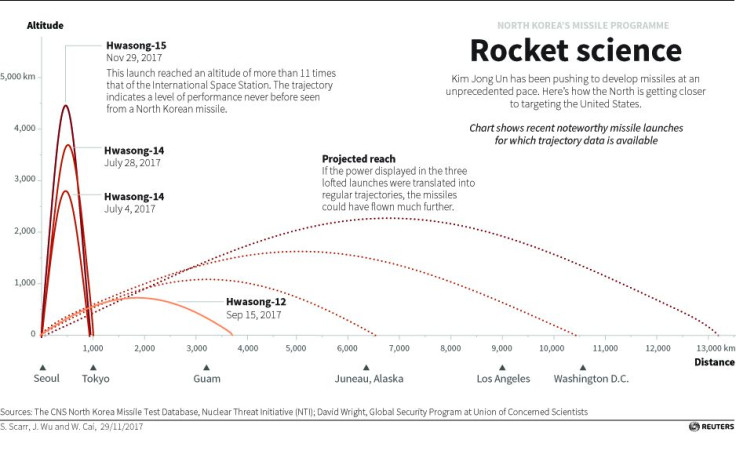 The U.S. is protected by a system called the Ground-based Midcourse Defense (GMD). ICBMs are launched into space where their warhead is released. The warhead then falls to Earth, reentering the atmosphere on its way to its target. The GMD system launches interceptor missiles from California or Alaska aimed at destroying the warhead after it's released from its missile.
Shooting down a ballistic missile is commonly likened to hitting a bullet with a bullet.
"Depending on the trajectory, we should not assume that we can, with any reliability, intercept ICBM warhead targets," Vipin Narang, a nuclear expert at MIT, told Vox after the latest North Korean missile test.
The GMD system first became operational in 2004 and has failed six out of 10 tests with dummy warheads since its installation, according to the Washington Post. In May, the system was successful in its first ever defense test in a simulated ICBM strike.
Rep. Mike Rogers of Alabama told Reuters that the Missile Defense Agency (MDA), which is part of the Defense Department, aims to add extra defenses on west coasts sites. Rogers sits on the House Armed Services Committee and chairs the Strategic Forces Subcommittee. Rogers' subcommittee is tasked with missile defense.
"It's just a matter of the location, and the MDA making a recommendation as to which site meets their criteria for location, but also the environmental impact," said Rogers.
The congressman said that the sites were being considered for Terminal High Altitude Area Defense (THAAD) anti-ballistic missiles. The THAAD system is designed by Lockheed Martin for short and intermediate range ballistic missiles. THAAD missiles shoot targets down on their descent.
<iframe width="560" height="315" src="https://www.youtube.com/embed/ebBRyb4_au8" frameborder="0" allowfullscreen></iframe>
The MDA has several U.S. THAAD sites already operational, but their locations are not disclosed. There are also THAAD sites in South Korea and Guam. THAAD is not specifically designed to defend against ICBMs.
The U.S. also employs the Aegis naval system on its destroyers. This ship-based anti-ballistic missile system is designed to knock down missiles mid-flight, but it's not specifically designed to defend against ICBMs either.
© Copyright IBTimes 2023. All rights reserved.
FOLLOW MORE IBT NEWS ON THE BELOW CHANNELS