Canada Wildfire Update: 8,000 People Airlifted From Fort McMurray As Massive Wildfire Rages In Alberta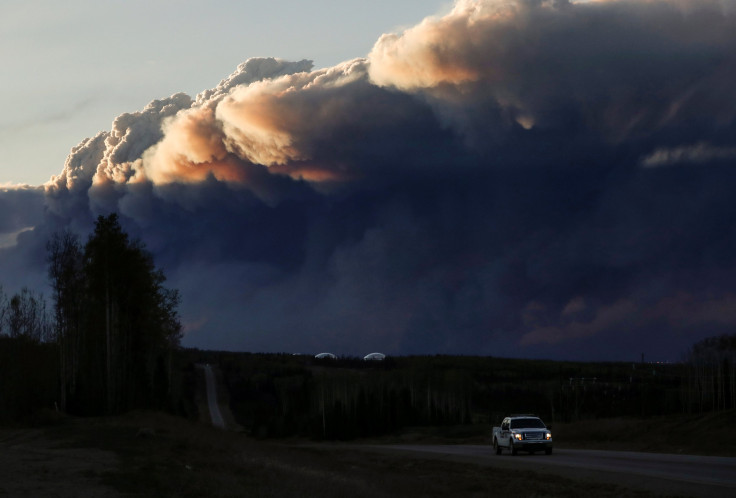 Canadian authorities are airlifting some 8,000 people who fled north of Fort McMurray after a massive wildfire devastated the city in the province of Alberta. The operation began Thursday and is expected to continue Friday as the entire city of Fort McMurray, where more than 88,000 people were residing, was evacuated three days ago.
Officials will also reportedly start moving some 17,000 people in a mass migration of cars through the only motorway to the south, which authorities expect will become safe Friday. More than 1,100 firefighters, 145 helicopters, 138 pieces of heavy equipment and 22 air tankers were fighting the fire, the Alberta provincial government, said, according to the Associated Press. A state of emergency also has been declared as the fire in Alberta has grown to 328.2 sq. miles and has already destroyed more than 1,600 structures in Fort McMurray.
"Let me be clear: air tankers are not going to stop this fire," Chad Morrison, Alberta's manager of wildfire prevention, reportedly said. "It is going to continue to push through these dry conditions until we actually get some significant rain."
The blaze, which started Sunday in Canada's oil sands region, forced several oil sands projects to cut production, while some pipelines also have been closed. At least 680,000 barrels per day of capacity were down Thursday, according to calculations by Reuters.
"Our focus right now is on getting those people south as quickly as possible," Alberta Premier Rachel Notley reportedly said. "I must be very, very direct about this: it is apparent that the damage to the community of Fort McMurray is extensive and the city is not safe for residents."
Bill Stewart, co-director at the University of California, Berkeley's Center for Fire Research and Outreach, reportedly called the evacuation one of the largest in North America in recent history.
© Copyright IBTimes 2023. All rights reserved.