Candace Cameron Bure's Christian Religon Reportedly Draws Applause From 'DWTS' Audience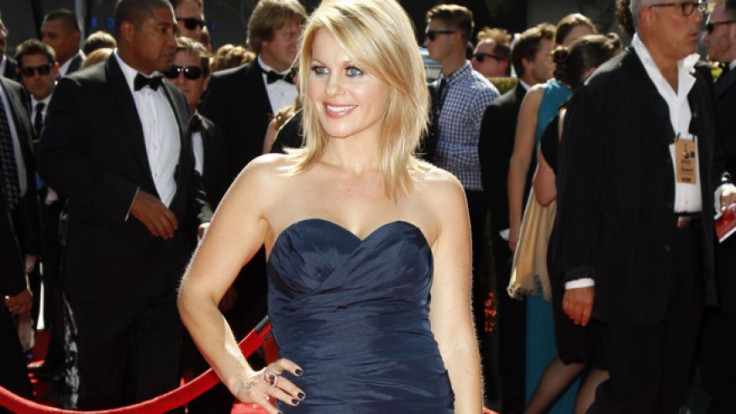 Candace Cameron Bure is sticking to her decision to not wear skimpy outfits on "Dancing With the Stars." Her choices seemingly resonate with the "DWTS" audience because, according to an insider, they applauded when she talked about her Christian father and her values during a pre-taped rehearsal with her partner, Mark Ballas.
"I'm a Christian. My life revolves around my relationship with Jesus Christ," Bure, 37, said before dancing the rumba with Ballas. "So with the overall tone of the dance and the costumes I'm not going to take a backseat. My voice will definitely be heard."
Ballas had said he wanted to be shirtless for the performance, but that wasn't going to fly with Cameron Bure. Though Ballas seemed determined to perform Monday night's rumba bare-chested, the "Full House" star didn't like the idea.
"Not without my permission! No, I have to think about that," she said. "This rumba is not a sexual dance," she said alone in a confessional. "It's a sensual, emotional dance. Sensual is more sexy than raunchy sex, so I think this is going to be a beautiful dance."
Ultimately, she got her way and it seems many in the audience appreciate her values. When Cameron Bure mentioned her faith, "the entire crowd in the ballroom cheered and clapped really loudly," a source, who apparently attended the live show, revealed to Us Weekly.
During an interview with the publication, Cameron Bure revealed she planned to make conservative wardrobe choices. "I won't be the sexiest one out there. I am a mom and I want to be a good role model for my children and my husband," she previously told the magazine. "I think for each dance we'll wear what reflects the dance but in the most classy way possible."
Cameron Bure's rumba didn't score as high as her first week's dance. On People magazine blog, the actress explained that the rumba was difficult. "The rumba has definitely proved to be more challenging than I would have preferred for my second week's dance."
She and Russian NHL hockey player Valeri Bure share three children together: Natasha, 15; Lev, 14; and Maksim, 12. Check out the next episode of "DWTS" on ABC on Monday at 8/7c.
Follow me on Twitter @mariamzzarella
© Copyright IBTimes 2023. All rights reserved.