Carly Fiorina Tangles With Trump, Wins Twitter With Most Positive Sentiment During CNN GOP Debate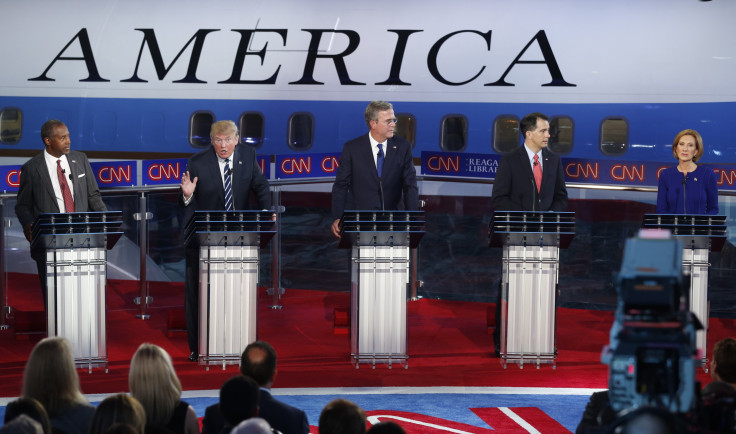 On stage with 11 other Republicans including Donald Trump at the CNN debate in Simi Valley, Calif., Carly Fiorina did something unexpected: she broke through. The former Hewlett-Packard CEO articulated empassioned views on national defense, foreign policy and abortion and that was reflected in on social media after the first hour of the debate.
An estimated 74.5 percent out of 7,000 mentions on the contender were tracked as positive, according to data from social analytics company Brandwatch. That compares to 11,000 mentions of Jeb Bush with less than 40 percent being positive, and Donald Trump who had less than 50 percent of his 2,000 mentions in the first hour registering as positive.
The moment of the debate with most messages sent at once also fell to Fiorina. When Trump addressed his remarks from an interview with Rolling Stone to which he was quoted saying, "Look at that face! Would anyone vote for that?" Fiorina registered about 4,800 mentions.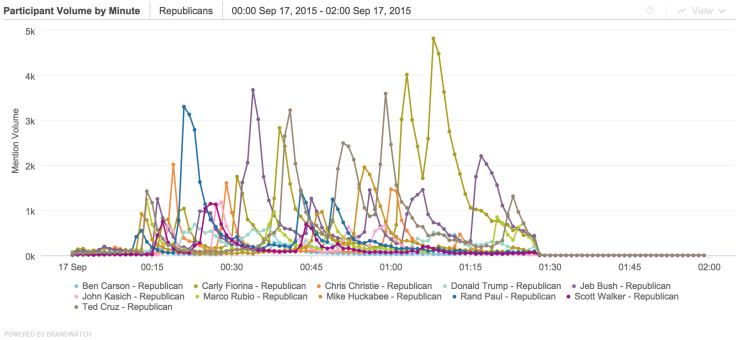 "I think women all over this country heard very clearly what Mr. Trump said," Fiorina had said on stage at the Reagan Library to which loud applause immediately emerged from the audience. That positive enforcement to Fiorina -- and negative to Trump -- also registered on social media in that moment.

The majority of Brandwatch's data pulls from public Twitter accounts. "Twitter is well suited for live commentary and real-time reaction," Brandwatch's Kellan Terry wrote in an email. Indeed, the microblogging site is a forum where journalists, celebrities, brands and politicians themselves will post their reactions to moments as they happen.
Brandwatch also includes public Facebook pages, public Instagram accounts, news outlets, forums and blogs.
Trump going head-to-head with other candidates also receibed some of the highest real-time mentions on social media. When Trump and Jeb Bush debated campaign funding to which Trump said he has no plans on taking a dime, Bush received about 3,600 mentions during that moment. Trump commenting, or rather saying he hasn't commented yet but there is a "lot of material to work with," on Rand Paul's appearance.
Bush also landed another peak in mentions after saying, "He kept us safe," when defending the presidency of his brother George W. Bush. That moment received 4,000 mentions in one minute, according to Brandwatch data.
Yet it was Fiorina who soared above the other candidates for her reach on social media. Brandwatch tracked the Fiorina's Twitter handle (@carlyfiorina) garnered over 1 billion impressions and nearly 100,000 tweets.
© Copyright IBTimes 2023. All rights reserved.