'Carol' Producer Christine Vachon And Writer Phyllis Nagy On The Politics Of A Modern Love Story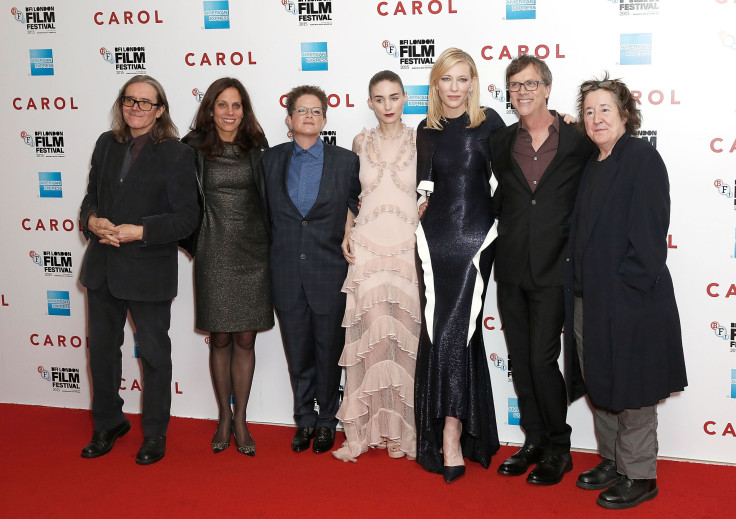 All movie fans have been talking about in recent weeks has been the 'Will Leonardo DiCaprio finally win an Oscar?' debate and the meteoric box office success of "Star Wars." But "Carol" quietly scored more nominations than any other film heading into Sunday's "Golden Globes."
"Still Alice" director Todd Haynes' new movie is an adaptation of a 1952 Patricia Highsmith novel about a young, New York department store clerk, Theresa (Rooney Mara), who falls in love with an older, married woman, the titular Carol (Cate Blanchett). While the film has been praised for its empathetic depiction of the taboo-for-its-time affair, the people who brought "Carol" to the big screen say the movie is much more than just a lesbian romance.
"It's an extraordinary love story between two movie stars," producer Christine Vachon told International Business Times. She says the fact the central relationship in the film is between two women is simply symptomatic of the evolving dynamics of modern romantic dramas.
"In a great love story the conflict comes from what keeps the lovers apart. How do you make a contemporary love story? Most people I talk to are responding to what an extraordinary depiction this is of falling in love for the first time and most of us have had that experience," says Vachon.
Screenwriter Phyllis Nagy, a playwright who spent nearly 20 years fighting to see the movie made, agrees the film's appeal is wider than the gay and lesbian community and its allies, adding that she believes the buzz surrounding the movie has negated any early attempts to pigeonhole the film.
"I think very early on there was an attempt to do that, but with the weight of critical opinion and all of us being out on the road, that hasn't seemed to be what the focus is anymore," Nagy told IBT. "It is a love story that through its specificity gives it something approaching a universal appeal."
Watch the trailer for "Carol" below:
Indeed, Nagy says something deeper drove her to see the film made, namely an obligation to her real life friend, "Carol" author Patricia Highsmith, and a progressive confidence she saw in the book's characters.
"The two things that got me excited, apart from obviously I felt this obligation to a friend who had only been recently gone to do an adaptation that she might have liked, but beyond that, the two things that seemed radical about the novel when it was published in 1952, and still seem radical, is the notion that she is representing two characters totally free from banal self-psychologizing, guilt, and stress about their attraction to each other. That's not to say there were not external circumstances brought to bear on them, but that immediate attraction was never doubted for one moment, which is completely and utterly different from the kind of literature that had come before it, said Nagy. "The other thing is Highsmith's really profound view of what it takes to be a good mother. That means being your own human being, being confident, not going against your human nature."
However, the politics and stigmas surrounding an LGBT movie are complicated, something Vachon has been dealing with at her New York-based production company, Killer Films, for years.
"Sometimes filmmakers will bring me a movie and make an assumption that it is something Killer would automatically be interested in because the lead character is gay and that is simply not the case," says Vachon. "In fact, when we first started making movies, we were often accused by the LGBT community of not making films that were positive enough towards gay and lesbian characters. Like 'Poison' and 'Swoon,' and 'I Shot Andy Warhol,' were considered movies that didn't show gay and lesbian people in the best light. It's kind of a double-edged sword. When we made 'Boys Don't Cry,' suddenly people came forward and were like 'finally you have made a worthy LGBT movie,' and it was like, 'come on!'"
Speaking of "Boys Don't Cry," Kimberly Pierce's 1992 film starring Hillary Swank as a female-to-male transgender who leaves his hometown when his ex-girlfriend's brother discovers that he's biologically female, Vachon says that was the first movie she produced to be swallowed up by awards season hysteria.
"It was insane. It was a tiny movie, it was subject matter that was extremely radical for the time, and it was an unknown lead actress and a first time director."
Vachon says "Carol" would undoubtedly benefit from such hype at the box office.
"I think it's too disingenuous to say the awards are not important, but I think it's certainly fair to say that isn't the main reason you do what you do. It's so rare to thread the needle where the critics like it, the public likes it, they actually go to see it, and it is deemed awards-worthy. So, when that happens you can't take it for granted," says the producer.
Ultimately, though, Vachon and Nagy just hope the film is appreciated as a great love story the way any other movie would be.
"No one who writes a heterosexual love story ever has that to contend with," says Nagy. "It would be interesting to see what would happen if that were the case. Can you imagine if, all of a sudden, George Clooney and Sandra Bullock were in a love story and someone in the press kept repeatedly asking him, 'How peculiar is this? Why aren't you falling in love with a guy?'"
"Carol" is nominated for best motion picture - drama, best director, best score, best actress, and best supporting actress categories at the 2016 Golden Globes. The awards air Sunday, Jan. 10 at 8 p.m. EST on NBC.
© Copyright IBTimes 2023. All rights reserved.