Caterpillar Inc. (CAT) Sales Slowed In Last 3 Months, WTO Cuts 2012 Global Trade Growth Forecast To 2.5%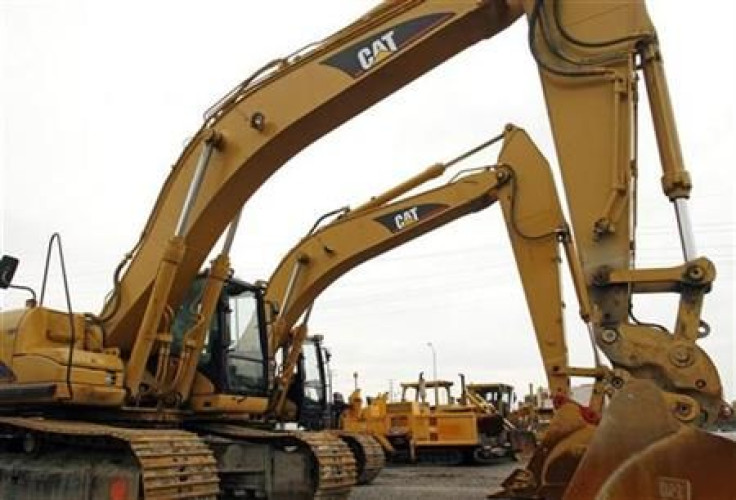 Caterpillar Inc. (NYSE: CAT), the world's largest maker of construction and mining equipment, said Friday its worldwide dealers' sales growth of heavy equipment decelerated this summer, as the prospect of a synchronized recession across the global economy loomed larger.
Shares of Caterpillar Inc. (NYSE: CAT) fell 48 cents, or 0.52 percent, to $92.03 in Friday's morning trading.
"It seems likely that world trade will grow by less than world GDP this year," said Andrew Kenningham, a senior economist at Capital Economics, in a note to clients. "If so, this would be at least a temporary reversal of the globalization process which has seen trade rise more rapidly than GDP over the past few decades."
Global equipment sales were up 13 percent in the three-month rolling period ended in August, slower than the 14 percent rate reported for the prior period, the Peoria, Illinois-based Caterpillar said. Asia-Pacific sales were up 27 percent, compared with a 28 percent pace in the three months to July.
Latin America is Caterpillar's weakest market, which saw a 5 percent drop in sales in the past three months. Sales in Europe, the Middle East and Africa were flat this time, after posting single-digit declines in the prior period.
Sales of Caterpillar's power systems -- used on industrial job sites and energy-producing projects -- rose 3 percent in the period through Augusts, marking a slight deceleration. Transport and petroleum demand offset weakness in industrial and electric power markets.
Larry De Maria, a New York-based analyst for William Blair & Co., is somewhat optimistic about Caterpillar's growth outlook.
"We believe that South America and China machine markets are at trough levels," De Maria said in a note to clients. "A real recovery in both markets is more likely to be realized in 2013, with easier comparisons and the positive effects of monetary policy."
"Ultimately, we believe infrastructure projects in China and easier credit in Brazil will have a positive effect on the regional markets over the next 6 to 12 months. Europe appears to be stable and North America remains strong despite concerns that the market would weaken," De Maria said.
De Maria view the overall machine growth of 13 percent in August as a positive for Caterpillar's stock given that expectations continue to be low, although he is wary of the continued moderation in power systems.
Friday's dealer statistics came on the heels of a slew of economic data from Europe, China, Japan and the U.S., which reinforced fears of a deeper global downturn.
Data released Thursday showed euro zone private sector economic activity contracted at the fastest rate since June 2009, defying hopes that the aggressive new policy from the European Central Bank would help reignite growth in the single currency bloc.
Moreover, Europe's troubles continued to hit exporters around the world. Thursday's purchasing managers indexes, which survey thousands of companies worldwide every month, showed Chinese factory activity shrank for an 11th month in September, while Japan's exports tumbled for a third month in a row in August. Things aren't looking any better for the U.S., where factory activities suffered its weakest quarter in three years.
Additionally, the World Trade Organization, or WTO, slashed its 2012 global trade outlook to 2.5 percent growth from 3.7 percent on Friday, citing the euro zone debt crisis and weak growth in the U.S. and China as key factors behind the downgrade.
It also cut its global trade growth outlook for next year to 4.5 percent from 5.6 percent.
"The global economy has encountered increasingly strong headwinds since the last WTO Secretariat forecast was issued," the WTO said. "Output and employment data in the United States have continued to disappoint, while purchasing managers' indices and industrial production figures in China point to slower growth in the world's largest exporter."
"More importantly, the European sovereign debt crisis has not abated, making fiscal adjustment in the peripheral euro area economies more painful and stoking volatility," the WTO said.
Director-general Pascal Lamy called for more to be done to boost global growth, on top of recent measures to buy up government bonds announced by the central banks of the U.S., Europe and Japan.
"In an increasingly interdependent world, economic shocks in one region can quickly spread to others," Lamy said in the statement. "Recently announced measures to reinforce the euro and boost growth in the United States are therefore extremely welcome. But more needs to be done. We need a renewed commitment to revitalize the multilateral trading system which can restore economic certainty at a time when it is badly needed."
© Copyright IBTimes 2023. All rights reserved.