CES 2017 Preview: First 'Smart Hairbrush' Revealed Ahead Of Consumer Electronics Show In Las Vegas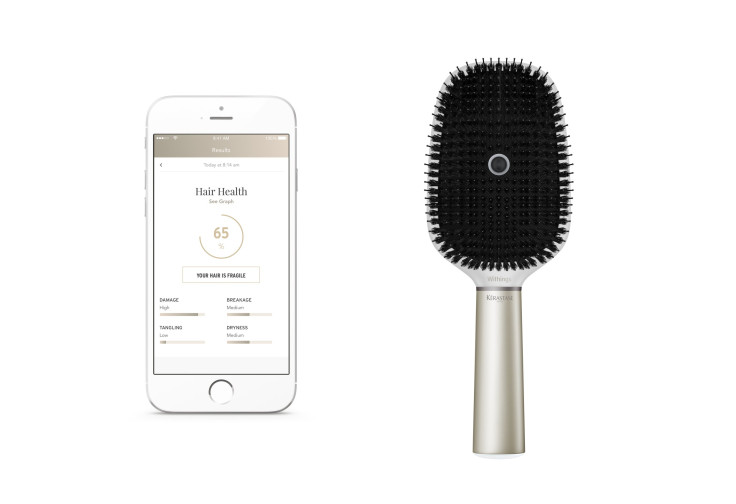 Move over, wearables and fitness trackers. Tech-driven beauty and enhanced haircare have officially arrived for 2017. From electronic face masks that promise to tone and rejuvenate to the quick-drying, ultra-quiet hair dryer that became the talk of the beauty world, "smart" health and beauty products are clearly here to stay.
The latest innovative product to hit the tech-beauty circuit is a new "smart hairbrush," a connected hair tool that could revolutionize day-to-day hair care. The Kérastase Hair Coach Powered by Withings was created in collaboration between luxury hair care brand Kérastase and Withings, an electronics company that specializes in health and lifestyle products.
The Kérastase Hair Coach Powered by Withings made its debut Tuesday, just two days ahead of the 2017 Consumer Electronics Show (CES) in Las Vegas, according to an announcement by L'Oréal. (The heritage beauty giant first launched Kérastase specialty products and luxury haircare for consumers back in 1967). The companies sought to create a smart brush that would focus on a personalized haircare system, one that could actually combat hair damage normally inflicted by traditional hairbrushes and poor maintenance.
The brush was awarded the 2017 International CES Innovation Award ahead of its debut.
L'Oréal's Research and Innovation Technology Incubator, a "start-up that pairs L'Oréal's Research and Innovation division with entrepreneurs and academic institutions," was also involved in the collaboration and supported the brush's algorithms and tech, according to L'Oréal Technology Incubator's Global Vice President Guive Balooch.
"Creating the brush required not only connected technology expertise, but deep knowledge of hair science and how consumers relate to their hair," Balooch told International Business Times in an email shortly following the announcement. "The partnership was truly a three-way collaboration. The L'Oréal Technology Incubator oversaw all brush testing and developed the signal analysis algorithms that power the device. Withings developed the hardware, including the brush's combination of smart sensors, and spearheaded the mobile app UX. Kérastase provided its expertise in professional hair care for the development of the brush design, and also was responsible for the digital and personalized content and recommendations in the app," Balooch explained.
Multiple sensory devices filter information into the brush and to the app to determine a complete hair profile of the user. 3-axis load cells determine the force applied to scalp and hair. When the brush is used, a microphone picks up sounds that can track brushing patterns, which can determine breakage, dryness or fizziness. Additional sensors count brush strokes, determining if brushing is too forceful or vigorous. Lastly, conductivity sensors can help to determine hair measurement based on whether or not strands are wet or dry.
The new Kérastase hairbrush provided the user with feedback and data that informs how to prevent damage and other information depending on a person's individual existing hair care regimens and products. The app offers a "hair quality score" and recommends tips, tricks and products to use, all tailored to the individual.
Although an exact in-store launch date has yet to be announced, shoppers can expect to purchase the smart hairbrushes for under $200, sometime in mid-2017. The brushes will be available at select Kérastase hair salons, as well as through Withings' online sales and channels.
© Copyright IBTimes 2023. All rights reserved.