KEY POINTS
The Level Touch smart lock can be used in a variety of ways to keep your house safe
The smart lock is also ideal to track who is coming and going if you own multiple properties
The Level Touch still uses a traditional key as well if you want to keep things old-school
Everything is getting smarter these days, from blenders to refrigerators, and even gardens. While some of those things probably don't need any extra bells and whistles, one area of smart devices has been underlooked until now: smart locks. Many smart locks are bulky devices that try to add smart features to a deadbolt that already exists in a door. Company Level is changing this by building a smart lock from the ground up.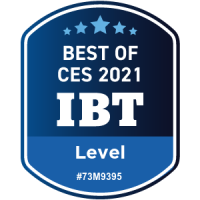 The latest product from Level is called the Level Touch. This smart lock is self-contained, with all the smart features built right into the deadbolt mechanisms. While this means that a door's deadbolt will need to be replaced for the Level Touch to be installed, after installation there aren't any bulky pieces of hardware that stick out.
Everything included with the Level Touch, including two key cards Photo: Level
Once installed, the Level Touch smart lock can be used in a variety of ways. As the name implies, users can simply lock and unlock the Level Touch with the graze of a finger. Of course, the user will need a connected cell phone on them, as it acts like a keyless car fob that grants access to a car when you get near.
Another way to use the Level Touch is with the included cards. These are similar to hotel key cards in that you tap the card on the lock to activate it. These cards can be programmed individually to give access to people who may not have a cell phone.
The Level Touch can also be used through the Level app. This app allows users to easily lock and unlock all Level Touch deadbolts that are connected. This is ideal if you happen to be in a hurry and forget to lock your door. Once you have an internet connection, you can lock your door from wherever you are. The app also provides information on who is interacting with each lock and at what time.
Lastly, like any other deadbolt, the Level Touch can also be used with a traditional key.
Things get even cooler when you have multiple Level Touch locks installed. Access can be granted on a person-by-person basis. For example, you can give a key card to someone you hired to clean your house, but you don't want them cleaning the garage. The card can be set up to grant access to the main house and bedrooms, but will not work on the lock to the garage door.
Access can also be granted for a set time. This is ideal for those who run an AirBnB or other rental property. You can give access to the property to specific guests, but only for the duration of their stay.
The most convenient thing about the Level Touch is that it can be completely installed by one person only using a screwdriver. No special equipment or technician is needed to install the smart lock.
The Level Touch smart lock is priced at $329. It is currently available in a satin nickel or satin chrome finish, but polished brass and matte black finish options are coming soon.