Chapel Hill Shooter Divorce: Craig Stephen Hicks' Wife Files For Divorce After Triple Murder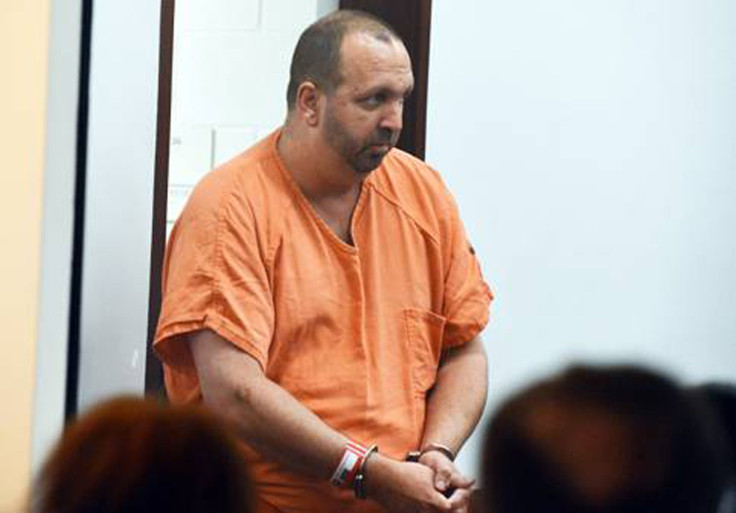 The wife of alleged Chapel Hill shooter Craig Stephen Hicks may have defended her husband in the wake of the murder of three Muslim students Tuesday, but Karen Hicks is now seeking a divorce from the suspect, according to a report from the Associated Press. After saying her husband "champions the rights of others," Hicks released a statement through her lawyer saying that she was divorcing Craig, who many believe targeted the students because of his anti-religion views.
Hicks, who had been married to the alleged shooter for seven years, told reporters Wednesday that the shooting had "nothing to do with religion" but was related to a long-standing parking dispute with the victims, CBS reported. Her lawyers also asserted that the suspect, 46, was a "champion of Second Amendment rights" who "believed everyone is equal."
Hicks is accused of murdering Deah Shaddy Barakat, 23, his wife, Yusor Mohammad, 21, and her sister Razan Mohammad Abu-Salha, 19. The three were found shot dead in their apartment in the condominium complex where Hicks also lives. The killings have sparked outrage among people who view it as a possible bias attack based on Hicks' social media postings expressing anti-religion views.
"When it comes to insults, your religion started this, not me," Hicks wrote in a post on his Facebook page, according to the Raleigh News and Observer. "If your religion kept its big mouth shut, so would I. But given that it doesn't, and given the enormous harm that your religion has done in this world, I'd say that I have not only a right, but a duty, to insult it, as does every rational, thinking person on this planet." The father of the female victims said he believes the students were targeted for their Muslim faith and that his daughters had previously told him that Hicks "hates us for what we are and how we look," the News and Observer reported.
Cynthia Hurley, the suspected shooter's ex-wife, told the AP that prior to their divorce 17 years ago, his favorite movie was "Falling Down," a 1993 film about a divorced unemployed engineer who goes on a shooting rampage. "That always freaked me out. He watched it incessantly. He thought it was hilarious. He had no compassion at all," she said.
© Copyright IBTimes 2023. All rights reserved.
FOLLOW MORE IBT NEWS ON THE BELOW CHANNELS