Charleston Shooting: South Carolina Has 19 Active Hate Groups, Including KKK Chapters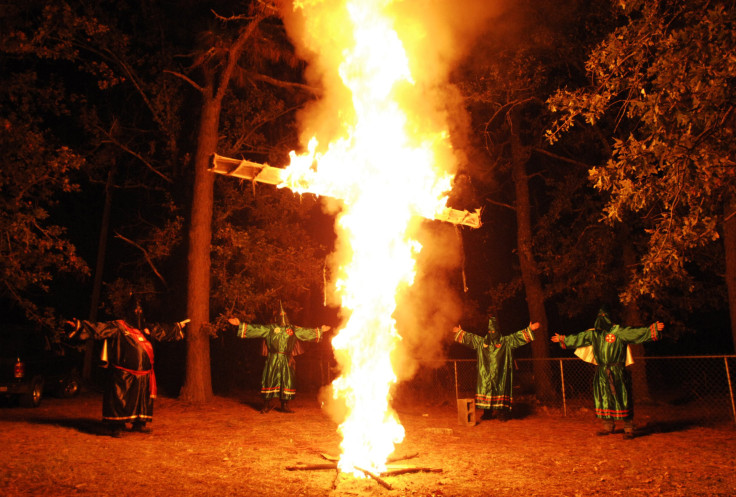 Hate crimes in South Carolina are coming under renewed scrutiny after a gunman, suspected to be a white male, shot and killed nine people at a historic black church in Charleston late Wednesday. The list of active hate groups in the state, which does not have a hate crimes law, contains 19 associations, including two Ku Klux Klan chapters.
According to the Hate Crime Statistics Act a hate crime is one that is committed with "evidence of prejudice based on race, gender or gender identity, religion, disability, sexual orientation, or ethnicity." A hate crime can be "murder, non-negligent manslaughter; forcible rape; aggravated assault, simple assault, intimidation; arson; and destruction, damage or vandalism of property." Federal authorities said they would investigate Wednesday's attack as a hate crime.
White nationalist, Ku Klux Klan, Neo-Nazi, black separatist, neo-confederate and anti-LGBT groups were among the 19 groups included on a list of South Carolina's active hate groups. Nationally, the number of hate groups has declined in recent years. In 2014, the United States had 784 active hate groups, down from its 2011 peak of 1,018 groups, according to the Southern Poverty Law Center.
In 2007, 127 hate crimes were reported in South Carolina, according to the FBI. The following year, the number rose to 153. But in 2013, the number dropped to 51, FBI numbers show. In July 2014, the KKK distributed leaflets to a South Carolina neighborhood that said "Save Our Land, Join the Klan," NBC News reported.
Nearly half of the 5,922 hate crimes reported nationally in 2013 were racially based – far more than on any other type of prejudice. Sexual orientation was the next most common, accounting for 20.8 percent of reported hate crimes, FBI statistics show.
"What has our society come to when people in a prayer meeting in the sacred halls of a church can be shot in what is deemed a possible hate crime?" Rev. Al Sharpton, president of the National Action Network, said in a statement released Thursday.
The shooter, who remains at large, reportedly said, "You rape our women and are taking over our country and you have to go," a survivor of the shooting told NBC reporter Eric King, who revealed the quote in a tweet ahead of the interview.
© Copyright IBTimes 2023. All rights reserved.