Chattanooga Shooting Update: Pentagon Asks Armed Civilians Not To Guard Military Recruiting Centers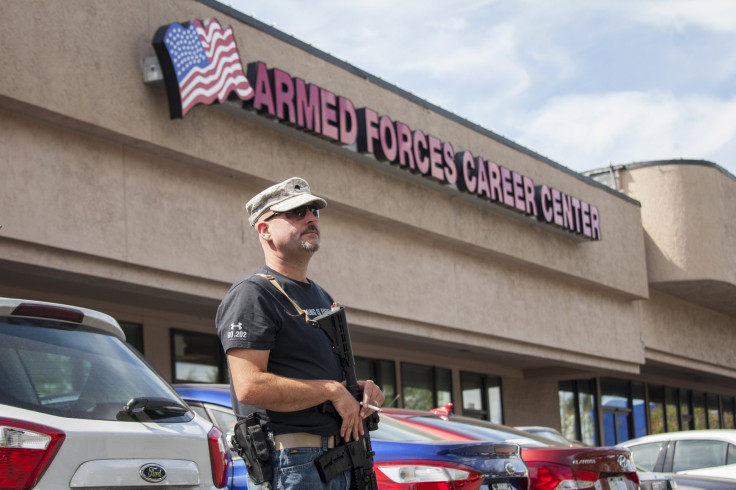 The Pentagon has asked armed civilians, who have volunteered to guard military recruitment centers after last week's deadly shootings in Chattanooga, Tennessee, to stand down. The U.S. Department of Defense said Friday that it appreciates the support, but armed civilians could potentially create "unintended security risks."
Groups of citizens with fire arms across the country began patrolling outside U.S. military recruitment centers to protect staffers after a gunman named Mohammod Youssuf Abdulazeez opened fire at the Armed Forces Career Center and a nearby naval reserve center in Chattanooga, killing four Marines and one sailor. Abdulazeez, who acted alone in last week's shootings, was killed by police after the incident.
"While we greatly appreciate the outpouring of support for our recruiters from the American public, we ask that individuals not stand guard at recruiting offices as it could adversely impact our mission, and potentially create unintended security risks," Pentagon spokesman Peter Cook said in a statement on Friday. "We continue to partner with and rely on first responders for the safety of the communities where our service members live and work."
Over the last few days, armed civilians in several states, including Pennsylvania, Wisconsin, Arizona, Georgia, Texas and Ohio, have come out in droves to guard recruiting centers, where military personnel are generally not allowed to carry firearms.
"To have someone throw lead at you and you not be able to throw it back just seems victim," Kim Paulsen, a member of the Iowa Militia standing near a recruitment center in Des Moines, told the city's KCCI-TV Tuesday. "These guys should be able to be comfortable and not have to worry about what's behind the next car, and that is why I am here."
Another group, called "Operation Hero Guard," also appeared in Cleburne, Texas, armed with assault rifles, BBC reported.
"We take the safety of our service members, our DoD civilians, and the families who support them very seriously, and Secretary of Defense Ash Carter is currently reviewing recommendations from the services for making our installations and facilities safer - including our recruiting stations," Cook said in the statement.
© Copyright IBTimes 2023. All rights reserved.