Cheater Billboard: Did Wife Get Ultimate Revenge On Cheating Husband, Or Was It All A PR Stunt? [PHOTO]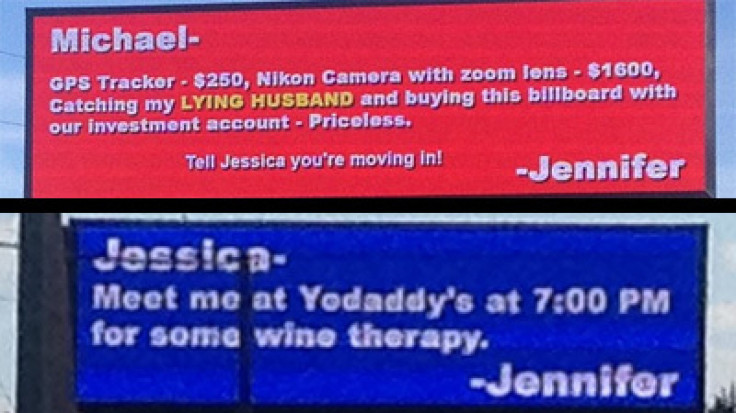 Talk about the ultimate revenge. Or have we all been duped in a crafty marketing stunt a la Don Draper?
A wife in North Carolina has appeared to retaliate against her cheating husband, by calling him out on a digital billboard in Greensboro. If she exists, that is.
Addressed to "Michael" from "Jennifer," the wife who allegedly purchased the billboard calls out the husband in question for lying in what appears to be a tryst between the married man and another woman named "Jessica."
The sign read:
"Michael- GPS Tracker — $250, Nikon Camera with zoom lens — $1600, Catching my LYING HUSBAND and buying this billboard with our investment account – Priceless. Tell Jessica you're moving in! – Jennifer."
According to Fox8 News, the billboard has garnered a lot of attention on Battleground Avenue; however, it might actually be fake.
Fox reported that the three parties in question may not exist and noted the exchange could be part of a clever marketing campaign by a local restaurant chain. The news station said another digital billboard emerged on Thursday afternoon, where "Jennifer" asked "Jessica" to meet at Yo Daddy, a local frozen yogurt shop and dessert bar.
The second billboard read:
"Jessica – Meet me at Yodaddy's at 7:00 p.m. for some wine therapy -Jennifer."
Ironically, Fox8 reported the company that owns the billboard, Kotis Properties, also owns the frozen yogurt shops. The general manager at Yo Daddy's told Fox he didn't know who purchased the billboard or if it was fake.
A Facebook comment from the billboard company's representative, Chad Tucker, stirred more questions for those tickled by the saga.
"We cannot comment on the billboard content right now," Tucker wrote. "We have asked the sponsor for a statement based on your inquiry."
A similar billboard made the rounds in February last year, where a wife named "Emily" called out her soon-to-be ex-husband "Steven" to tell him she is leaving him. This billboard (which you can view below) read:
"Hi Steven, Do I have your attention now? I know all about her, you dirty, sneaky, immoral, unfaithful, poorly-endowed slimeball. Everything's caught on tape. You (soon-to-be-ex) Wife, Emily. P.S. I paid for this billboard on OUR joint bank account."
According to Business Insider, the Manhattan billboard on 54th Street and 7th Avenue first emerged back in 2006, garnered a similar discussion as to whether or not it was fake.
"Let's then deduce that there was no individual woman who was cheated on here, that this is obviously an ad campaign.That ad agency is having the greatest day of their life," radio host Ryan Seacrest said on his show on 102.7 KIIS FM in 2006.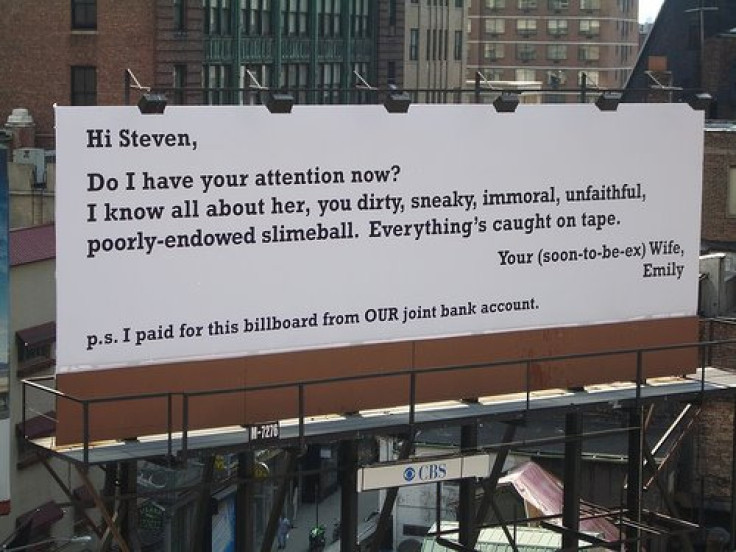 © Copyright IBTimes 2023. All rights reserved.