'Chicago Fire' Season 5 Spoilers: Episode 7 Synopsis Released Online; What Will Happen In 'Lift Each Other'?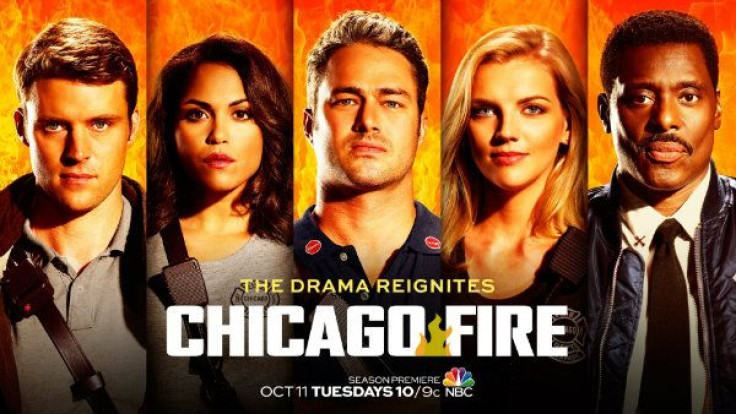 "Chicago Fire" Season 5, episode 7 "Lift Each Other" will be just as packed with drama as previous episodes.
NBC has released the synopsis for the upcoming episode of "Chicago Fire," which teases another exciting installment and more developments. Here's the synopsis for the upcoming installment: "Dawson (Monica Raymund) and her brother Antonio (Jon Seda) host a family reunion when their parents come to Chicago for their anniversary; Boden (Eamonn Walker) takes matter into his own hands after a secret involving his stepson comes to light; Casey (Jesse Spencer) tries to save a young boy at a warehouse; and Otis (Yuriy Sardarov) and Kidd (Miranda Rae Mayo) square off at a mud race."
Meanwhile, "Chicago Fire" Season 5, episode 6, titled "That Day," did not dwell much on 9/11 as was previously teased, but it was still packed with a lot of emotion and heart-stopping moments.
One of the most tension-filled moments in the episode was Gabby Dawson (Monica Raymund) being put in a challenging position. While on the way to respond to a fire call, she ran over a pedestrian. The truck was far from silent, so there was no way that the pedestrian did not know that it was coming. Later, they found out that the pedestrian, who went into a coma, had tried to commit suicide several times before. In an attempt to have the charges made against her dropped, Gabby talked to the victim's son to tell him about the many instances that his father tried to take his life. The son was not convinced at first because he did not know of the other incidents, but things may be different in the next episode.
Meanwhile, Gabby's brother, Antonio, had it good in the latest episode. His romance with Sylvie (Kara Killmer) has fully developed, so more scenes involving the two are expected in the upcoming episodes.
Aside from Antonio and Sylvie's relationship, another thing that has been finalized in the previous episode was the case of a man whose house burned down with his wife inside. Casey was sure that it was arson, but Severide (Taylor Kinney) did not buy it, mostly because of how the homeowner reacted when he came to the scene. In the end, they found out that they were both right. It was arson, but the man did not intend for his wife to get trapped and burnt along with their belongings.
"Chicago Fire" Season 5 airs Tuesdays at 10 p.m. EST on NBC.
© Copyright IBTimes 2023. All rights reserved.