Chicago Mayor Rahm Emanuel Cuts Schools, Pensions While Preserving Fund For Corporate Subsidies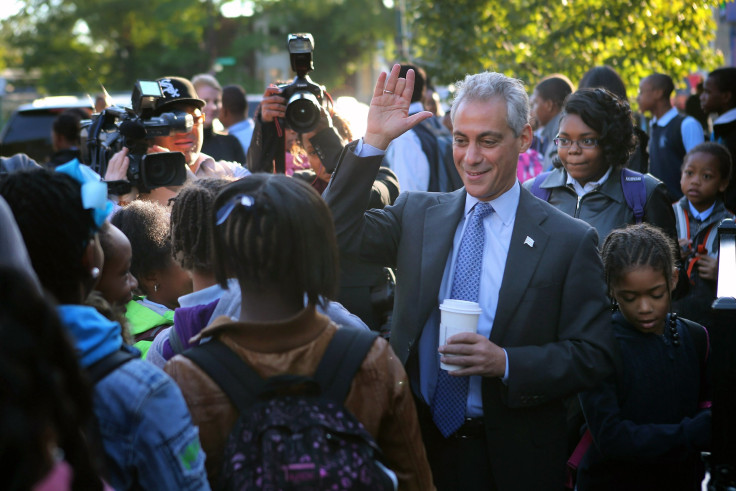 Months after Chicago Mayor Rahm Emanuel said budget constraints forced him to push for pension cuts and mass school closures, an analysis of government documents reveals the city has $1.71 billion in special accounts often used to finance corporate subsidies. While the Emanuel administration has rejected open records requests for details of the subsidies, evidence suggests at least some of them have flowed to companies connected to Emanuel's campaign donors.
The analysis conducted by the TIF Illumination Project evaluated the city's 151 tax increment financing, or TIF, districts, which divert a share of property taxes out of accounts obligated to schools and into special accounts under the mayor's control.
The report shows $412 million was diverted last year alone into the TIF accounts and out of traditional property tax funding streams, many of which are dedicated to the city's schools. In 21 of those districts, the report says 90 percent or more of all property taxes were diverted into the TIF accounts.
Citing Chicago subsidies offered to S&C Electric Co., LaSalle Street Capital, United Airlines and the Chicago Mercantile Exchange, an earlier study from the taxpayer watchdog group Good Jobs First found in the last 25 years, $5.5 billion of taxpayer money has gone into TIF accounts, and "much of the city's TIF revenue was spent on subsidizing corporations, nonprofits and developers." The amount of money diverted into TIFs has exploded in the last decade, and transparency advocates say under Emanuel, TIF projects have been shrouded in more secrecy than ever.
In its annual budget, the Emanuel administration defends the TIF programs, saying their goal is "promoting business, industrial and residential development in areas of the city that struggled to attract or retain housing, jobs or commercial activity." The administration further argues the money is needed "for community projects, public improvements and incentives to attract private investment to the area."
The latter argument has been used by Emanuel to spend hundreds of millions of TIF dollars on corporate development deals in some of the city's wealthiest neighborhoods. The rationale echoes the claims made in places like New Jersey, Detroit and Miami where lawmakers have been simultaneously slashing public services and municipal workers' pensions and using the savings to expand taxpayer subsidies to corporations. Those subsidies have supported everything from arenas and NBA practice facilities, to corporate office towers and shopping malls -- and the subsidy recipients have often been major political donors.
With Chicago's high-profile shootings and nation-leading murder count reigniting scrutiny of Emanuel's austerity budget policies for the city's police department, critics of the TIF subsidies say the cash for corporate subsidies would be better spent on the city's traditional public services.
"TIF money alone wouldn't solve all of our budget problems, but it would be a huge help," said Karen Lewis, president of the Chicago Teachers Union who is considering a bid for mayor against Emanuel in 2015. Pointing to data from the new study showing the largest chunk of TIF resources being spent near the convention center on Chicago's lakefront, she added: "TIFs were designed for neighborhoods that were underdeveloped and blighted, they were not designed for downtown areas that are not suffering."
In all, the $412 million flooding into the TIF accounts now represents about a third of total property taxes collected by Chicago, Emanuel administration budget documents show. University of Illinois researchers found in 2010 had the school system been permitted its traditional share of those property taxes, it would have had $267 million more in annual revenue -- adding about 5 percent to the school system's current $5.8 billion budget.
In 2013, as Emanuel was pushing to spend $125 million of taxpayer money on a stadium development deal for a private university, the mayor said the need for budget savings compelled himto order the largest public school closing in American history. The budget mandating those school closures included a $68 million cut to classroom programs. For comparison, Cook County Clerk David Orr has said modest changes in the TIF program could recapture $44 million for schools. The Chicago City Council's progressive caucus has estimated $200 million in uncommitted funds are sitting in TIF accounts.
At the time of the school closures, Emanuel rejected proposals from local lawmakers to release more TIF funds to prevent some of the cuts. His allies on the City Council subsequently voted down legislation to redirect TIF money into schools.
"You cannot either tax your way or TIF your way out of this problem," the mayor said at a press conference defending his position.
Emanuel made a similar argument when he cited budget constraints as the rationale behind his pension reform bill that is estimated to cost municipal workers $55 million. Reuters reports Chicago faces a $1 billion pension payment in 2014 and an overall 30-year, $19.2 billion pension shortfall. Yet, Emanuel has preserved the TIF accounts despite the Good Jobs First report concluding "property tax diversions into TIF have exceeded pension costs in every year since 2007."
In a statement to Crain's Chicago Business, the Emanuel administration argued TIF resources represent "a tiny fraction of the money needed to secure retirements for those in the city's pension funds."
In an interview with IBTimes, Alderman Scott Waguespack disputed that conclusion.
"TIFs are taking almost $500 million a year, and that's extremely substantial," he said. "I'm not saying that money is going to solve the whole budget problem -- you need to cut spending in other areas -- but you can see that the bulk of the solution could come from serious TIF reform."
Facing plummeting poll numbers in advance of his 2015 reelection campaign, Emanuel in recent months has responded to criticism of the TIFs by using his discretion to direct some TIF resources into his hand-picked education projects (including a controversial $60 million TIF expenditure for a charter school named after Emanuel's old White House boss, President Barack Obama). However, at the same time, Emanuel has pushed a tax hike proposal to increase the amount of TIF cash at his disposal, and he has delivered big TIF awards to aid commercial development projects, some of which are in wealthy neighborhoods.
While Chicago budget documents officially classify many of these projects as "public improvements," many of these projects have benefited companies connected to Emanuel's campaign contributors. For example:
- While saying there was no more money for schools or pension benefits, Emanuel pushed a $29 million TIF that critics say is designed to benefit an office tower that will be the new Chicago headquarters of a law firm whose employees gave Emanuel more than $125,000 in campaign contributions. That firm was involved in a $4.5 million TIF that Emanuel's allies pushed for Vienna Beef.
- The Emanuel administration approved a $7 million TIF aiding a grocery store chain, Mariano's. A board member of that chain's parent company donated $25,000 to Emanuel's campaign.
- As part of an estimated $300 million in taxpayer-financed subsidies to help the tourism industry, Emanuel backed a $55 million TIF near the city's convention center. The TIF benefits a hotel chain partly owned by one of his largest campaign contributors' hedge funds.
- Emanuel appointees additionally awarded some of that latter TIF project money to Jones Lang LaSalle, which counts Ariel Investments as one of its largest shareholders. The president of Ariel Investments is Mellody Hobson, a major Emanuel donor.
Emanuel has insisted "close to 75 percent of [TIF] dollars go to schools, parks, libraries, streetscape [and] mass transit." But community groups have suggested many of those projects are deliberately targeted to help the city's corporate class -- for example, activists protesting the $29 million TIF for a park in upscale downtown Chicago said the subsidy was really an effort to create a taxpayer-sponsored corporate plaza for real estate developers' new office tower. Additionally, Waguespack said when he and the City Council's progressive caucus analyzed TIF data, they found far less than 50 percent was going back into public projects and much of it was going to private development.
To more systematically quantify which developers, law firms and investment companies are receiving TIF money diverted from public schools, the Chicago Teachers Union last year filed a Freedom of Information Act request asking the Emanuel administration to provide the contracts outlining current and future commitments of existing TIF money. Though Emanuel has publicly touted his commitment to transparency, IBTimes obtained a letter from the administration rejecting the request on grounds it would require too much staff time to compile and was, therefore, "unduly burdensome."
Read that letter here:
City Response to CTU FOIA-8!12!13
Waguespack says he and his allies on the City Council have had no better luck. Despite the passage of his 2009 ordinance to make more TIF records public, the alderman says Emanuel has repeatedly rejected requests for details of pending and future deals. That represents a significant shift from the administration of Emanuel's predecessor, Richard M. Daley, the council member said.
"Under Mayor Daley it was easier to know what the money was earmarked for because you'd ask and they'd just tell you," he told IBTimes. "But under Mayor Emanuel, when we started looking at the school funding crisis and the pension crisis and we said those crises mean we need to scale back the TIF program that is taking so much money out of those systems, we suddenly started seeing documents about existing TIF money saying that the surplus money is 'restricted for future redevelopment.' But when we asked for specifics of what that future redevelopment is, we've been told by the mayor's office that it is confidential."
A search of the city of Chicago's website shows the phrase -- "restricted for future redevelopment" -- is scattered throughout recent TIF reports.
The TIF Illumination Project report summarizing the total cost of these initiatives follows last month's launch of a new transparency website by Orr that seeks to shed more light on TIF districts. These accounts have been so difficult to quantify, they have been referred to as Chicago's "shadow budget." Orr has pressed for a reduction in TIF diversions and to use excess TIF money to help meet the city's education and pension needs.
"Chicago homeowners are being asked to pay more for pensions without receiving any additional services while corporations and private interests in TIF districts continue to reap their rewards," Orr said in April. "I believe there is a way to restructure TIF funds to ease the pension burden at no additional cost to taxpayers."
Orr's argument is buttressed by Democratic California Gov. Jerry Brown's recent initiative to dissolve TIF authorities. California's nonpartisan Legislative Analyst's Office said property tax revenues for schools and other public services will end up being "about 10 percent to 15 percent higher than they otherwise would have been" under the TIF programs.
Nonetheless, as with other proposals to release Chicago's TIF money to schools, Emanuel officials dismissed Orr's proposal, telling Crain's it would "not allow the city to meet existing obligations for neighborhood investments that have already been completed or are underway." Yet, after rejecting last year's FOIA request, those officials have still not provided details of those ongoing and future projects.
In an interview with IBTimes, TIF Illumination Project head Tom Tresser said the $1.7 billion fund is the central political mystery in the city in advance of the 2015 mayoral election.
"The No. 1 question in Chicago politics is why is this money is just sitting there when the mayor is cutting so many public services," Tresser said. "There are three possible answers: We are saving the money to pay back money we owe on old projects, there are projects moving ahead that aren't being revealed or the mayor just wants to keep a slush fund for himself. But we can't know everything that's going on because so much of it remains secret."
The Emanuel administration did not respond to IBTimes request for comment about the TIF Illumination Project's findings and about campaign contributions to the mayor's re-election campaign.
© Copyright IBTimes 2023. All rights reserved.