Detroit, Other Cash-Strapped US Cities, States Slashing Pension Benefits While Subsidizing Professional Sports Stadiums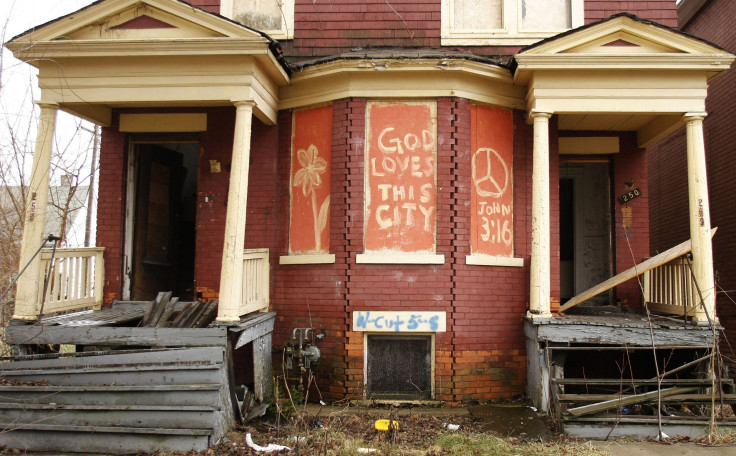 As U.S. states and cities grapple with budget and pension shortfalls, many are betting big on an unproven formula: Slash public employee pension benefits and public services while diverting the savings into lucrative subsidies for professional sports teams.
Detroit on Monday made itself the most prominent example of this trend. Officials in the financially devastated city announced that current and future municipal retirees had blessed a plan that will slash their pension benefits. On the same day, the billionaire owners of the Detroit Red Wings, the Ilitch family, unveiled details of an already approved taxpayer-financed stadium for the professional hockey team.
Many retirees now face a 4.5 percent cut in their previously negotiated cost-of-living adjustments, which is part of a larger plan to cut $7 billion of the city's debt. At the same time, the public is on the hook for $283 million toward the new stadium after giving the Ilitches key parcels of land for $1.
The budget maneuvers in Michigan are part of a larger trend across the country. As Pacific Standard reports, "Over the past 20 years, 101 new sports facilities have opened in the United States — a 90-percent replacement rate — and almost all of them have received direct public funding." Now, many of those subsidies are being effectively financed by the savings accrued from pension cuts.
The officials promoting these twin policies argue that boosting stadium development effectively promotes broad economic growth. But many calculations rely on controversial and dubious assumptions that have been widely challenged.
A landmark 1997 Brookings Institution study by sports economist Andrew Zimbalist concluded that "a new sports facility has an extremely small (perhaps even negative) effect on overall economic activity and employment" and that few facilities "have earned anything approaching a reasonable return on investment" for taxpayers.
That finding was confirmed by University of Maryland and University of Alberta researchers, whose 2008 review of major academic research found that "sports subsidies cannot be justified on the grounds of local economic development." In addition, a 2012 Bloomberg News analysis found that taxpayers have lost $4 billion on such subsidies since the mid-1980s.
At the same time, cuts to pension contributions are rarely described by public officials as negative for local economic growth, though economic data suggests otherwise. An analysis by the Washington, D.C.-based National Institute on Retirement Security notes that spending resulting from pension payments had "a total economic impact of more than $941.2 billion" and "supported more than 6.1 million American jobs" in 2012.
Since Detroit filed for bankruptcy protection, city and state officials have been demanding pension cuts to reduce the estimated $3.5 billion in outstanding pension obligations while at the same time reassuring the Ilitches that the subsidies will be preserved.
As Detroit's emergency manager, Kevyn Orr, put it: "I know there's a lot of emotional concern about should we be spending the money [on stadiums] but frankly that's part of the economic development. We need jobs. If it is as productive as it's supposed to be, that's going to be a boon to the city."
According to an analysis by the New York Times, Michigan is one of the top per-capita spenders on such subsidies, providing roughly $6.6 billion a year in taxpayer support to private firms. That includes millions on the Silverdome, Ford Field and now the new Red Wings arena. The money for the new arena will not come directly from the city's general treasury, but from a special tax district called the Downtown Development Authority, which diverts public dollars into such projects.
Other cities and states that have coupled sports subsidies with pension cuts include:
In Chicago, Mayor Rahm Emanuel recently passed a $55 million cut to municipal workers' pensions. At the same time, he has promoted a plan to spend $55 million of taxpayer money on a hotel project that is part of a larger stadium redevelopment plan for Depaul University.
In Miami, Bloomberg News reports that the city "approved a $19 million subsidy for the professional basketball arena" and then six weeks later "began considering a plan to cut as many as 700 (librarian) positions, including a fifth of the library staff and more than 300 police."
In Arizona, the Phoenix Business Journal reports that regional governments in that state have spent $1.5 billion "on sports stadiums, arenas and pro teams" since the mid-1990s. At the same time, legislators are considering proposals to cut public pension benefits, while voters in Phoenix may face a pension-cutting ballot initiative in November.
In New Jersey, Gov. Chris Christie is trying to block a planned $2.4 billion payment to the pension system, at the same time his administration has spent a record $4 billion on economic development subsidies and tax breaks to corporations. That includes an $82 million subsidy for the construction of a practice facility for the Philadelphia 76ers.
In Louisville, Kentucky, up to $265 million in state and local tax revenues were used to finance the construction of the KFC Yum! Center, which opened in 2010. Only a few years later, Kentucky legislators enacted major cuts to the state's pension system.
"Sports stadiums typically aren't a good tool for economic development," said Holy Cross economist Victor Matheson in an interview with The Atlantic. "Take whatever number the sports promoter says, take it and move the decimal one place to the left. Divide it by ten, and that's a pretty good estimate of the actual economic impact."
© Copyright IBTimes 2023. All rights reserved.
FOLLOW MORE IBT NEWS ON THE BELOW CHANNELS