As China Awaits The iPhone 6, Samsung Could Gain A Regional Advantage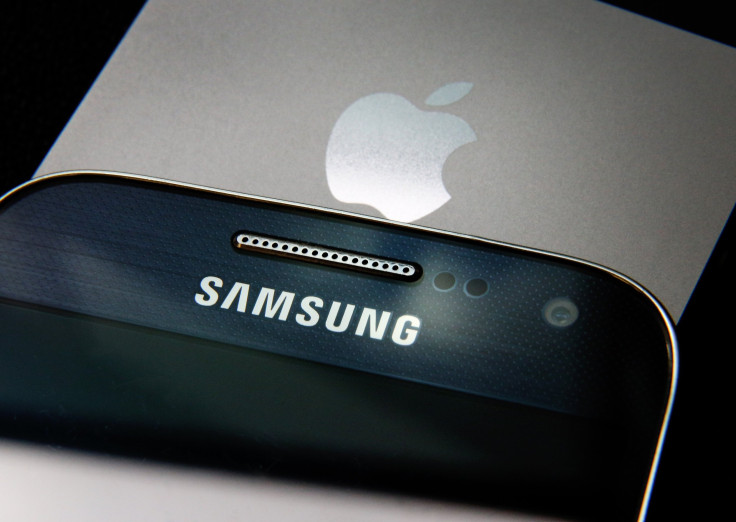 Not only is the iPhone 6 officially unavailable in China right now, there's no word on when it will be released. But while Apple's new device awaits approval from the Chinese government, rival Samsung is accelerating the launch of its Galaxy Note 4 by several weeks, hoping to gain an advantage.
The Galaxy Note 4 was supposed to launch globally on Oct. 17, but Samsung has bumped its availability in China to Sept. 26. With Samsung's latest device legally circulating in the Chinese market, the manufacturer has the opportunity to pull ahead of Apple in the world's largest smartphone market.
Samsung is already feeling the heat from Apple's record-breaking launch of the iPhone 6 and 6 Plus last Friday, as the new large-screen smartphones have already sold over 10 million units. But it has only stirred ambition in Apple's South Korean rival, with Samsung admitting it 's bumped launch dates in certain markets in response to the iPhone 6 frenzy.
But the Chinese government is giving Samsung an opening: the Ministry of Industry and Information Technology (MIIT), something of an analog to the United States' FCC, is the Chinese governing body that signs off on new devices such as the iPhone 6. The MIIT requires two distinct, individual licenses before a device can become a "legit" consumer smartphone — one that grants it access to the country's domestic frequencies, and one that grants it access to the network at large.
Silence on network licenses
Reuters cites a source "familiar with the certification process [who] said the MIIT usually takes one to two months to approve a new phone." As of now, Apple's iPhone has only earned the domestic frequency license, and Apple is silent on what's going on with the network license. This silence is especially confusing considering that Apple derives much of its revenue from China.
Samsung says it plans to ship 15 million Galaxy Note 4 units during its first month of release, which would be more than the manufacturer has ever shipped of a single device. By comparison, Samsung shipped 11 million units of the Galaxy S5 smartphone during its first month of availability in April. The Galaxy S line has typically been more popular among consumers than the Galaxy Note line is, but with so many smartphone buyers taking to the iPhone 6 Plus, phablet originator Samsung is putting a bigger stake in its own gargantuan device.
The manufacturer is confident that the Galaxy Note 4 will fare well on the market and outsell the previous Galaxy Note 3, contrary to many analyst projections. The president of Samsung's mobile division, DJ Lee, said at a launch event in Seoul on Wednesday that initial consumer reactions to the Galaxy Note 4 have been positive. Additionally, reports indicate that South Korea's three major mobile carriers quickly sold out of Galaxy Note 4 preorders when they became available last Friday, with each network selling about 10,000 units.
As for Apple's delay in China, "it's bizarre," says Pacific Crest analyst Andy Hargreaves. "It's not like Apple hasn't launched a phone in China before. Everyone knew this was coming, so I don't understand why there's a holdup."
Meanwhile, Chinese consumers are so anxious to get their hands on the iPhone 6 and 6 Plus that the country's black market has been booming. The iPhone 6 and 6 Plus handsets are reportedly being smuggled into the country in Twinkie packages, toothpaste boxes and coffee tins and are being sold for well over $3,000 each. Black market fervor has died down somewhat since the Chinese government announced that the Apple devices are in their final stages of approval and should be legally available soon. The real uphill battle for Samsung will begin once the new iPhones are available in China.
The Galaxy Note 4 will also launch in South Korea Sept. 26, but it's Oct. 17 for most other markets. By the end of October, Samsung announced Wednesday, the Galaxy Note 4 will be available in 140 countries In the U.S. the Galaxy Note 4 is available for preorder on the carriers AT&T, Verizon and T-Mobile; Sprint will begin accepting preorders on Sept. 26. Samsung is also offering those who preorder the chance to trade in an old device for a guaranteed $200.
Security reasons?
Darren Hayes, assistant professor and director of cybersecurity at Pace University, says Apple's new security features -- iMessage, Apple's native iOS messaging system, is completely encrypted; and TouchID, a hardware-software system in the phone, grants a user access only if his or her thumbprint matches the one that it stores for comparison -- raise new concerns.
Such secure devices "might present an invitation to people to use them for nefarious purposes," Hayes said. Should law enforcement want to gain access to someone's locked-down phone, it needs help both from Apple and a judge, but Tim Cook said last week in an interview with Charlie Rose that Apple's security makes it impossible for the company to help law enforcement entities. The takeaway quote from Cook: "If the government laid a subpoena to get iMessages, we can't provide it. It's encrypted and we don't have a key. And so […], the door is closed."
Hayes posited that businesses such as Apple generally "would rather not spend their time and resources working on investigations, as it's not a good business model." If Chinese authorities are in fact delaying the iPhone 6 launch to debate the merits of such a super-secure consumer device, Apple's security measures, which benefit both its customers and its business resources, may be the very things preventing its latest phone from launching in one of its most important countries.
© Copyright IBTimes 2023. All rights reserved.