After iPhone: Samsung Stakes Its Turn On Its Own Phablet, The Galaxy Note 4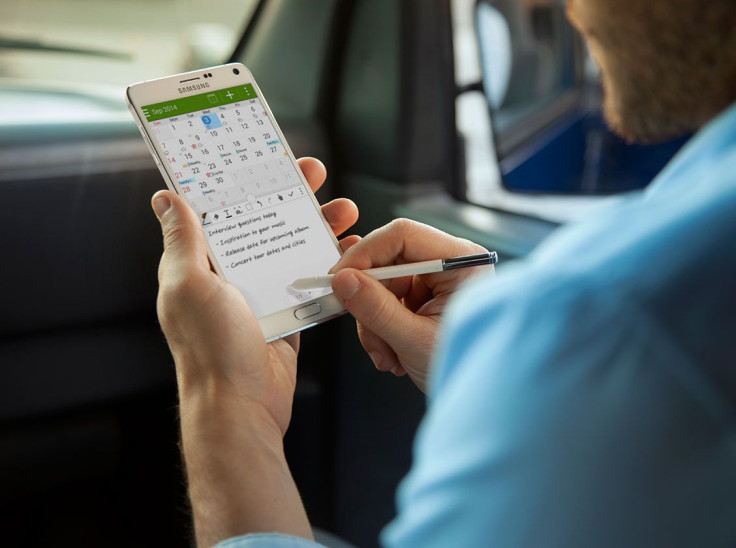 The past two weeks have been all about Apple Inc. as the Cupertino, California, electronics giant released its iPhone 6 and 6 Plus to record sales. But now is Samsung Electronics Co.'s time to step into the spotlight, and its staking its turn on the original "phablet," the Galaxy Note 4.
The Galaxy Note 4 is going to have a tough go of it in the wake of the new large-screen screen iPhone 6 and 6 Plus. But Samsung has some ambitious plans for it, an indication the manufacturer is aiming to reclaim its lost market share, and remind consumers and competition why it's the No. 1 global smartphone manufacturer.
Samsung told Korean media Tuesday it is aiming to ship 15 million Galaxy Note 4 units in its first month of release. This not only greatly exceeds sales of the previous Galaxy Note 3, which shipped 10 million units in its first two months of release, it also exceeds sales of the Galaxy S5, which shipped 11 million units in its first month of release. With fierce competition from Apple, which has already sold more iPhones in a weekend than Samsung sells of its flagships in a month, the Korean manufacturer is setting an extremely high bar for itself as it introduces the Galaxy Note 4 to an already crowded market.
"Samsung will be aggressive in promoting the Note 4 as it's true that we are being challenged and pressured amid a difficult situation," Samsung said in a statement.
If Samsung does adhere to its plans, it would sell more Galaxy Note 4 handsets than it has of other Galaxy Note models or even of models in its Galaxy S line, which are currently the manufacturer's best-selling devices. But sales projections for the Galaxy Note 4 are mixed, with some analysts expecting the device to underperform its predecessor for the first time since the product line launched while others expect the Galaxy Note 4 to match sales figures for the Galaxy Note 3. Park Young-joo, an analyst with Hyundai Securities Co., based in South Korea, said the Galaxy Note 4 may ship 11 million units, indicating it may equal the demand its predecessor saw.
Despite a vague outlook from analysts, Samsung has proved its staying power in its home country, South Korea, as the Galaxy Note 4 has sold out of pre-orders ahead of the device's release. Reports out of Korea indicate that the Galaxy Note 4 sold out on the carrier SK Telecom in just nine hours, while it took the other major Korean networks, KT and LG Uplus, three days to sell all of their Galaxy Note 4 pre-orders. Each carrier has reportedly sold 10,000 Galaxy Note 4 units via preorder.
Samsung has confirmed it has bumped up the release date for the Galaxy Note 4 in Korea from Oct. 17 to Sept. 26 in response to the record-breaking sales of Apple Inc.'s iPhone 6 and 6 Plus, which sold more than 10 million handsets during their launch weekend. Several reports indicate a considerable amount of Android users are switching to iPhone.
But one thing is certain: The Samsung Galaxy Note 4 will be introduced to an extremely saturated market, competing against not only two new iPhones, but also a plethora of other smartphones by Samsung. Devices like the Samsung Galaxy Note Edge and Samsung Galaxy Alpha are also hitting the market with Samsung hoping to capture new consumers. But these new smartphones shouldn't affect sales of the Galaxy Note 4 if Samsung plans to ramp up shipments for the device. Sales projections for the Note Edge in particular have been cautious, with analysts expecting the device to sell just 1 million units.
"I don't think Samsung should worry about one of its products cannibalizing another, and they likely do not," said Canalys analyst Daniel Mattie. "One device may have higher margins, but either way Samsung is earning a sale."
And it just might be all about earning the sale for Samsung, as the manufacturer attempts to rebound from a lackluster second quarter during which its sales of mid-range and low-end devices suffered. In the wake of the iPhone 6 launch, Samsung has seen also seen its stock market share prices drop to their lowest point in two years.
Samsung is still shipping the most Android-powered devices in the world, the manufacturer accounts for 29.3 percent of all Android shipments, IDC reported. But this is down from a 40 percent share of the Android market, two years ago. In addition to flagship competition from the likes of Apple, Samsung has also had to deal with smaller, foreign smartphone makers like Xiaomi and Micromax eating away at its market share.
With a fire lit under Samsung, consumers can likely expect to see a flood of new Galaxy products hitting the market, in addition to the Galaxy Note, Galaxy Note Edge and Galaxy Alpha. Samsung is expected to release more metal devices like the Galaxy Alpha under a new line called the "A series." A device called the Samsung Galaxy A5 is expected to be a low-end model in this line. Samsung has also noted it plans to combat diminishing sales in its suffering markets like China and India by releasing more devices.
Meanwhile, the Galaxy Note 4 is still expected to release globally Oct. 17, and Samsung is attempting to make the Galaxy Note 4 look as appealing as possible. In the U.S., the manufacturer is offering those who preorder the chance to trade in an old device for a guaranteed $200. Samsung may be hoping that reports of possible iPhone 6 shortages come to fruition. Apple's primary manufacturer, Foxconn, is allegedly struggling to meet global demand for the iPhone 6 and 6 Plus, which could equate to shipping delays and an opportunity for Samsung to snap up impatient consumers.
© Copyright IBTimes 2023. All rights reserved.