China Inflation Eases in October; Premier Reports Price Drop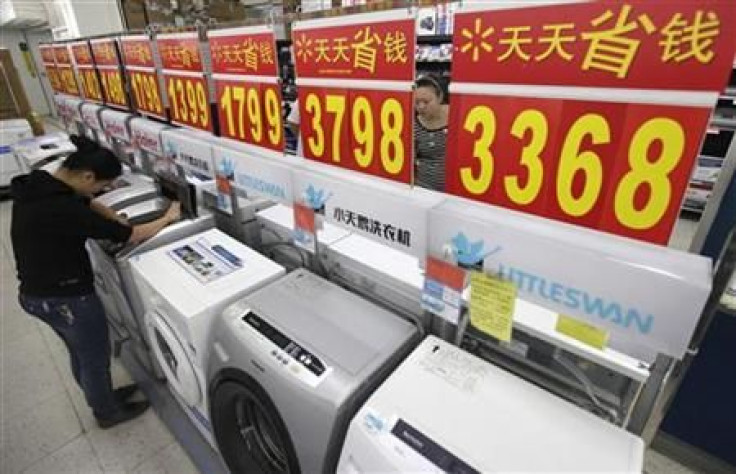 China's annual inflation rate eased to 5.5 percent in October, a third straight month of decline from July's three-year peak and Premier Wen Jiabao said prices had fallen further since then.
The rise in the consumer price index was bang in line with expectations from a Reuters poll and showed inflation falling from 6.1 percent in September.
Producer prices rose 5.0 percent in the year through October, compared with an increase of 6.5 percent in the year through September.
Since October, overall domestic prices have been falling noticeably, Wen was quoted as saying by a government website. Prices of pork and eggs have fallen, but prices of fruit, dairy products, beef and mutton remain at high levels, he said.
Inflation remains the key focus for investors, with the ease in price pressures fueling expectations that the People's Bank of China (PBOC) may start to ease monetary policy as exporters feel the chill from slowing global growth.
China's leaders have begun talking in recent weeks about fine tuning macroeconomic policy to maintain economic growth, while making it clear that stabilizing prices and fighting inflation remain the top priority.
Most evidence of that so far has been seen through tweaks to tax policy aimed at small and medium-sized businesses and some signs that bank lending to that sector of the economy -- which supports 75 percent of China's jobs -- could be relaxed.
The best way of controlling price rises is to boost production, said Wen.
The premier also said Beijing would not loosen policies to rein in the red-hot property market, a report on the official Xinhua news agency said.
Wen said the construction of government-subsidized housing projects would help relieve some supply strains and ease housing inflation.
The data showed that food prices, a major source of inflationary pressures in China, fell in October by 0.2 percent from September, adding to expectations that inflation may well be on a solid downtrend.
This indicates inflation pressure is indeed slowing, said Zhang Zhiwei, an economist at Nomura in Hong Kong.
Lower inflationary pressure leaves room for further policy fine tuning. The PBOC has already marginally loosened liquidity by open market operations in October.
We expect this type of fine-tuning to continue, but RRR and interest rates will be kept unchanged for the rest of 2011. The central economic working conference in early December will set the tone for policy in 2012.
RISK OF IMMINENT EASING
Analysts at ANZ believe the economy is deteriorating so quickly that the PBOC could soon start to ease policy by reversing some of the nine hikes to bank reserve requirement ratios (RRR) made in the tightening cycle that began in October 2010.
China's big manufacturers ran at their slowest pace in October since early 2009, the latest private sector survey of purchasing managers showed, though there were signs of smaller firms bouncing back and a sharp fall in factory-gate prices.
We revise our 'selective' policy easing call to an 'outright' policy easing, meaning that in an imminent move, the PBOC will likely make a 50 basis point cut to the RRR for all banks, with a possible larger cut of 100 bps for small and medium-sized banks, ANZ said in a note to clients last week.
The bank cites signs of softness in the real estate market as being particularly important, given that Chinese banks tend to prefer land and property as loan collateral.
Some interpretation of conditions in the real estate market could be made by 0530 GMT when fixed asset investment (FAI) data are released. Real estate makes up about 20 percent of China's FAI, a primary driver of overall economic growth.
FAI growth is expected to have eased marginally to 24.7 percent in October from 24.9 percent in September and continuing a broad two-year trend of gradual cooling .
A strong showing for FAI and retail sales -- also due at 0530 GMT -- would tend to support risk appetite as evidence of still strong domestic demand, assuring jittery investors that China is coping with a slowing global economic backdrop.
(Reporting by Nick Edwards; Editing by Kim Coghill and Neil Fullick)
© Copyright Thomson Reuters 2023. All rights reserved.
FOLLOW MORE IBT NEWS ON THE BELOW CHANNELS