China To Overtake India As World's Biggest Gold Consumer
2012: A Glittering Year For China's Gold Bugs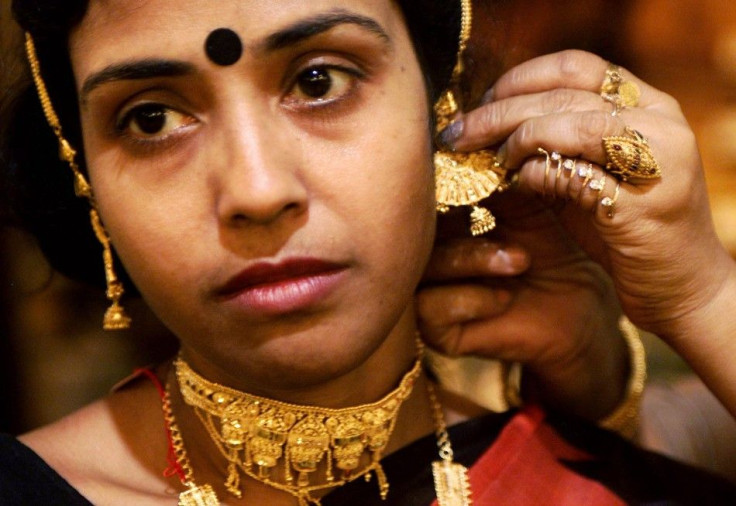 There comes a time in the life cycle of most commodities when China, home to 1.3 billion people and counting, takes over as the world's biggest consumer. For gold, that moment is drawing near.
"To the year-end, we expect China to beat India for the first time on an annual basis as the largest gold market in the world, with demand reading at least 850 tons and possibly more than that," said Marcus Grubb, managing director at the World Gold Council.
Whereas in India, Grubb thinks demand will probably come down to about 700 tons from close to 1,000 tons.
"The last time you had a big drop in India on an annual basis would have been back in 2009 during the credit crunch, after the failure of Lehman Brothers," Grubb said. "That was when the first impact of the global credit crisis blew around the world and India was quite badly affected by it."
Global gold demand fell to its lowest level in more than two years in the second quarter, the World Gold Council said on Thursday, as a surge in buying by the central banks was offset to some extent by weaker demand from India.
Overall gold consumption fell 7 percent, or nearly 76 metric tons, to 990 tons in the three months to June, its lowest quarterly level since the first three months of 2010, the WGC said in its quarterly Gold Demand Trends report.
India and China continued to dominate global consumer demand, accounting for a combined 45 percent of total second-quarter jewelry, bar and coin demand.
"However, China is growing more strongly than India," Grubb said. "Although that rate of growth is flattening, it still has been growing much more rapidly than India's demand."
China's investment and jewelry demand in the second quarter fell to 145 tons, down 7 percent compared with the year-ago period. Investment demand fell by 4 percent to 51 tons.
"We don't read a huge amount into a small fall in China because if you look at the half year comparison, China still looks pretty good compares to the first half of 2011," Grubb said. "Chinese demand was actually up in the first quarter. So it's pretty much flat on what it was last year, which was a record year for the Chinese market."
Grubb believes that "India is pretty much driving the weakness in the overall figure."
India has for decades been the world's largest gold market, but slowing economic growth, record-high local gold prices caused by a weak rupee and fears of a poor monsoon season have kept the lid on India's demand in the shiny metal.
In the second quarter, total demand in India fell 38 percent, with jewelry demand down 30 percent to 125 tons, while purchases of coins and bars for investment slid 51 percent to 56.5 tons.
The reasons for the sluggishness in Indian demand are really three-fold.
First, the second quarter began amid a nationwide strike among jewelers in protest at government plans to impose an excise duty on all gold jewelry. While the plans were swiftly removed, some of that disruption still affected the market in the first part of the second quarter.
More importantly, the continued economic issues in India have been weighing on investors' appetite.
India recorded near double-digit expansion over much of the last decade but the economy grew by just 5.3 percent in the January-March period, a rate that threatens to stall its transformation since the early 1990s.
Ratings agency Moody's Analytics recently cut its growth outlook for India's economy to 5.5 percent in the fiscal year ending March 2013. That would be the country's lowest rate in a decade.
Moreover, with the June-September monsoon season half over and rainfall 20 percent below the 50-year average, India is facing the possibility of a severe drought in some regions. This came as another blow to Indian gold demand since farmers - who make up more than 60 percent of India's population -- are usually among the keenest buyers of gold.
Due to India's weak economic growth, rupee has been one of the weakest currencies against the dollar all year and has made gold very expensive in local terms to Indian consumers.
Gold futures in India rallied to a record last quarter even as global prices declined 4.3 percent.
Although the dollar gold price has been in a range now roughly for a year around $1550 to $1600, in India, it's been sitting at an all-time high for nearly a year at around 30,000 rupees per 10 grams.
Gold futures for December delivery gained $4.20, or 0.3 percent, to settle at $1,606.60 an ounce on the Comex division of the New York Mercantile Exchange.
Related: SPDR Gold Trust (NYSEARCA:GLD), Market Vectors Gold Miners ETF (NYSEARCA:GDX), iShares Gold Trust ETF (NYSEARCA:IAU), Market Vectors Junior Gold Miners ETF (NYSEARCA:GDXJ), Goldcorp Inc. (NYSE:GG), Barrick Gold Corporation (NYSE:ABX), Kinross Gold (NYSE:KGC), Agnico-Eagle (NYSE:AEM), IAM Gold (NYSE:IAG).
© Copyright IBTimes 2023. All rights reserved.