Warren Buffett's Berkshire Hathaway Drops Intel, Bets On Oil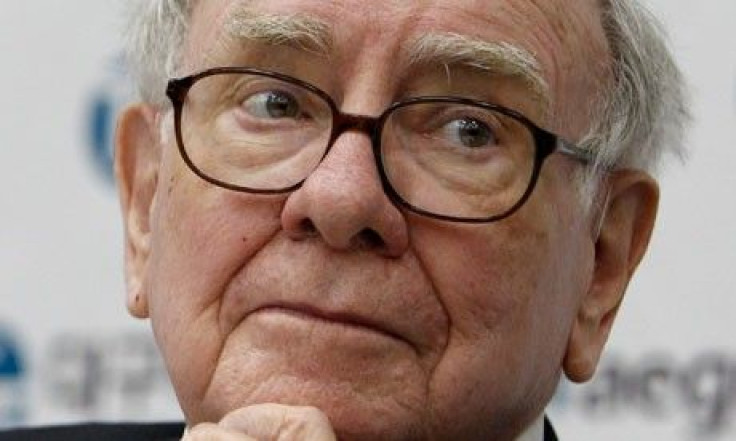 Warren Buffett's Berkshire Hathaway Inc. (NYSE:BRK.B) dumped its shares of Intel Corporation (Nasdaq: INTC) last quarter and cut its stake in The Procter & Gamble Company (NYSE: PG) while boosting its exposure to oil refining and oil services.
The disclosure emerged Tuesday from the company's 13F filing, a quarterly Securities and Exchange Commission disclosure that shows what some of the world's best-known money managers did in the previous quarter.
In a rare move, Buffett's firm said it eliminated its 7.7 million share stake in Intel, worth over $204 million, during the three months ended June 30. The legendary investor, who has said he likes to "buy and hold forever," bought into the chipmaker just three quarters ago.
In another large sale, Berkshire cut its holding in The Procter & Gamble Company (NYSE: PG) to 59 million shares, down 19 percent from the previous filing. The firm also reduced its stake in Kraft Foods Inc (Nasdaq: KFT) by a quarter and slashed its position in Johnson & Johnson (NYSE: JNJ) by roughly two-thirds. The sales cut Berkshire's J&J holdings from just over 29 million shares to 10.3 million.
In February, Buffett said in an interview with CNBC he was disappointed with what had occurred with J&J.
"It's still got a lot of wonderful products and it's got a wonderful balance sheet and all of that, but there have been too many mistakes," Buffett told CNBC in a Feb. 27 interview. "Clearly, they have not lived up to their standards."
In that interview, Buffett suggested he might sell J&J stock in the future.
In the second quarter, Berkshire bought 2.8 million shares in National-Oilwell Varco, Inc. (NYSE:NOV), which was worth around $217 million at the close of trading Tuesday. The position is small enough that it is likely a stock picked by investment managers Todd Combs and Ted Weschler.
Berkshire's investments are closely watched by investors because of Buffett's successful track record. However, the 81-year-old investment guru has repeatedly warned that not all the moves in the investment portfolio are his.
"When our quarterly filings report relatively small holdings, these are not likely to be buys I made but rather holdings denoting purchases by Todd or Ted," Buffett wrote in his widely read shareholder letter in February. Combs started at Berkshire last year, and Weschler started early this year.
Tuesday's filings also showed that Berkshire added a new position of 28 million shares in Phillips 66 (NYSE: PSX), a ConocoPhillips (NYSE: COP) spin-off. Berkshire now probably ranks as one of Phillips 66's largest shareholders.
Berkshire doubled its position in the newspaper publisher Lee Enterprises, Incorporated (NYSE: LEE), to 3.2 million shares, while maintaining its stakes in other publishing companies, Gannett Co., Inc. (NYSE:GCI) and The Washington Post Company (NYSE: WPO).
Berkshire's largest stake, a $15.7 billion position in The Coca-Cola Company (NYSE:KO), was unchanged. The International Business Machines Corp. (NYSE: IBM) holding, first disclosed last November, increased 3.5 percent to about 67 million shares. Buffett's firm also raised its stake in DIRECTV (Nasdaq: DTV) from 23 million shares to 28 million.
Berkshire made a number of moves in financials as well.
The company tripled its stake in The Bank of New York Mellon Corporation (NYSE: BK), from 5.6 million shares to 18.7 million, and reported additional shares of payments processor Visa Inc (NYSE: V).
The Wells Fargo & Company (NYSE: WFC) position, already the second-largest holding in Berkshire's equity portfolio, rose 4.2 percent to about 411 million shares, amounting to a 7.8 percent stake valued at $14 billion in the San Francisco-based bank.
According to Tuesday's filing Berkshire's stock portfolio amounted to $75.3 billion at the end of June, up from $74.3 billion at the end of March
Shares of Berkshire Hathaway Inc. (NYSE: BRK.B) rose 0.24 percent, to $85.14 apiece, in Wednesday's morning trading.
© Copyright IBTimes 2023. All rights reserved.