China's Geopolitical Ambitions Expand To Namibia's South Atlantic Sea Walvis Bay Port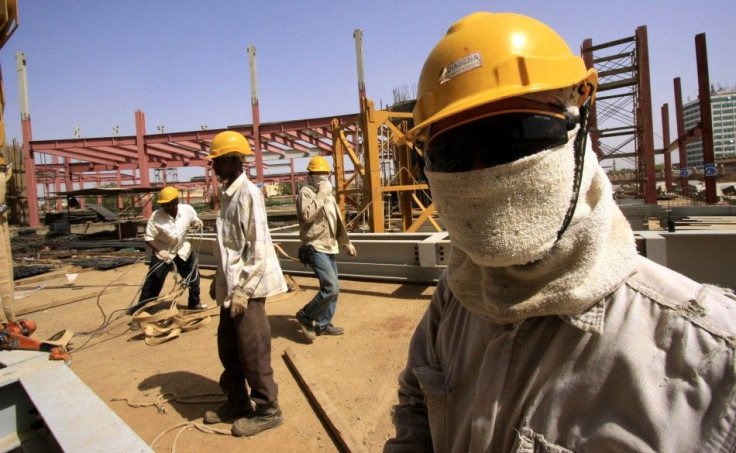 Across continental Africa, China's presence can't be ignored. While China has made multibillion-dollar investments in various countries and industries throughout the continent, a shift toward a military presence -- in the form of a proposed naval base along Namibia's Atlantic coast -- implies a totally different kind of investment for China.
A report by the Heritage Foundation says that in the first half of 2014, China invested nearly $21 billion in technology and transportation in Nigeria alone. On the other side of the continent, China invested $15.6 billion in Ethiopia's energy, transportation and technology sectors over the same period.
Chinese money already runs throughout the continent, with the term "Chinese colonialism" being used liberally to describe the China-Africa relationship.
Plans For Walvis Bay
As for the proposed project in Namibia, a report in January from the Namibian revealed details of a confidential letter from Namibia's ambassador to China, Ring Abed, to Namibia's Foreign Ministry. The letter describes a meeting that was being planned for late March in which a delegation from China would visit to discuss construction of a People's Liberation Army naval base in Walvis Bay that would be home to as many as six Chinese warships. While the naval base plan has not been publicly confirmed by China or Namibia, such a project would likely have significant geopolitical and economic benefits for both China and Namibia, local reports said.
According to an earlier report by the Namibian, citing Chinese accounts, the proposed Walvis Bay plan is one of 18 such plans for China around the world, with others eyed for Yemen, Sri Lanka, and Madagascar. All would be intended to help the Chinese military patrol significant trade passages. The Walvis Bay base fits into the country's larger plans globally and would "further enhance China's effectiveness in taking responsibility for maintaining the safety of international maritime routes, thereby maintaining regional and world stability," Namibian news reports said.
For Namibia, it seems that a naval base would bolster an already robust Chinese presence.
"Several Namibians pointed out that China already has major satellite tracking installation in-country. China is developing key uranium mines. Chinese immigrants are opening shops in every corner of the land. A Namibian told me he would not be surprised if Namibia soon elects its first Chinese member to parliament," Robert C. O'Brien, a foreign affairs commentator and former U.S. alternate representative to the United Nations, wrote for the website RealClearDefense. "Once that happens, he said, Namibia becomes in essence, a Chinese colony."
Xi's Ambitions
One of the hallmarks of Chinese President Xi Jinping's tenure since taking office in late 2012 has been a dramatic military overhaul, used to enforce Xi's geopolitical ambitions. During his term, Xi has reshuffled the army's leadership, consistently increased the nation's defense budget and has been unabashed about using a stronger military presence to defend territorial claims on both land and sea. Closer to home, in the South China Sea, China's military has had virtually free reign throughout the region, which houses several important economic zones and trade routes. This has prompted several neighboring countries, including Vietnam, the Philippines and Japan, to dispute China's self-proclaimed "nine-dash line" in the area. After 11 months, satellite imagery found that China had dredged materials to create a manmade island among the resource-rich Spratly Islands, which now houses what appears to be a newly constructed airstrip -- ideal for regional surveillance.
In Walvis Bay, which has historically been patrolled by Britain, China has history on its side. O'Brien says China's interests are heavily linked to its access to oil and gas fields near the Falklands, via South Atlantic sea lanes, would likely be more welcomed by Argentina because of lingering bad blood from events such as the 1980s Falklands War. "Chinese warships should have ample opportunities for port visits and to conduct joint exercises across the ocean from its hoped-for base at Walvis Bay," O'Brien says. "China is putting the South Atlantic into play with an audacious and clever geopolitical move to Walvis Bay."
© Copyright IBTimes 2022. All rights reserved.
FOLLOW MORE IBT NEWS ON THE BELOW CHANNELS