China's Multi-Billion Dollar Loans To Venezuela Face Uncertain Future As Oil Prices Slump: Report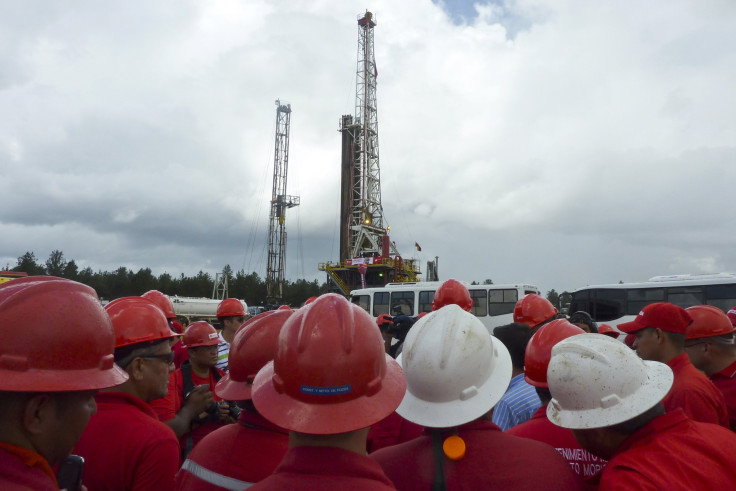 As China's economy expanded rapidly over the last two decades, the country massively increased the amount of money it spent on loans and investments abroad, in a bid to secure vital natural resources. Now, it appears, one of those investments is showing signs of going badly awry, according to a Wall Street Journal report.
State-owned China Development Bank, which loaned $37 billion to Venezuela, is seeing the value of that investment falter, as the country struggles to cope with the economic impact of low oil prices. The loans were supposed to secure China millions of barrels of Venezuelan crude. Venezuela, however, appears to be having trouble in meeting both its repayment and oil obligations.
In recent months, the Journal reported, China has extended loan maturities and eased repayment terms, allowing the energy giant to send it less oil than agreed and to pay back in bolivars instead of more robust currency. In January, China agreed to invest $20 billion in Venezuela, to help the country cope with the impact of the slump in oil prices. Beijing has also extended $50 billion in credit to Venezuela since 2007, mostly in exchange for oil shipments, the Guardian reported.
Venezuela exports about 600,000 barrels of oil to China a day, nearly half of which go toward repaying its loans. And data from Venezuela's oil ministry suggests that the price the country gets for its oil has fallen almost 50 percent since last year -- from $97 a barrel in April 2014 to around $50 a barrel in April 2015, according to a BBC report.
In recent months, the country has seen its currency plummet in value, its credit rating downgraded, and the price of its 10-year U.S. dollar-denominated bonds tumble. In addition, it has also had to cope with a widespread shortage of basic consumer goods, which has been so acute that, earlier this year, it prompted Trinidad and Tobago to propose swapping Venezuelan oil for tissue paper.
In addition to its investments in Latin America, China has also invested extensively in natural resources-focused deals in Asia and Africa. The massive scale of the country's overseas investments prompted former U.S. Deputy Secretary of State Robert Zoellick to warn that China was generating a 'cauldron of anxiety' about whether it was pursuing an energy strategy to "lock up" supplies in Africa and elsewhere.
© Copyright IBTimes 2023. All rights reserved.
FOLLOW MORE IBT NEWS ON THE BELOW CHANNELS