Chinese Workers Seen Rejecting Offer To End Strike At Maker Of Nike, Adidas Shoes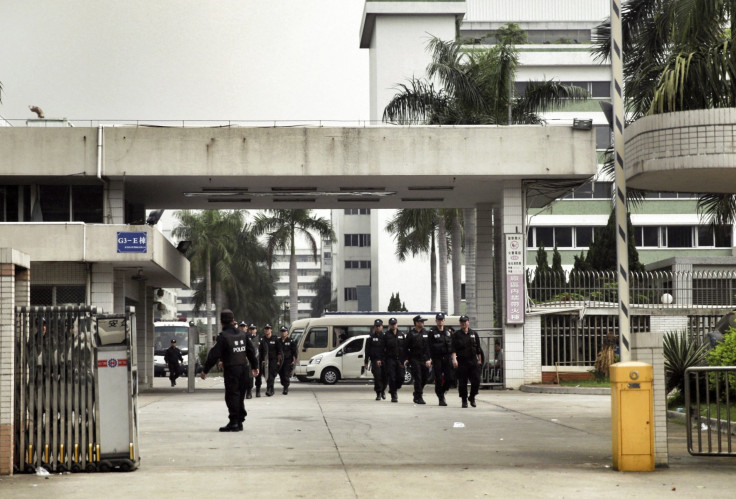 In a global environment more sensitized than ever to causes like living wages and worker safety, thousands of Chinese in Dongguan, a southern city with a population of more than eight million, walked off their jobs making sneakers for well-known global brands like Reebok, Nike and Adidas this month, triggering one of China's biggest labor strikes in years as they demand better pay and benefits.
And they're not showing any signs of returning to work.
"On April 5, there was a demonstration by the workers in the streets," Kevin Slaten, program coordinator at New York-based watchdog group China Labor Watch, said by telephone on Tuesday. "Then there was a lull where the workers met and discussed, and then the issue exploded on April 14. You're looking at basically a half-month of work interruptions. That's a significant amount of time for a company."
The workers are demanding past unpaid social insurance, a 30 percent pay increase from their base monthly pay of about $240, and a one-time payment based on seniority. The company counter-offered to pay a living subsidy of about $37 a month, to begin paying fully into the workers' pension plans by next month, and to provide the unpaid social insurance by the end of 2015.
China's expanding global manufacturing presence has emboldened the workers, who are aware of their contribution to the country's economic growth, and they're increasingly demanding better pay and benefits. They're doing it by putting pressure on the factory owners whom the large international shoe companies contract to keep prices low enough to appeal to Western consumers and bottom-line-focused shareholders.
A 2011 law requiring companies to enroll workers in pensions, health insurance plans and workers' comp programs, among other benefits, is at the heart of the current strike. Striking employees claim that Yue Yuen Industrial Holdings Ltd. (HKG:0551) shortchanged their retirement plans and made them difficult to access.
As many as 30,000 workers had not accepted Yue Yuen's offer as of Tuesday. That's about 75 percent of the the factory's staff. The strike spread on Monday to a second factory in neighboring Jiangxi province, where about 2,000 employees arrived, clocked in and then struck.
China Labor Watch said the striking workers earn about $400 a month, including overtime. "It's very important to point out that this includes overtime, which many of these workers depend on," Slaten said. The workers at the Jiangxi facility returned to work on Tuesday, but "we don't know if this is temporary," he added.
Yue Yuen's parent company, Pou Chen Corp. (TPE:9904), which is based in Taichung, Taiwan, and the Douggan city government are currently negotiating a settlement. The city is located near a special economic region in the Pearl River Delta that's had numerous flare-ups of factory unrest in recent years. In 2011, locals ransacked government buildings in Lufeng city while protesting land appropriations. That same year, workers at a Yue Yuen-owned shoe factory in the town of Huangjiang, which makes shoes for Boston-based New Balance, clashed with police and overturned cars as they protested their working conditions and salaries.
In the late 90s, there were about 10,000 work-related protests, according to China's minister of public security. A decade later, that number approached 90,000, according to Hong Kong-based China Labour Bulletin.
Yue Yuen's share price fell 5.17 percent to $3.19 on Tuesday. Markets were closed in Hong Kong on Monday due to the Easter holiday.
Here's a video of the demonstration that China Labor Watch posted on April 15:

© Copyright IBTimes 2023. All rights reserved.