'Christmas In Tahoe' Hallmark Movie Premiere: Cast, Trailer, Synopsis
Hallmark Channel's very merry holiday season continues with the newest "Countdown to Christmas" holiday premiere, "Christmas in Tahoe." The film, starring Laura Osnes and Kyle Selig, premieres Sunday night.
The movie will be a musical treat for Hallmarkies, featuring a powerful cast with roots in both theatre and rock music. It will mark their first official introductions on Hallmark to Selig, who is best known for originating the role of Aaron Samuels in "Mean Girls" on Broadway, as well as Pat Monahan, who also stars in the film, and is best known as the lead vocalist of the band Train.
Osnes, who also has made a career on Broadway, will be more familiar to fans after a bevy of roles on Hallmark. Her past films have included "In The Key Of Love," "A Homecoming For the Holidays," "One Royal Holiday" and "Raising A Glass to Love."
So what will happen in this musical holiday adventure? Let's find out.
"Claire (Osnes) is an aspiring talent booker who's been working at her family's hotel and casino in Lake Tahoe and is on the brink of landing a prestigious job with a major Las Vegas venue," a synopsis reads. "But when the act she booked for her hotel on Christmas eve backs out last minute, she is back to square one. Jackson (Monahan), her best friend and the concierge, reminds Claire that she knows someone famous to turn to—her ex-boyfriend Ryan (Selig), is the lead guitarist for a hugely popular band."
However, Claire is soured to Ryan because after she helped the band with their big break, they dumped her as a manager—and they haven't spoken since. However, with no other options, she is forced to turn to her ex for help.
"Back home in Tahoe on a break from his tour to spend the holidays in Tahoe with his family, Ryan offers to help her find a replacement act," the synopsis continues. "While Claire tries to prove she has put the past behind her, feelings come back to the surface and they both realize they may need each other more than they remembered."
Will Claire find a new act and also find herself falling back in love with her former flame?
"Christmas in Tahoe" airs Sunday at 6 p.m. EDT on Hallmark Channel.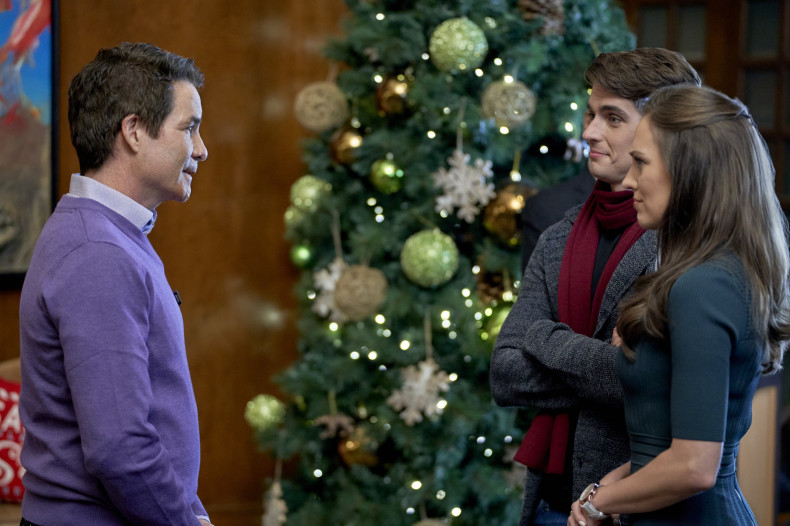 © Copyright IBTimes 2022. All rights reserved.