Chromecast: The Best Way To Get Your Hands On Google's $35 HDMI Dongle, Update And Review Roundup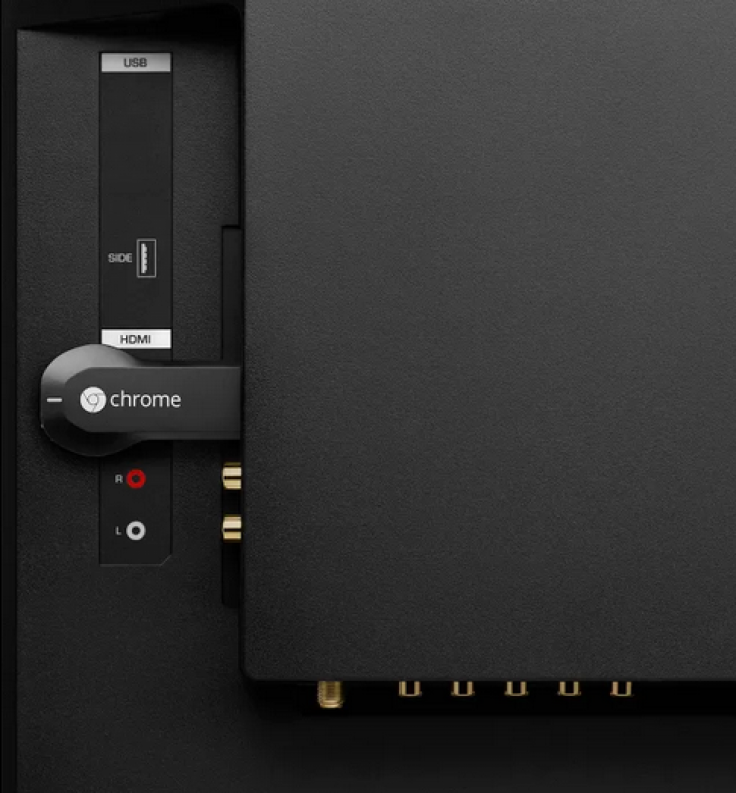 Google Inc. (NASDAQ:GOOG) introduced its Chromecast last Wednesday, and the high-definition multimedia interface, or HDMI, streaming-media dongle quickly sold out online. The device was going for more than $100 at eBay Inc. (NASDAQ:EBAY), but there are still ways to get your hands on one for the original price of $35 online or in stores.
Employing Wi-Fi as the data-exchange technology and using smartphones, tablets and desktop computers as remote controls, Chromecast streams Netflix Inc. (NASDAQ:NFLX) and YouTube media to television sets, with more applications on the way -- including one for Pandora Media Inc. (NYSE:P) radio, Google says. Within Netflix, YouTube or the Chrome Web browser, clicking the "Cast" button sends an on-screen video or Web page to a user's television. Developers digging into the firmware for the device found signs that point to the future inclusion of HBO GO and Songza services at some point.
At Amazon.com Inc. (NASDAQ:AMZN), the device sold out within a couple of hours of being released. It was intermittently available at the online site of Best Buy Co. Inc. (NYSE:BBY), but it will not ship for another three or four weeks via the Google Play store.
Google originally bundled the Chromecast with free three-month access to Netflix. The company quickly canceled the bundle deal a day after launching Chromecast, due to "overwhelming demand." As of this writing, however, the Chromecast is still advertised online by Best Buy with the three-month Netflix offer, and when not showing as "sold out online" on the website, it was still bundled with a Netflix offer in customers' shopping carts as late as Friday evening. The offer was good for both new and existing Netflix customers, according to Google.
The Best Way To Get One
So those looking to buy the Chromecast are left with a bit of a quandary: Should they pay more than double the value of the device to get one at eBay?
The fastest way for someone to get their hands on a Chromecast in the U.S. would be to go into a Best Buy store. The electronics retailer will have the Chromecast stocked in stores, with a free reward point program available that adds up to discounts on future purchases. Some reports have stores selling out of the device as soon as they came into stock, with some stores selling on Thursday and reports of many stores putting the device on shelves prior to the Chromecast's Wednesday announcement.
Otherwise, consumers are better off purchasing the device through Amazon.com, which will ship the Chromecast when stock becomes available, or via the Google Play store, which will ship the device in three to four weeks, Google says.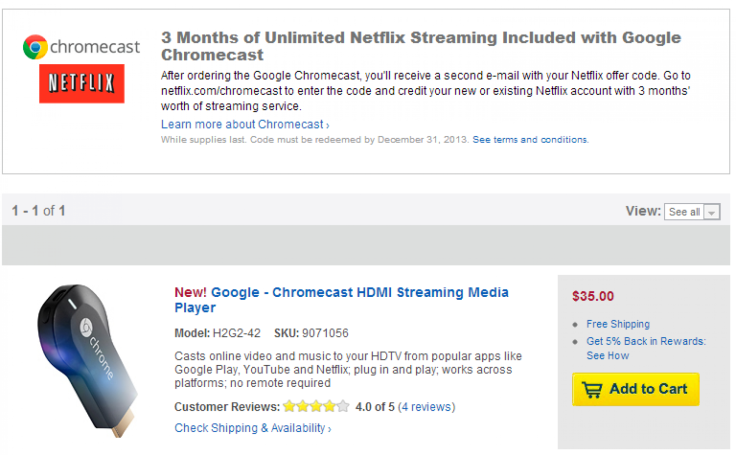 Chromecast Review Roundup
Reviews are coming in for the Chromecast from around the Internet, and, beyond appreciating its low price ($35), reviewers do not agree about whether the device is a valuable addition to consumers' home-theater setups. The Chromecast works with Android smartphones, personal computers running either the Apple Mac or Microsoft Windows operating systems, and Chromebooks running the Chrome OS.
Chromecast was praised for having a relatively quick setup (about 15 minutes, according to Forbes), but Google was criticized for not making it clear in the press images released that the device needed to be powered separately from the HDMI connection by micro USB, either through an open port on an equipped TV or with an included wall adapter. Mashable's reviewer said the micro USB cable was not long enough to reach the wall.
Chromecast's browser function (compatible with Google's Chrome browser) is only in beta mode. This means that Chromecast's browser casting is not in a final product stage, and it may have a few bugs impairing its functionality. Some reviewers said the Chromecast tab mirroring function was a great way to stream video and audio from the many services currently unavailable on the Chromecast -- such as Songza, Spotify, Amazon Prime Video and Hulu -- but VentureBeat noted that doing so reduced the quality, especially for video applications not optimized for the device, like Hulu.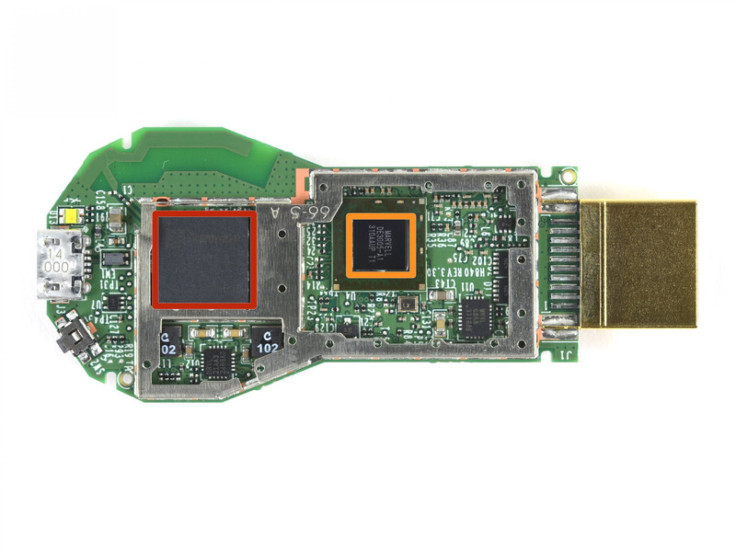 The Forbes reviewer ran into multiple problems streaming Netflix and YouTube with the Chromecast, attempting to use both an original model Nexus 7 and an Apple iPad mini, with some commands not registering on the Chromecast and having to force quit applications at one point.
The bottom line in many reviews was that the Chromecast would easily be able to compete based solely on its low price with a plethora of competitors -- such as Roku, WD TV Live from Western Digital, Apple TV and even the streaming options available via the Xbox 360 or PlayStation 3. However, due to the comparatively few apps available (and the many more available for competitors like Apple TV and Roku) and the technical issues with the Chromecast, the device has potential, but is far from perfect.
In its "Chromecast Teardown," iFixIt developed a detailed list of its specifications, which include 4GB of flash memory for storage and 512MB of RAM, an Azure Wave AW-NH387 802.11b/g/n WiFi WLAN, Bluetooth and FM transmitters, and a Marvell DE3005-A1 SoC processor.
This story has been updated to include more information about Best Buy stores.
© Copyright IBTimes 2023. All rights reserved.