Climate Change 2014: House Bills Would Make It Harder To Fight The National Security Threats Posed By Global Warming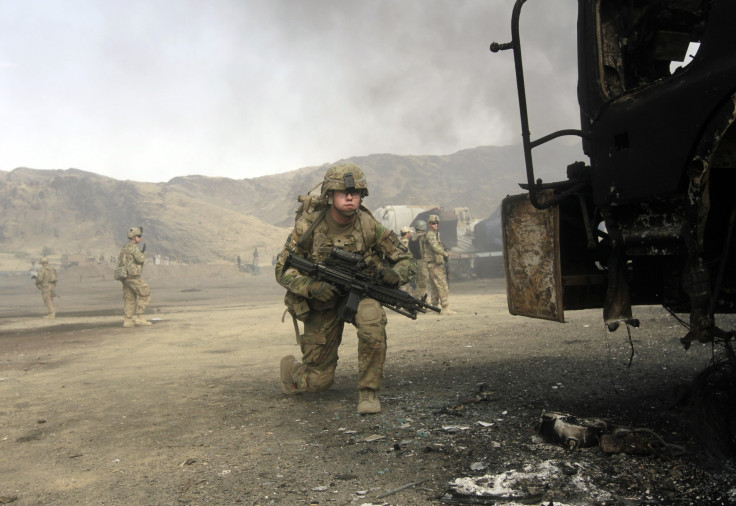 U.S. military planners are raising the alarm about the growing security threats posed by climate change. But two amendments approved by the House would make it harder for defense agencies to study climate effects or develop plans to address them.
The measures, both introduced by Rep. David McKinley, a Republican from coal-rich West Virginia, aim to limit spending that would help "pursue a dubious climate change agenda," McKinley said on the House floor earlier this month. "Congress should not be spending money to pursue ideologically driven experiments."
While the amendments aren't likely to survive the Democratic-controlled Senate, they underscore the longstanding tensions between Republican leaders, who generally oppose sweeping government climate policies, and President Barack Obama's administration, which is leading a broad effort to address the effects of man-made global warming.
The House adopted one of the amendments last week as part of its $34 billion energy and water spending plan, which would provide funding in fiscal year 2015 for the Department of Energy and the Army Corps of Engineers. The amendment would block the agencies from using federal funds "to design, implement, administer or carry out specific assessments related to climate change."
Those assessments include the White House's National Climate Assessment, unveiled in May, which predicted that climate change will affect every corner of the United States and calls for robust action to mitigate the very worst effects, including rising sea levels, enduring droughts, heavy flooding and extreme weather patterns. McKinley's measure also targets research by the United Nation's Intergovernmental Panel on Climate Change, which warned in March that climate effects could grow substantially worse unless man-made greenhouse gas emissions are brought under control, and quickly.
McKinley's amendment would block the agencies from participating in future versions of such reports or from acting on any of their recommendations, the Charleston (W.Va.) Gazette reported.
The House passed the other amendment in May as part of the $590 billion National Defense Authorization Act, which funds the Department of Defense and national security programs within it. McKinley's legislation similarly bars these agencies from using funds to participate in or implement climate change reports.
"With all the unrest around the global [sic], why should Congress divert funds from the mission of our military and national security to support a political ideology?" McKinley said in a letter to his House colleagues, the Charleston Gazette noted. "This amendment will ensure we maximize our military might without diverting funds for a politically motivated agenda."
But Pentagon officials and planners have said repeatedly that they see climate change as an issue of national security.
In May, a leading government-funded military research group declared that global warming impacts are likely to spur major conflict worldwide. In the Middle East and Africa, for instance, droughts made longer and more severe by climate change are increasing conflicts over food and water and escalating historic ethnic and regional tensions. In vulnerable coastal areas like India, Bangladesh and Vietnam, rising sea levels threaten to wash away homes and food supplies and could spur a flood of climate refugees, according to the CNA Corporation Military Advisory Board's report.
"Climate change affects military readiness, strains base resilience, creates missions in new regions of the world and increases the likelihood that our armed forces will be deployed for humanitarian missions," Rear Adm. David Titley, a co-author of the CNA report and a meteorologist who is retired from the Navy, wrote in a July 5 op-ed in the Pittsburgh Post-Gazette. He added that America's "continued reliance on the fossil fuels whose consumption leads to climate change ties our nation's hands on the world stage and tethers us to nations that do not always have our best interests at heart."
In response to the CNA report, Secretary of State John Kerry said its findings would influence American foreign policy, the New York Times reported.
"Think of what happens if you have massive dislocation, or the drying up of the waters of the Nile, of the major rivers in China and India," he told the Times in an interview. "The intelligence community takes it seriously, and it's translated into action."
Ruth Greenspan Bell, a public policy scholar at the Wilson Center in Washington, D.C., said the two House amendments would undermine the military's ability to consider and prepare for long-term risks.
With climate change and any other threats, "If there's a decent likelihood that this is going to cause you problems down the road, now is the time to be planning against it," she told International Business Times. "The folks in the House are very, very short-sighted … They're trying to tell defense professionals that they should not consider risk."
A spokesman for McKinley did not return requests for comment by deadline.
The DOD has incorporated climate concerns into its strategic military policies since 2010, including assessing how drought, floods and other extreme weather events could affect the infrastructure and operations at its 7,600 military installations worldwide. The agency has a $7 billion renewable energy program to install or buy solar and wind power at its facilities, and it has championed efforts to develop non-petroleum fuel alternatives to reduce its dependence on fossil fuels in the field.
The Army Corps of Engineers, another agency affected by the amendments, is part of the DOD and is one of the world's largest public engineering, design and construction management agencies. The House energy-water spending bill would allot $1.7 billion to the Corps for projects that reduce flood and storm damage and protect the nation's shorelines, the Charleston Gazette noted.
The DOE has long been central to federal efforts to reduce the causes of climate change – namely, greenhouse gas emissions from power plants and motor vehicles. The energy agency provides funding for innovative energy and fuel technologies and supports initiatives to reduce energy consumption and use it more efficiently. The DOE also runs several national security programs, including managing stockpiles of nuclear weapons and emergency crude oil reserves and protecting electrical infrastructure from cyber and physical attacks.
The House energy-water appropriations bill is almost certain to be rejected by the Senate, which has yet to pass any spending bills this year. Fiscal year 2015 starts Oct. 1, meaning that Congress will have to agree on a bill or enact a short-term continuing resolution by then to prevent a government shutdown, E&E Daily reported.
The House defense bill will likely face challenges from the Senate's own version. Disagreements between legislators would have to be hammered out in a conference committee, which could result in significant changes to the legislation, including the cutting of amendments like McKinley's.
© Copyright IBTimes 2023. All rights reserved.