Clinton WikiLeaks Update: Saudi Arabia and Qatar Accused of Funding ISIS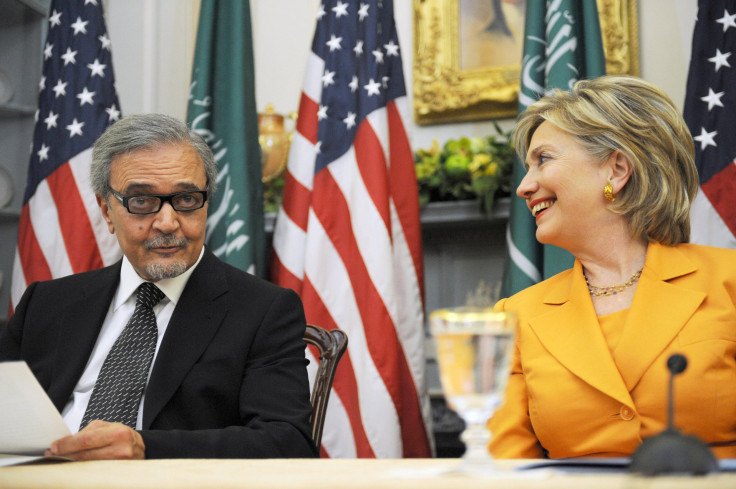 Correspondence between Democratic presidential candidate Hillary Clinton and John Podesta, the former chief of staff under Bill Clinton, show the former secretary of state once accused Qatar and Saudi Arabia of helping fund the Islamic State terrorist group, according to a trove of emails released by hacking group WikiLeaks Friday.
"We need to use our diplomatic and more traditional intelligence assets to bring pressure on the governments of Qatar and Saudi Arabia, which are providing clandestine financial and logistic support to ISIL and other radical Sunni groups in the region," she told Podesta in August 2014 in a nine-point email on diplomatic and military efforts to combat the Islamic State, also known as ISIS or ISIL. "The Qataris and Saudis will be put in a position of balancing policy between their ongoing competition to dominate the Sunni world and the consequences of serious U.S. pressure."
The correspondence, which took place six months after Clinton ended her tenure as secretary of state and eight months prior to her announcement that she would be running for president, wasn't the first time someone has accused the two Gulf states of financially contributing to the terrorist group.
Iraqi Prime Minister Nouri al-Maliki publicly claimed in March 2014—five months before Clinton did privately—that Riyadh and Doha had been openly fattening the Islamic State's budget, just as Maliki's troops battled the militants in his country's western Anbar province.
In a statement, the Saudi government called the accusations a "malicious falsehood," while Qatar, by far the wealthiest country per capita in the world, said in a similar statement that it "does not support extremist groups" and is "repelled" by the Islamic State's views and ambitions.
In her own accusations, Clinton cited "Western intelligence, U.S. intelligence and sources in the region."
Along with the claim concerning Qatar and Saudi Arabia, the email gives voters a preview of Clinton's Middle East strategy as she was watching from the sidelines between her days as secretary of state and her time on the campaign trail.
In addition to emphasizing the importance of arming and advising Kurdish Peshmerga forces, the Free Syrian Army and "what, if any, reliable units exist in the Iraqi Army" to fight ISIS, Clinton stressed that anything short of a "tangible defeat" of the terrorist group "would be seen by other fighters in the region, Libya, Lebanon and even Jordan as an American defeat."
She also noted her preference for airborne attacks on the Islamic State, as the group's leaders "believe we will always stop with the targeted bombing."
Lastly, Clinton warned that "regional restructuring" taking place in Iraq represented what would become a larger trend throughout North Africa, "all the way to the Turkish border."
"These developments are important to the U.S. for reasons that often differ from country to country," she wrote, in perhaps the most revealing fragment of the leaked email, "energy and moral commitment to Iraq, energy issues in Libya and strategic commitments in Jordan."
Podesta's response?
"The Syria elements are vexing."
© Copyright IBTimes 2023. All rights reserved.