Coach Earnings Preview: Following Tiffany's Scare, Results Could Prove Luxury Still King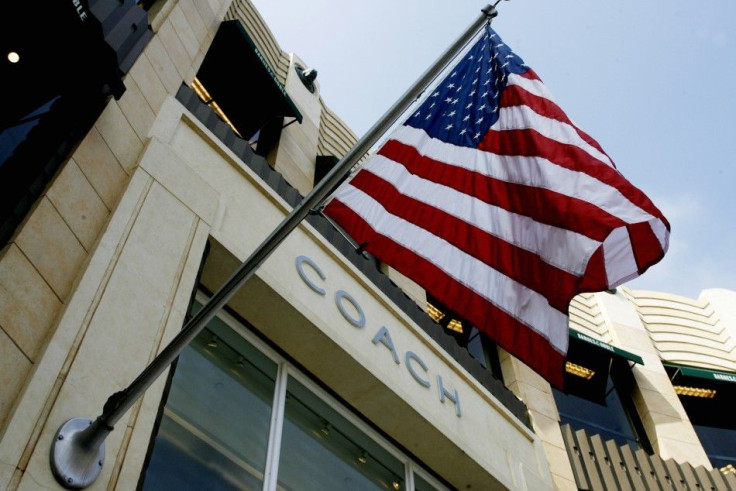 Coach Inc., the New York-based luxury clothing and accessories retailer, is expected to report a 15 percent increase in fourth-quarter profit on strong sales of handbags and women's accessories.
A consensus view of 25 equity analysts anticipates the company's fourth quarter earnings per share, to be released Tuesday before the stock market opens, rising to $1.15.
Christian Buss, an analyst for Credit Suisse, said in a research note earlier this month that Coach may have been helped in the fourth quarter by mild winter weather, somewhat erratic consumer behavior and what he terms lack of a clear apparel fashion trend for the season probably helped brands focusing on handbags and women's accessories.
Shoppers looking for luxury items, and especially those looking for items to gift, were more likely to buy handbags and designer belts than fur coats, little black dresses or gold watches, he wrote.
Coach derives some 63 percent of its revenue from handbags and 27 percent from accessories, suggesting the firm's product portfolio could be hitting a market sweet spot, Buss wrote. He emphasizes Coach stores offering targeted discounts saw lines out of the door on the day after Christmas at certain locations.
Further, Coach enjoys unique advantages that have helped it to perform well recently. Customers have gravitated towards buying Coach handbags and accessories at Coach-branded outlets, for example, a sales relationship that is more profitable for the company than when a patron buys the same product through a third-party department store.
The company has also seen increases in online sales which, contrary to popular assumption, are more likely than not to be for full-priced items.
Thirdly, the upward mobility of emerging market consumers is expected to help retailers like Coach. A Nov. 11, 2011, report by Nicolas Baudouin, of credit rating agency Standard and Poor's, noted the already-brisk growth in the sector was only likely to increase as customers in developing economies bought more heavily into the concept of lifestyle brands.
Some might say that the center of gravity for luxury goods makers is shifting by degrees away from places like Beverly Hills and Paris to shopping districts in Shanghai, Moscow, and Dubai, Baudouin wrote in the note.
Despite such factors, Coach's results could be hampered by two developments.
One is the loss of confidence that luxury brand purveyors have nowhere to go but up. That confidence suffered a jolt earlier this month when luxury jeweler Tiffany & Co. cut its full-year profit outlook by 5.26 percent.
Investors panicked at the company statement saying holiday sales had markedly declined and sold off across the entire luxury retail sector. Besides Tiffany, which dropped over 11 percent, erasing the entire appreciation that stock saw in 2011, jewelry stores like Signet Jewelers Ltd., Saks Incorporated, Ralph Lauren Corp. and Coach, all dropped.
The December period is a wakening for the top one percent of consumers, Candace Corlett, president of consultancy WSL Strategic Retail was quoted on MarketWatch as saying, noting that the dearth of bonuses for finance professionals was likely behind some of the decreased demand for luxury goods.
Another potential drag on Coach's earnings stems from the slow-down in spending by European and Chinese tourists, who are a significant boon to luxury retailers in the U.S. like Coach.
Coach's earnings, then, are likely to provide some guidance to the markets, either by confirming a slowdown in one of the few outstanding sectors of retail or alternatively, by suggesting the Tiffany case was somehow an exception.
© Copyright IBTimes 2023. All rights reserved.