Colin Kaepernick Nike Ad: Company 'Proud' Of Campaign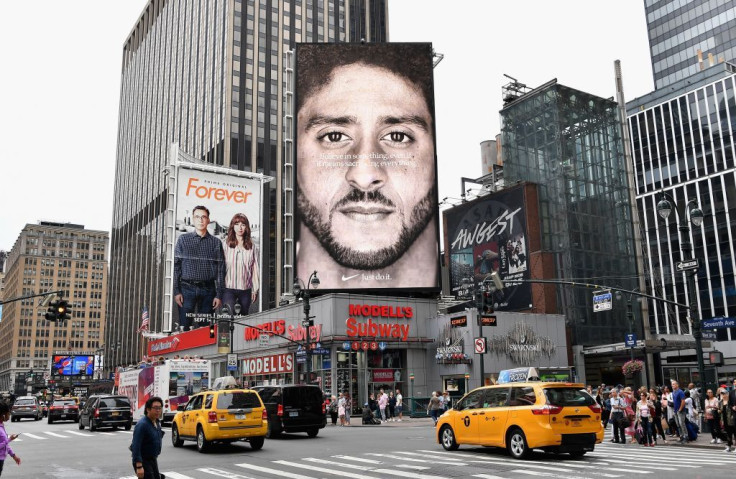 Nike is pleased with its Colin Kaepernick ad campaign as the sportswear company commented on it for the first time since its launch earlier this month.
Kaepernick initially revealed he would be the face of the 30th anniversary of Nike's "Just Do It" tagline on Twitter on Sept. 3.
Despite early signs of it potentially becoming a PR disaster, it has been extremely successful so far with chief executive Mark Parker revealing executives felt "very good" and "very proud" about the campaign.
"It's resonated... quite strongly with consumers, obviously here in North America, but also around the world," Parker told analysts in a conference call Tuesday, as per BBC. "Like many campaigns, it's driving a real uptick in traffic and engagement, both socially as well as commercially."
"How we look at it is how do we connect and engage in a way that's relevant and inspiring to the consumers that we're here to serve," he added. "Our brand strength ... is a key dimension that contributes to the ongoing momentum that we're building across the Nike portfolio."
Kaepernick, of course, was the first footballer to kneel during the national anthem during 2016 preseason games in protest against racial inequality and violence, and has divided America since.
While many have praised him for standing up for his beliefs, others, such as President Donald Trump have criticized him for disrespecting the national anthem, the flag as well as the troops. He has notably been unsigned by an NFL team after opting out of his San Francisco 49ers contract the following year, later resulting in him filing a lawsuit against the league for collusion.
And so, when the campaign was unveiled, plenty made their feelings heard by threatening boycotts and posting videos of themselves burning their Nike apparel and shoes. In addition, Nike's shares also dropped roughly 3 percent to $79.75, leading many to believe endorsing Kaepernick was a grave error.
However, what has followed has been anything but. The campaign firstly generated $43 million in media exposure in the 24 hours following its unveiling, with most of it being positive.
Online sales grew as well by "31 percent from the Sunday of Labor Day weekend through Tuesday, as compared with a 17 percent gain recorded for the same period of 2017."
Nike has also reached multiple all-time high stock prices with Friday's price closing at $85.55 and most impressively, the company's value has increased by $6 billion since the campaign.
Allen Adamson, brand expert and co-founder of marketing solutions business Metaforce, believes the fact that Nike is a global brand with many of its non-American audience not following football and therefore, unlikely to take offense to Kaepernick, has helped the company.
"No matter which athlete they choose, they will offend some customers," Adamson explained. "If you try to please all people all the time, you will end up pleasing nobody."
Nike took a huge risk and it is continuing to pay dividends for them as chief financial officer Andy Campion added: "We are thrilled with our momentum."
© Copyright IBTimes 2023. All rights reserved.