Colombia Wiretapping Scandal Deepens With AG In Crosshairs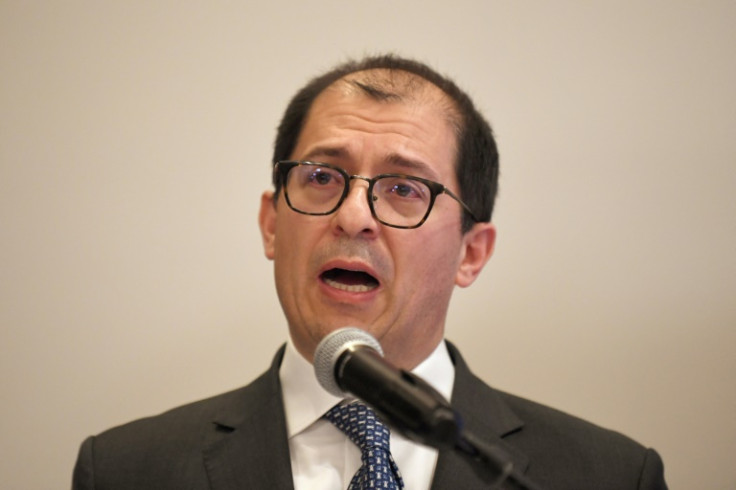 An illegal wiretapping scandal that has engulfed members of President Gustavo Petro's entourage deepened Tuesday with the country's top prosecutor accused of colluding with government detractors.
The South American country's ruling Historic Pact coalition announced it would ask Congress to investigate Attorney General Francisco Barbosa for allegedly instigating acts of "insubordination and disobedience."
Barbosa last week announced an investigation into claims of wrongdoing against Petro's chief of staff Laura Sarabia and ambassador to Venezuela Armando Benedetti, both since forced to step down.
"Rather than acting as head of the prosecutor's office, (Barbosa) has decided to intervene openly in politics and... sadly become a spokesman for the opposition," senator Maria Jose Pizarro told reporters.
David Racero, leader of the House of Representatives, added Barbosa "may be using his power... against this government."
Sarabia and Benedetti came under scrutiny after Sarabia's nanny -- who previously also worked for Benedetti -- allegedly fell victim to illegal surveillance.
Benedetti had said he fired the nanny, Marelbys Meza, in June last year on suspicion of stealing thousands of dollars and after she failed a polygraph test.
Sarabia hired Meza last August.
In January this year, the nanny was allegedly made to take another polygraph test, this time on suspicion of stealing $7,000 from Sarabia's house.
To gain access to her calls, a false police report was allegedly used to link the nanny to organized crime, according to Barbosa, who was appointed in 2020 under Petro's rightwing predecessor Ivan Duque.
Meza has also claimed she was subjected to illegal interrogation and a lie detector test in January at a building annexed to the presidential palace in Bogota.
Petro's former top aides have since accused one another of all kinds of misdemeanors.
Sarabia claimed Benedetti, her former boss, had set her up by introducing her to Meza and then blackmailed her into supporting his bid for a ministerial post in exchange for making the nanny's claims disappear.
Benedetti, in turn, accused Sarabia -- whom he had introduced to Petro -- of "abuse of power, kidnapping (of Meza) and intimidation."
On Sunday, the newspaper La Revista Semana published an expletive-riddled recording of Benedetti threatening Sarabia with his knowledge of alleged illegal campaign funding to the tune of $3.5 million.
Benedetti, a key aide to Petro's successful 2022 election campaign, was reported saying they would all go to jail if he is pushed into spilling the beans.
Colombia's national electoral council (CNE) has opened an investigation into Benedetti's claims.
He later said the recordings had been "manipulated" and offered an apology to Petro.
Late Monday, Benedetti took to Twitter to explain that "in an act of weakness and sadness" about his declining political fortunes, "I let myself be carried away by rage and drink."
Petro has denied any impropriety, and denounced, in response to Benedetti's tweet, "an attempt to stop the fight against impunity."
© Copyright AFP 2023. All rights reserved.