Copper Prices To Rebound By End-2018 As Demand Seen Steady, Analysts Say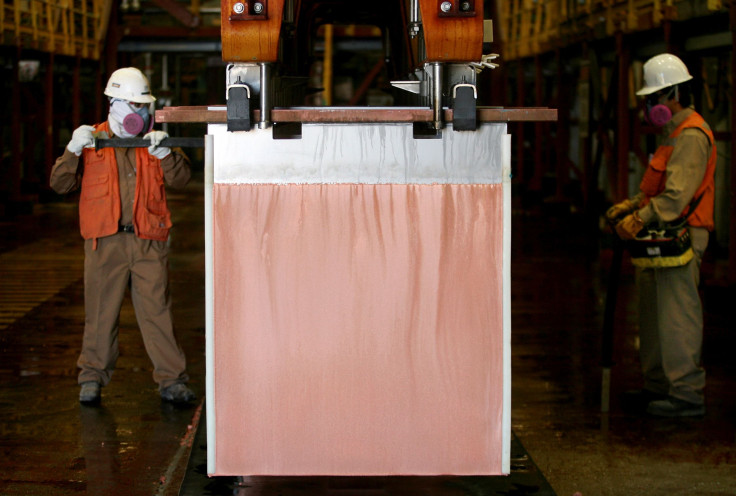 Copper prices, which are down by a fifth from the peak they hit in June, are set to recover by the end of the year as the ongoing global trade tensions recede and demand grows, analysts say.
Copper prices have declined despite demand staying steady, analysts who spoke to International Business Times said. Eleni Joannides, principal analyst for copper at Wood Mackenzie, pointed out that the demand in China remains firm after the country announced a ban on the import of category-7 copper scrap and the 25 percent tariff on imports from the U.S.
The prices hit a 4-½-year high of $7,348 on June 7 on the London Metal Exchange but have slid since on weak investor sentiment, central bank tightening in the U.S. and Europe, a stronger dollar and trade tensions. The front-month copper contract ended trading at $5,864 a ton Sept. 10.
The analysts see the metal riding out of the trough by the end of the year. Casper Burgering, senior sector economist at ABN Amro, expects the emotions that weighed on copper "to cool again, allowing fundamental trends – such as supply and demand – to regain the upper hand." Burgering expects copper to trade around $6,815 / ton by the year-end.
Paul Robinson, director at CRU Group, sees positive sentiment returning. "You've got good demand numbers and you've also got a very positive story about what is likely to happen to the fundamentals of copper within the next two to three years because of good demand growth and because of a lack of investment in new copper mines," he says. "We don't yet see any indication that there has been a real impact on demand even though there are these concerns around future demand on trade tensions."
Robinson expects copper to trade around $6,400 / ton by the end of the year.
Caroline Bain, chief commodities economist at Capital Economics, says the market is pricing in too much bad news on the negative impact of the protectionism. "We think the sentiment will start to turn by the end of the year."
The year began with expectations of tigtening supplies. "The prices ran so high and there was an expected shortfall in supply; that didn't happen, resulting in a fall in copper prices," says Lara Smith, managing director of Core Consultants.
FEWER STRIKES THAN EXPECTED
Analysts say fewer strikes by workers this year have resulted in supply surpluses. Robinson of CRU group recalls the strike at Chile's Escondida mine last year that took a significant tonnage off the market. "In 2018, there's been a lower level of strike activity at copper mines than expected, but that means there's been more supply than people predicted."
Smith of Core Consultants, who expects year-end copper prices to range between $6,300 and $6,400 / ton, says what moves copper prices are Zambia production and fears of strikes in South America. She says these factors "led to a situation with surplus material in the market and that prices will remain low until the surplus is cleared."
© Copyright IBTimes 2022. All rights reserved.
FOLLOW MORE IBT NEWS ON THE BELOW CHANNELS