Cord-Cutting Counterpunch: ESPN Looks To Count All Those People Who Watch TV At Sports Bars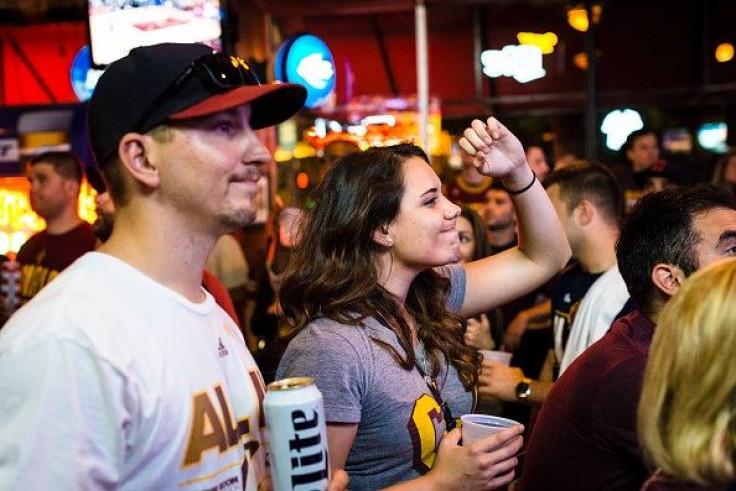 Sports viewers in bars across America, stand up and be counted!
If you're part of Nielsen's TV panel, that is.
ESPN is going to try again to sell advertisers on ratings that include people who aren't watching the big game — or any game — in their living room. After an attempt in 2008 that sputtered and died, Nielsen has revived its ambitions to measure out-of-home viewing, with ESPN as a guinea pig.
Here's how it works: Participants in Nielsen's TV panel get portable "people meters" that pick up the sound from whatever screen they're near and match the audio signature to ESPN's programming. (Sound is crucial to advertisers: They don't want you merely to see an ad, they want you to hear it, too.) The numbers aren't currently included in traditional Nielsen ratings the public sees — they will be starting in 2017 — but ESPN is starting to roll them into its own ratings.
The results, said Ed Erhardt, ESPN's ad sales chief, are significant. Specific games and shows can see viewership lifts of anywhere from 5 to 16 percent, and the bigger the audience at home, the bigger the audience "abroad" (so to speak).
And now it wants advertisers to pay for both of them.
"We like our chances, being as pervasive as we are," Erhardt told International Business Times. "You go into any bar or restaurant, we're at least one of the two or three things on."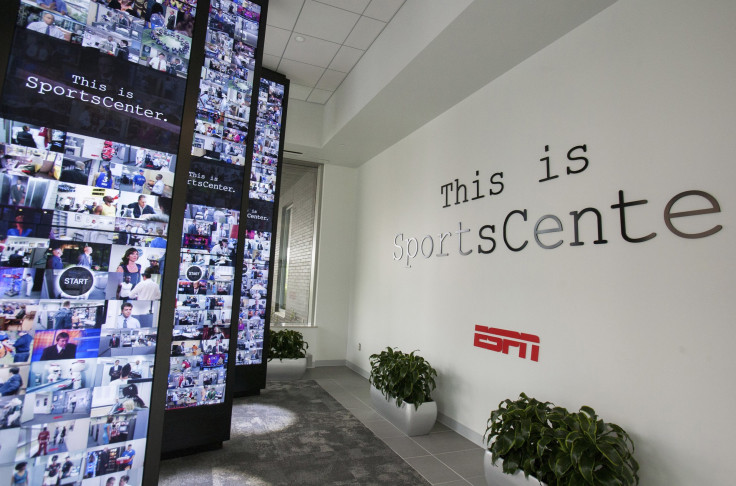 Sports are just about the easiest thing to sell to advertisers. Games are inherently interesting and full of drama (for the most part), pulling and keeping viewers' attention, and they're virtually ad-skip-proof. But amid concern over falling subscriber numbers, lower ratings at flagship shows like "SportsCenter" and a sudden exodus of talent both on- and off-camera, Erhardt and ESPN President John Skipper had to pitch advertisers a little harder than usual at its annual upfront presentation in New York.
"It's time to challenge, rethink and reconsider how we market, how we measure, how we engage our customers," Erhardt told the media buyers and clients gathered at the event. "ESPN embraces this revolution."
This is hardly the first time a sports network has tried to get credit for so-called out-of-home viewing. It's also not exactly an easy sell. Advertisers have actually been paying for these audiences; the buyers will argue the viewers are already baked into the premium prices live sports command.
The difference this time, Erhardt told IBT, is that lower ratings have actually led to increased prices, thanks to the law of supply and demand: as demand for viewers increases, and supply decreases, price increases. "I think advertisers would prefer an accurate measurement and pay whatever's the appropriate price, rather than pay an artificial price based on a less accurate rating," he said.
And if all else fails, one media buying source said, at least ESPN still has plenty of primo sports tickets to grease the wheels, a sentiment echoed in the Worldwide Leader of Sports' presentation.
"Why do you think your sales rep keeps trying to buy you off with game tickets?" "SportsCenter" anchor Kenny Mayne joked to ad buyers in the audience. "It's a lot easier than facing the truth together."
© Copyright IBTimes 2023. All rights reserved.