Coronavirus Update: Ford, GM, Fiat Chrysler To Shut Down Production Over COVID-19 Concerns
The Big Three automakers have made the decision to temporarily shut down production at its manufacturing sites in North America because of the coronavirus.
Ford (F) will close its plants following Thursday evening shifts through March 30 to thoroughly clean its facilities. General Motors (GM) will also wind down operations in a sequence through March 30 in North America and re-evaluate the situation following that date. Fiat Chrysler Automobiles (FCAU) is also suspending operations, according to the Chicago Tribune.
As many as 150,000 auto workers will be displaced and are likely to receive supplemental pay as well as unemployment benefits, the news outlet said.
The news comes as the United Auto Workers (UAW) union pressed Ford, GM, and FCA to close plants for the next two weeks as two workers tested positive for COVID-19. An FCA worker in Indiana, as well as a GM worker from the Warren Technical Center in Michigan, have both contracted the virus.
On Wednesday, a Ford employee at its Michigan Assembly Plant final assembly building tested positive for the coronavirus, causing the automaker to temporarily close the facility for cleaning. Production will be halted at the plant through March 30, and all employees that had direct contact with the infected worker are directed to self-quarantine.
GM Chairman and CEO Mary Barra said in a statement, "GM and the UAW have always put the health and safety of the people entering GM plants first, and we have agreed to a systematic, orderly suspension of production to aid in fighting COVID-19/coronavirus. We have been taking extraordinary precautions around the world to keep our plant environments safe and recent developments in North America make it clear this is the right thing to do now."
Ford said it will continue to work with the UAW union in the coming weeks on plant restarts in addition to developing procedures to help prevent the spread of COVID-19, including social distancing before, during, and after work hours.
Ford will also halt production at its facilities in Cologne and Saarlouis, Germany; Craiova, Romania, on Thursday. Ford's Valencia, Spain plant stopped production on Monday after three workers tested positive for the coronavirus.
"We're continuing to work closely with union leaders, especially the United Auto Workers, to find ways to help keep our workforce healthy and safe – even as we look at solutions for continuing to provide the vehicles customers really want and need," Kumar Galhotra, Ford's president of North America, said in a statement. "In these unprecedented times, we're exploring unique and creative solutions to support our workforce, customers, dealers, suppliers and communities."
UAW union officials, as well as the three automakers, met on Tuesday evening to discuss the possibility of shutting down vehicle production after a coronavirus task force was created.
Shares of Ford stock were down 15.4691% as of 2:38 p.m. EDT on Wednesday while shares of GM stock were down 18.26% at the same time. Shares of Fiat Chrysler stock were also down 14.59% at the same time.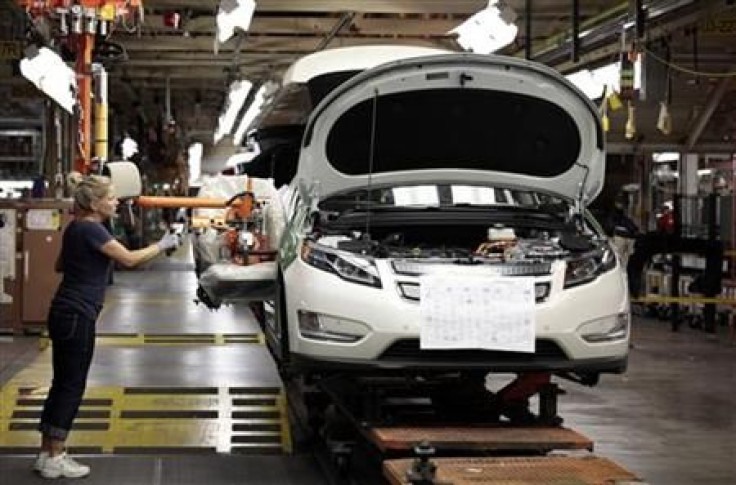 © Copyright IBTimes 2023. All rights reserved.
FOLLOW MORE IBT NEWS ON THE BELOW CHANNELS