Coronavirus USA Update: US Death Toll Hits 22; 607 Cases Confirmed
KEY POINTS
Most Americans will be exposed to the COVID-19 coronavirus this year or next: CDC
"We do not expect most people will get a serious illness," said Dr. Nancy Messonnier
China is reporting a massive decline in the number of infections
The number of confirmed COVID-19 cased throughout the United States on Monday evening increased 13% to 607, from 537 Sunday, while one more death brought the country's total to 22. Cases in the United States have jumped five-fold over the last week.
Medical experts attribute the jump to an increase in the number of people being tested; it doesn't necessarily confirm a spike in the disease in the country. The increase in the number of tests being done, however, does confirm the coronavirus that causes COVID-19 has been spreading for weeks around the country.
As of Monday, 35 states and Washington D.C. have confirmed the existence of COVID-19 cases in their populations, up from 33 Sunday. Iowa and Ohio reported their first cases of COVID-19 on Monday.
There have been 22 deaths nationwide, according to data from Johns Hopkins CSSE. Of this total, 17 are in King County, Washington, with one death each Grant County, Washington; Lee County, Florida; Placer County, California; Santa Rosa County, Florida; and Snohomish County, Washington.
The situation will turn from bad to worse and Americans should be prepared for it, said the U.S. Centers for Disease Control and Prevention (CDC). Most Americans will be exposed to the novel coronavirus this year or next, affirmed the CDC -- but this is no great reason to worry.
"We do not expect most people will get a serious illness," said Dr. Nancy Messonnier, director of CDC's National Center for Immunization and Respiratory Diseases.
Messonnier also said most communities in America are not seeing widespread community transmission. On the other hand, she cautioned now is the time for people most at risk of serious disease, especially those over 60 or those with underlying health conditions, to take precautions. She also advised older people to stock up on medications and groceries.
"People at higher risk should avoid crowds, non-essential travel on longer plane rides, and cruises," said Messonnier.
She said there were currently enough COVID-19 test kits in 78 public health labs across the country to diagnose 75,000 cases of the virus. More capacity can be expected over the next two weeks as commercial labs begin to offer their own tests. The increase in the number of people tested will also boost the number of confirmed cases.
Even as the U.S. prepares to grapple with an expected surge in case numbers, China -- the country that launched COVID-19 onto the world in December 2019 -- is reporting a massive decline in the number of infections.
On Monday, China's National Health Commission (NHC) said the number of new COVID-19 cases was the lowest it has been since January. It reported only 40 new confirmed cases of COVID-19 from 31 provincial-level regions and the Xinjiang Production and Construction Corps. The NHC also reported 60 new suspected cases and 22 deaths from the virus: 21 in Hubei and 1 in Guangdong.
As of early Monday, China reported 80,735 confirmed cases out of the world total of 113,584. It also accounted for 3,008 deaths out of the world total of 3,996.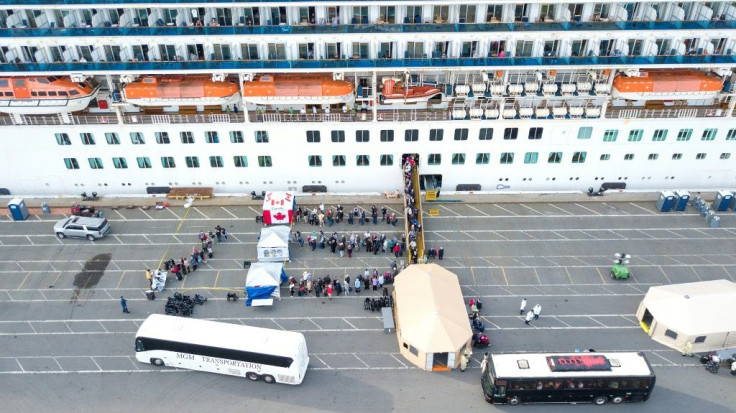 © Copyright IBTimes 2023. All rights reserved.