KEY POINTS
Targus is addressing a lack of viable automated COVID prevention measures in work spaces
Its solution is a timed UVC lamp that runs disinfection cycle of the workspace
The UVC solution could be one that is employed in all work spaces in the pandemic/post-pandemic future
Targus UVC LED Disinfection Light Photo: Targus Taking place in a time where there is an ongoing pandemic, it is expected that among the CES 2021 Innovation Honoree award recipients that there will be a significant number of products that are inspired directly by COVID-19. One of the winners is the Targus UVC desk lamp that does not target a specific device but covers the area in the workspace that has the highest 'hand traffic'.
Lack of viable COVID prevention measures in workspaces
When looking at current practices, most office workers will focus only on the cleaning of hands, and any sort of overall cleaning of the work surfaces like the desk and computer, which will probably be done a,t most, a few times a day.
Wiping down the work area with antibacterial cleaner on an hourly basis is impractical and is a commitment that very few companies will likely want to carry out. What you end up with is a surface area that collects any microbes, re-contaminating clean hands throughout the day.
UVC lamp for disinfection of the workspace
UVC radiation has been used for disinfection for decades, but Targus is bringing this technology to the work desk through its UVC LED Disinfection Light. According to the FDA, UVC radiation has been shown to destroy and inactivate the SARS-Coronavirus, and may also be effective against the COVID-19 causing virus: SARS-CoV-2.
By incorporating a UVC lamp into a desktop setup, it disinfects the keyboard, mouse, or mobile phone without using alcohol or other types of consumables, and can be automated instead of being a tedious routine of wiping everything down.
Hourly cleaning cycles
The Targus UVC LED Disinfection Light is set to run its cleaning cycles for 5 minutes every hour, emitting visible purple-hued light as notification to the user, and providing a constant and consistent elimination of any pathogens in the area.
A safety mechanism is built into the lamp where if it detects any motion, it will automatically switch off. Only if it detects the absence of movement for 5 minutes will it continue it's cleaning cycle.
According to the statement from Targus, the lamp is designed to reduce pathogens through a no-touch UV light solution, and not completely eliminate all pathogens as medical disinfecting equipment might do. Pathogens will always be present, but the additional measure of elimination will serve to reduce the risk of infection.
Final Verdict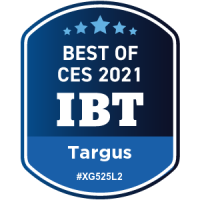 Though the exact effectiveness of the Targus UVC LED Disinfection Light has been put in question by a report from Forbes, which also states that Targus is now seeking third-party testing to determine its efficacy against viruses, this is a product that we can see being incorporated into workspaces both during the pandemic as well as in a post-pandemic world.
Constantly slathering all of your electronics devices in disinfecting alcohol surely can't be the vision of our future, and Targus' lead to utilize UVC tech is an important one that can potentially shape the future. That is why we're awarding the Targus UVC LED Disinfection Light with our Best of CES 2021 award.
The Targus UVC LED Disinfection Light is expected to be available in March 2021, at an MSRP of $299.