How to Do An Electronic Signature Free with Signature Generator
How to Create Digital Signature Online for Free with A Signature Maker
Signatures have been used for the same purpose over the years - personal identification, witness and confirmation or approval of a document's content. But its form and media have always been the same.
From signatures drawn on Sumerian clay tablets to wax seals and finally, the modern signature drawn on a tablet or PC, there's been a continuous metamorphosis of signature media.
Today, digital signatures are drawn on digital documents using a signature generator. With online signature generators like CocoSign , progressive businesses can align their signing methods with best business communication practices.
What is a Signature Creator?
A signature generator is also known as an online signature maker or signature creator. It is an online tool that helps you append electronic and digital signatures to a document in digital format.
Using such a signature maker, you can either create a signature within the generator's platform or scan a hand drawn signature into an image format and attach to the document in question. Signature creators like CocoSign give you the freedom to create custom digital signatures you can save into templates for later use.
CocoSign is an easy-to-use digital signing platform well trusted by authority media such TopTenReviews and Clutch, complying with multiple industry security standards and protocols like ISO/IEC 270001, SOC 2, US ESign, UETA and HIPPA.
It provides an unrivalled level of security that traditional wet-ink signatures cannot match, an asset for businesses to incorporate into their business workflow.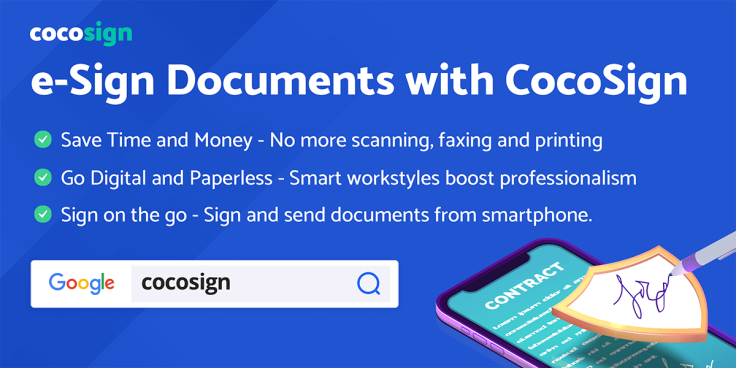 Created from signature generators like CocoSign, digital signature can be likened to an electronic fingerprint unique to an individual providing fine details about the signed documents including the origin of the message, status of document, date and time it was signed, and can acknowledge informed consent by the signer.
How to Create Digital Signature Online for Free with A Signature Maker?
Digital signature makers make digital signing a convenient and time-efficient process. Here's a step-by-step tutorial on how to sign documents on the go using a signature generator. We will be using CocoSign as a case study for the purpose.
Step 1: Choose between Draw or Type signing options
Navigate to CocoSign's signature generator page . Here, you are required to choose between the 'draw' and 'type' options.
Just like the name implies, the "draw" option takes you to a window within which you can create a signature using a mouse, trackpad or stylus pen in the same way you would use a pen on a paper.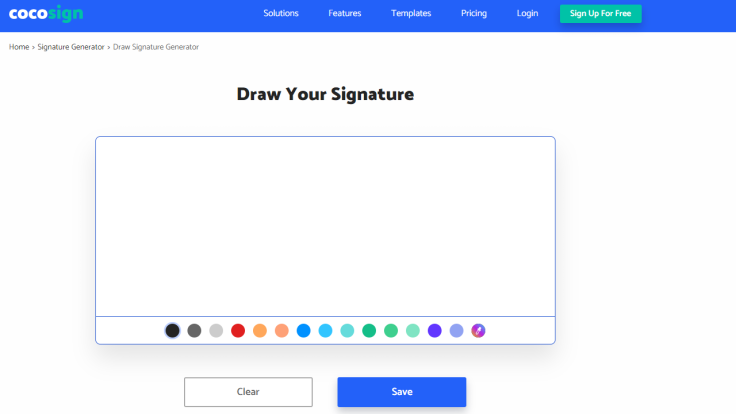 With the 'type' option, you can type your name in any font of your choice.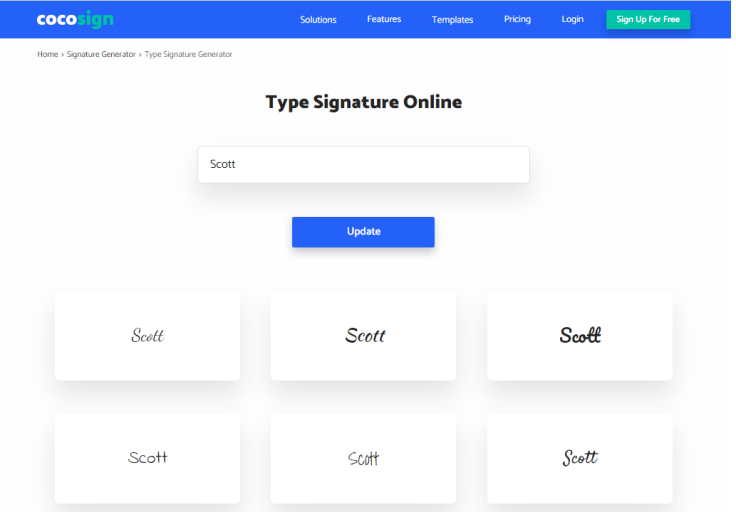 Step 2: 'Draw' or 'type' signature
After personalizing your signature using CocoSign signature generator, you can click the save button. For the draw option, you are allowed to choose what font color you want your electronic signature to assume. The same can be said of the type option. After typing your name, you can choose between 14 colors or any other color on the color wheel.
Should you make an error in drawing your signature, you are allowed to delete or undo mis-performed strokes using the 'Clear' button.
Step 3: Download
Once you are done drawing the signature, you can click the 'Download' button. Doing this saves the document to your local device.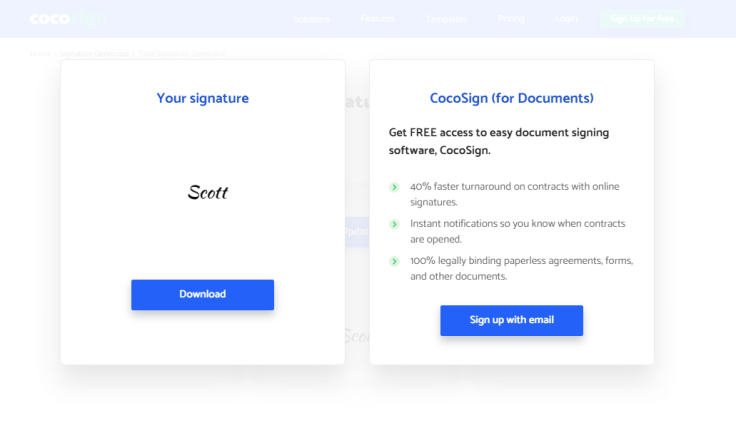 Use Cases of Electronic Signature
Today, many businesses and industries have accepted electronic signatures as their way of signing contracts and legal documents. This form of signature helps to improve document integrity, streamline business processes and cut down costs of scanning and mailing signed documents.
Here are some of the use cases of electronic signature:
New customer forms
In many business climes, there is no established relationship between the customer and the brand without a signed document. An overreliance on paperwork can slow down transactions especially where the customer isn't physically available to sign these forms.
In today's world, customers tend to want to get deals done quickly and over with, and therefore stick only with businesses with an instant on-boarding process. Electronic signatures make the onboarding process faster and reduces the need to rekey data each and every time.
Non-Disclosure Agreements (NDA)
For confidentiality purposes, both parties to a business venture or transactions may agree to sign an NDA. Traditional hand-drawn signatures are not only inconvenient but may present legal complications for all parties involved.
A document signed electronically using an electronic signature maker comes with a complaint audit trail such that the parties involved can see to it that the NDA is executed in compliance with the agreement stipulated in the agreement document.
Employee Onboarding
The hiring process in large organizations comes with a lot of paperwork. The employees and admin staff may be required to fill benefits enrollment forms, contact forms and tax and contact information forms.
Electronic signatures make it as easy as a breeze to fill and sign many of these forms on the go. The use of signing templates provided by many signature generators make the signing process even more efficient.
Vendor agreements
Electronic signatures come in handy for product-based businesses with a constant stream of supplies, needing to continuously form partnerships with vendors.
Once that partnership is formed, the business must indicate in writing the amount of supplies needed and for what price. Then, both parties sign the agreement. Electronic signatures compress the time taken to process such huge transactions.
IT industries
In IT industries, electronic signatures are used to cut out paper from the workflow and improve general productivity. Integrating electronic signatures can save IT businesses the hassle in dealing with change requests, order fulfillment and change of orders. They also come in handy in transactions that need urgent attention to proceed.
Procurement
The procurement process involves signing an endless queue of documents. This is particularly true for businesses with workflows that support master agreements, supplier compliance, purchase orders and Statement of Work (SOW).
Using an esigning solution or signature generator like CocoSign, members of a team can sign documents and monitor in real-time how the document moves through the entire electronic signing process.
More than that, signature generators are also used in the insurance, legal, financial and telecommunication industries for following purposes:
Legal Industry
Filing for class action and subsequent communications
Legal retention agreements
Insurance companies
Sales and Notifications
Processing of claim documents
Servicing requests and renewing policies
Financial Institutions
Opening of accounts
Application for loans and disclosures
Changes to accounts
Direct Deposits
Telecommunication companies
Buying new devices
Adding new members to an account
Change of personal account information
Make plan changes
Conclusion
Electronic signature generators ease the signing process to a large extent. Businesses adopting such tools are likely to be more productive, efficient and close transactional deals faster than those who do not. Time to select the most suitable electronic signature generator for your business.
FOR FREE to continue reading
✔️ Unlock the full content of International Business Times UK for free
offer available for a limited time only
✔️ Easily manage your Newsletters subscriptions and save your favourite articles
✔️ No payment method required
Already have an account?
Log in