Writesonic Launches ChatSonic: The Next Generation of ChatGPT with Superpowers
This article uses affiliate links, which means if you purchase products through these links, we may earn a commission. Click here to see our
T&C
. For licensing please click
here
.
Highlights:
ChatSonic, by Writesonic, is an AI-powered chatbot, just like Open AI's ChatGPT but with 4x superpowers.
The only AI chatbot that surpasses the limitations of ChatGPT and provides users with an incredible AI experience.
From content creators to businesses, this top-notch solution is revolutionizing content creation for everyone.
As conversations between humans and their digital devices become more frequent and natural, the need for a more conversational AI-powered chatbot has become a necessity.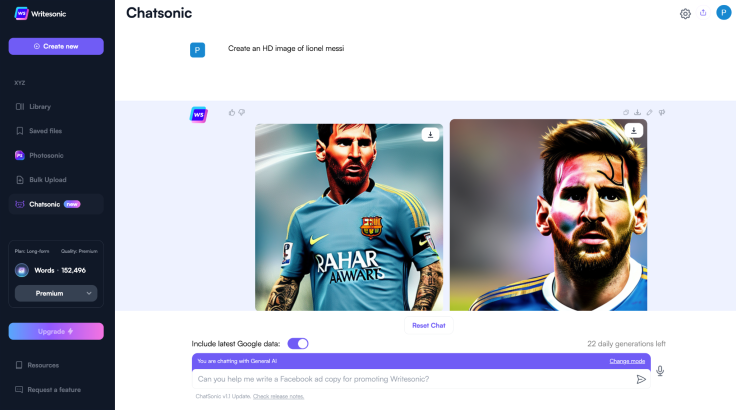 Taking the chatbot industry by storm, Writesonic is revolutionizing the way we interact with AI conversational chatbots with its newly launched - ChatSonic. By providing a more accurate and up-to-date digital conversational partner, ChatSonic by Writesonic has made giant strides in surpassing the existing limitations of Open AI's ChatGPT.
Writesonic's revolutionary AI conversational chatbot, ChatSonic, is setting a new standard for advancements in artificial intelligence. Built to surpass the limitations of ChatGPT, which has been trained on information until 2021, ChatSonic is focused on providing users with up-to-date factual information by using Google's knowledge graph. It also offers users the ability to generate digital art and paintings from chat and understand voice commands, like a digital assistant.
What sets ChatSonic apart from other ChatGPT alternatives is its capability to maintain the context of a conversation and feel like a human is talking to you. The incredible AI chatbot keeps the essence of your talk intact so that it never gets boring. It also gives users the option to share, edit, or download their conversations, so you no longer need to worry about missing any conversation. You can easily store your conversations for later and access them anytime you want.
In addition to that, ChatSonic also offers a personality mode where you can talk to personalized avatars like math teacher, interviewer, relationship coach, personal trainer, dentist, and more.
And, the best part, it provides easy API access which can help you to integrate ChatSonic into your existing systems. The ChatSonic API offers all of ChatGPT features and additional features available on ChatSonic. (Note that ChatGPT doesn't provide API support yet).
ChatSonic is a groundbreaking tool that has already won recognition from the tech community, with over 3000+ upvotes on ProductHunt as one of the top products of the month.
Here's how this top-notch solution is surpassing the limitations of its competitors:
Creates factual content, including real-time topics.
Integrates with Google to provide hyper-relevant content.
Speak your queries to get responses just like Siri or Google Assistant.
Generates mesmerizing and captivating digital arts (from text to art).
Remember the conversations and maintain the context (feels like talking to a human).
Offer an amazing "Personality mode" that allows you to talk to a personalized avatar.
Provides easy AI access to integrate with your existing systems.
Allows you to share, edit, and download the entire conversation.
And many more awesome features...
"We wanted to create an AI chatbot that could provide more than the features that ChatGPT can offer," said Samanyou Garg, CEO, and founder of Writesonic. "With ChatSonic, you can have a conversation with a personalized avatar, generate digital artwork, use voice commands, and so much more. It's like a supercharged version of ChatGPT, and we can't wait to see how our users put it to use!" he continues.
Samanyou Garg, the founder of Writesonic further adds, "At Writesonic, we believe that everyone in the world should be able to create any form of content 10X faster. That's why we constantly innovate and release new features almost every single day. We are already revolutionizing the AI chatbot industry and excited to see what the future holds."
Get your hands on this AI conversational chatbot with superpowers now by visiting Writesonic's official website.
About Writesonic
Writesonic is a Y-Combinator backed AI writing and image generation platform that aims to empower everyone in the world to create any form of content 10X faster. It's like Canva for writing, with tools that simplify the process of creating, editing, and publishing SEO-optimized articles, blog posts, ads, landing pages, eCommerce product descriptions, social media posts, and many other forms of content.
The company was founded in 2020 by Samanyou Garg, is based in California, and has over 10,000+ 5-star reviews on G2, TrustPilot, and Capterra.
FOLLOW MORE IBT NEWS ON THE BELOW CHANNELS