Crown Princess Mary Of Denmark Recycles Jesper Hovring Gown And Favorite Tiara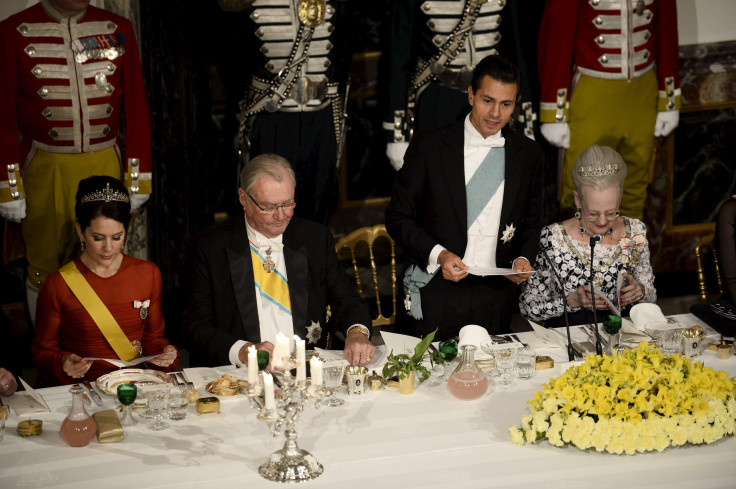 Crown Princess Mary of Denmark looked stunning in a red recycled evening gown and her favorite tiara. Her show-stopping red ball gown is by designer Jesper Høvring. She attended a state banquet thrown in honor of Mexican president Enrique Peña Nieto and his wife, Angelica Rivera, on Wednesday.
The 44-year-old royal's Jesper Hovring gown featured long sheer sleeves, high neck and a ruffled skirt. The dress had a fitted bodice and a flared five-tier skirt. Mary had earlier worn the dress for the inauguration of King Willem-Alexander of the Netherlands in 2013.
The Tasmanian-born princess wore her yellow Order of the Aztec Eagle sash and her tiara. She also accessorized with drop earrings matching her tiara, her engagement ring and a brooch. Mary wore pink blush and matching lipgloss.
Mary showed off her creative side when she accessorized her look with a jeweled tiara that was in fact a restyled necklace. The stunning piece of jewelry looked unrecognizable as the princess wore it as her crowning glory. Mary was first spotted with the convertible necklace-tiara for the 75th birthday of Queen Margrethe in 2015.
The mother-of-four first wore the accessory as a necklace for the gala night, which marked the pre-birthday celebrations for the 75th birthday of Queen Margrethe II of Denmark at Aarhus. She paired the statement jewel with a black dress and coordinating earrings. It is one of Mary's favorite necklaces and can be converted into a tiara.
The crown princess of Denmark attended the gala dinner with her husband Crown Prince Frederik at the Fredensborg Palace. It was hosted by Margrethe at the royal castle to honor the Mexican president and his wife who are on a two-day visit to the country.
The brunette beauty stunned in her formal attire and was pictured chatting to Prince Consort Henrik of Denmark throughout the banquet and laughing. Earlier in the day, Mary was wrapped up in a textured hued coat dress to receive the president and his wife. She carried a black clutch bag and wore matching shoes.
© Copyright IBTimes 2023. All rights reserved.