Crypto On June 15: Top Tokens Continue To Tumble, Market Cap Remains Below $1Trillion
KEY POINTS
Bitcoin, Ether plunge
Meme tokens dip
Market cap goes down
Top cryptocurrencies continued to trade in the red Wednesday. The market cap remained below the $1trillion mark for the second consecutive day. Experts believe that panic was likely induced after crypto lending platform Celsius withdrew most of its services.
Bitcoin dipped 10.41 percent to $20,178. Ethereum, too, plunged 15.56 percent to $1026, as of 5.44 a.m. ET, CoinMarketCap data showed.
According to WazirX's daily analysis, the BTC trend has reached a key support level at the 200-week Moving Average curve. "Historically, this has happened only 3 times previously and the markets have begun an uptrend after this event with a few weeks of consolidation," the Indian exchange told International Business Times.
The exchange further noted that Ethereum against Bitcoin gained marginally in the last few days as the Bitcoin's Dominance index crashed to nearly 45 percent from a previous high of 48 percent.
Most of the top 10 tokens saw a nosedive in prices. Meme cryptos Shiba Inu and Dogecoin too dipped.
Charles Tan, chief marketing officer, Atato, said, "Panic was likely induced by a leading crypto lending platform announcing its halt on most services such as withdrawals amid the market crash which likely contributed to a sell-off across crypto assets."
"The central banks in the U.S. are conducting a two-day internal discussion, minutes of which will be released on Wednesday, investors community will be closely watching the result of this meeting as it may address the immediate and long-term concerns surrounding the economy," Tan told IBT.
The crypto market is extremely volatile and experts recommend investors not base their buying or selling decisions on the sudden shift in prices.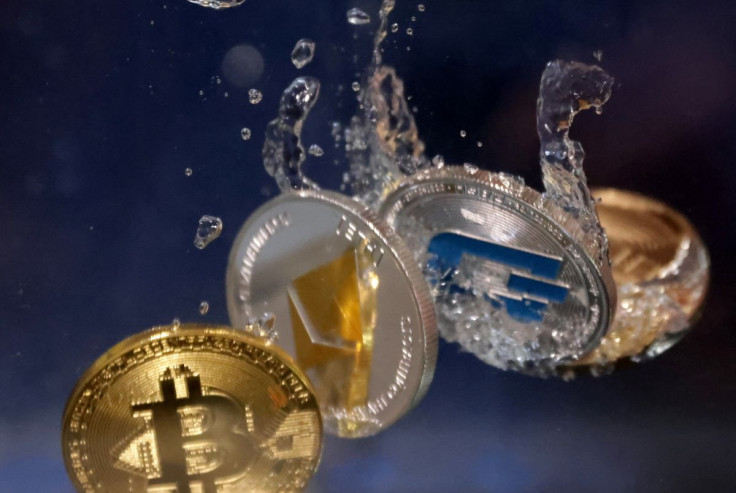 © Copyright IBTimes 2023. All rights reserved.