Cyprus Bank Accounts: Did Paul Manafort Launder Money For Russia?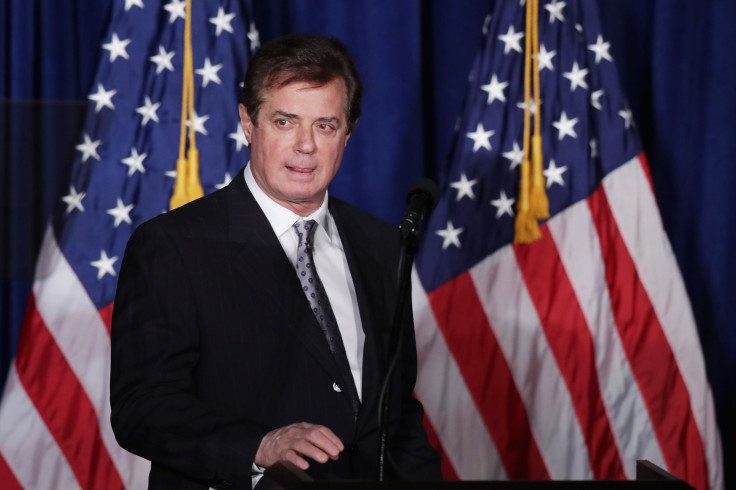 A Cyprus bank investigated accounts associated with Paul Manafort, President Donald Trump's former campaign chief, for money-laundering, but instead of cooperating with the investigation, Manafort closed the accounts, NBC News reported.
Sources told NBC Manafort was associated with 15 bank accounts and 10 companies on Cyrpus. Court documents indicate at least one of those accounts received funds from Russian oligarch Oleg Deripaska, a billionaire friend of Russian President Vladimir Putin, NBC said.
Read: Former Trump Campaign Chief Advanced Russian Interests, Report Says
Manafort, who resigned as Trump's campaign manager in June after questions about his relationship with ousted pro-Russia Ukrainian President Viktor Yanukovych, is under investigation for alleged ties to Russia but has denied repeatedly he ever worked for the Russian government.
Most of the accounts were at Cyprus Popular Bank, which asked for more information on them under the anti-money-laundering procedure known as Know Your Customer, NBC said. Instead of providing the information, Manafort closed the accounts just before a 2012 banking crisis that prompted a government takeover of the bank.
Bank of Cyprus assumed control of Cyprus Popular Bank in 2013 and told NBC the assets it took over did not include any accounts associated with Manafort.
Read: Dirty Trickster Roger Stone Denies Collusion With Moscow
Cyprus is known as a hub for moving money in and out of Russia. In a statement to NBC, Manafort said the accounts were set up for "legitimate business purpose[s]."
NBC said Manafort operated a complex network of businesses on Cyprus, and at least one of them, PEM Advisors Limited, received millions of dollars from Deripaska for a deal to buy a Ukrainian media network. The deal, which led to a falling out between Manifort and Deripaska, fell through, and the money never was accounted for, court documents in the Cayman Islands revealed.
NBC said it traced PEM and several other Manafort-linked companies to a law office in Nicosia, Cyprus, run by the country's former justice minister.
The Associated Press reported last week Manafort benefited from a $10 million consulting contract with Deripaska in 2005 to influence politics and news coverage to benefit Putin. Deripaska took out a paid ad in the Wall Street Journal Tuesday to deny the AP report.
"I want to resolutely deny this malicious assertion and lie," the ad said. "I have never made any commitments or contracts with the obligation or purpose to covertly promote or advance 'Putin's government' interests anywhere in the world."
© Copyright IBTimes 2023. All rights reserved.
FOLLOW MORE IBT NEWS ON THE BELOW CHANNELS