'Dancing With the Stars: Juniors' Spoilers: Which Pair Will Be Eliminated In Week 4?
Things will be getting spooky on "Dancing With the Stars: Junior" as the teams take to the floor with Halloween themed routines. However, things will take a truly terrifying turn at the end of the night, when one more pint-sized team says goodbye following an elimination.
The teams hopefully did their best to impress both the judges and live studio audience for Halloween night, but one still had to go home from the ABC series. Based on performances from previous weeks, a few teams seem more likely than the other to be the next ones hanging up their dancing shoes.
Based on the judges' scores, three teams seem more likely than the rest to be at risk of elimination, after they all fell at the bottom of the judges' leaderboard. Most at risk will likely be Team Artem, Alana "Honey Boo Boo" Thompson and Tristan Ianiero. Though their "Beauty and the Beast" themed Foxtrot impressed the judges enough to earn them 21 points, it's the first time they managed to score that well in the competition. When paired against other teams like Team Gleb or Team Lindsay, who consistently receive high scores from the judges, it doesn't bode well for them.
Similarly, a lower score from the judges could threaten Team Witney, Akash Vukoti and Kamri Peterson. They also received 21 points for their "Hercules" themed Jive, which isn't a bad score for the pair. However, they have received 21 points on each of their routines and remained stagnant, while everyone else has seen some form of movement in terms of the points they've earned. This could also not bode well for them, especially since they may not have as large of a fanbase as Honey Boo Boo who could be voting them through in the audience.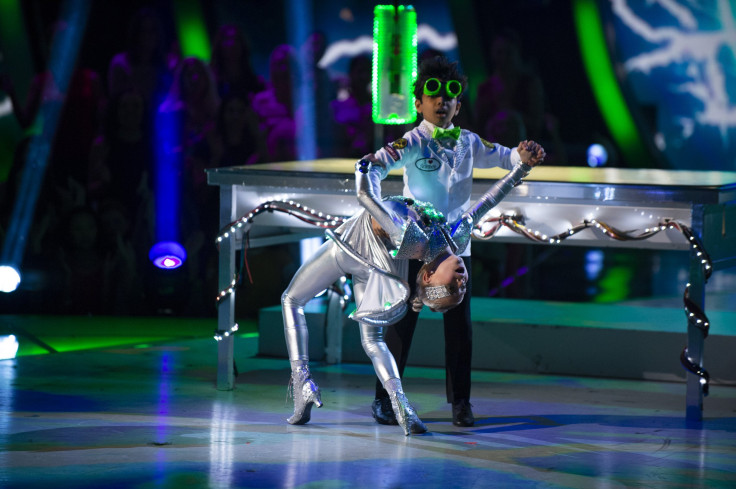 However, a team which previously seemed like a shoe-in for the finals could also be finding themselves at risk for the first time. Team Cheryl, Mandla Morris and Brightyn Brems, initially wowed the judges during Week one and tied at the top spot with the judges. Since then, however, their scores have steadily declined, with their "Coco" themed Jazz routine their worst performance yet, only earning a 21. If they're losing steam and that trend continues with their scores, they won't be long for the competition either.
"Dancing With the Stars: Juniors" airs Sundays at 8 p.m. EDT on ABC.
© Copyright IBTimes 2023. All rights reserved.