David Letterman Final Guest List Spoilers: Who Will Be On The Last 'Late Night' Show?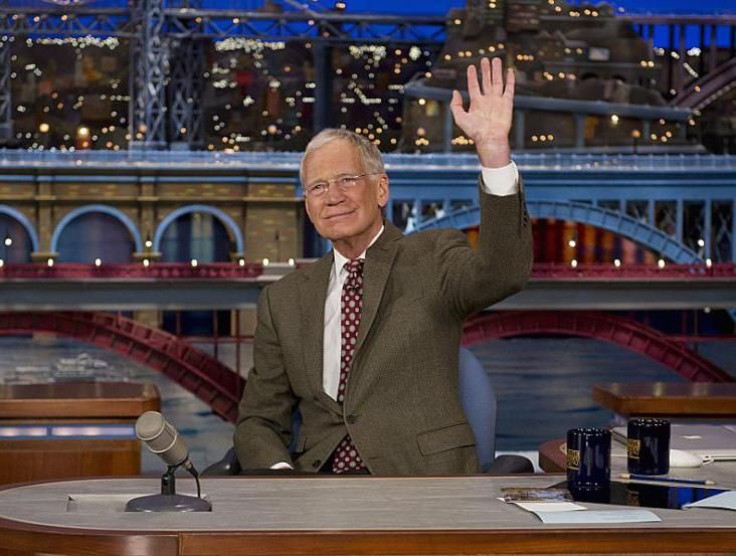 Who will be David Letterman's final guests? There's been plenty of speculation leading up to Letterman's final stint on the "Late Show" Wednesday night. The television personality has hosted the CBS show from the Ed Sullivan Theater in New York for more than two decades (and has been on the air for more than three decades altogether) and will soon say his final good-bye. Some of the top celebrities in Hollywood are expected to help him make a memorable departure, though none has been confirmed. Listed below are some of the top guesses:
The Foo Fighters:
Their rep wouldn't confirm that the Foo Fighters are Letterman's final guest, but their Twitter account tells a different story. An afternoon post read, "Final time on this stage," added the hashtag #ThanksDave and tagged Letterman's Twitter handle. Hmm … Doesn't seem like there's much of a mystery there.
A-List Comedians:
After the taping of the show wrapped up, audience members said a clip called "The Final Things I'd Like to Say to David Letterman" was shown, Newsday writes. Some of those stars included Jerry Seinfeld, Chris Rock, Steve Martin, Barbara Walters, Tina Fey, Jim Carrey, Peyton Manning and Julia Louis-Dreyfus.
Steve. Jim. Jerry. Chris. Watch Dave's last show

— George Schweitzer (@georgetv) May 20 2015
Bill Murray:
Murray was his first guest on the "Late Show" and will also be his last, The Heavy writes.
Bonus spoiler:
Letterman's final Top Ten List is "Famous Last Words." See the list below, courtesy of The Heavy:
10. Lighting! Everyone under the tree!
9. You've parked in my spot, Mr. Capone.
8. Bring the karaoke machine over to the hot tub.
7. Do you guys hear a drone?
6. Thanks for seeing me, Dr. Oz.
5. Damn right I'm healthy enough for sex.
4. May I take a selfie, Ms. Streisand?
3. We'll save money by hitchhiking.
2. Jack Hanna said it won't bite.
1. One scoop of Blue Bell ice cream, please.
Stephen Colbert will make his debut as Late Show host on Sept. 8, 2015.
So long, Letterman.
Follow me on Twitter @mariamzzarella
© Copyright IBTimes 2023. All rights reserved.